vol.84 January 2018
News & Announcements
Japanese-style Ryokan in the Heart of Tokyo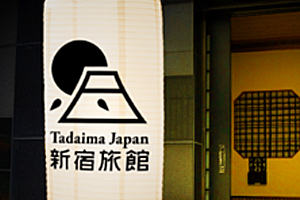 Sleep on tatami mat covered floors and have access in the surrounding area to at least 300 restaurants offering every possible dish in the washoku (Japanese cuisine) universe. If this sounds like your ideal base to explore Tokyo, the "Tadaima Japan Shinjuku Ryokan" opened its doors on December and is waiting for you. Walk around bustling Shinjuku, find your favorite restaurant and go on a regular basis or try a different place for every meal!

http://tadaima-ryokan.com/
Ice-skating under TOKYO SKYTREESM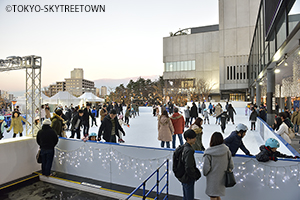 TOKYO SKYTREE is the metropolis' most iconic tourist spot and with good reason. On a clear winter day you can even see Mt. Fuji! If you happen to visit on such a day (actually, from January 4 to March 11, 2018) don't neglect to drop by TOKYO SKYTREE TOWN ICE SKATING PARK 2018 and enjoy the skating rink (with a special children-only section), the snow corner and the light-up that happens every evening!

http://ur0.work/Gr3N (Japanese version only)

Great Festival and Local Cuisine Get-together!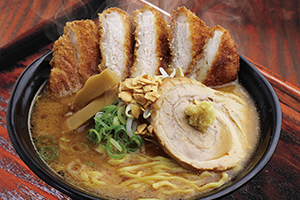 Looking for a chance to see some of Japan's most spectacular festivals and enjoy some of its best local dishes? Well, there is no need to look anymore, Furusato Matsuri Tokyo, which will celebrate its 10th anniversary entitled "Nihon no Matsuri-Furusato no Aji" ("Japan's festivals, a taste of hometown") will be held at Tokyo Dome from January 12 to 21. Enjoy music, dancing and food and get to know Japan! A multilingual (English/Chinese/Korean) guide-app is also available!

http://furusatomatsuritokyo.com/
Japan's Earliest Hanami? Flower-themed Digital Exhibition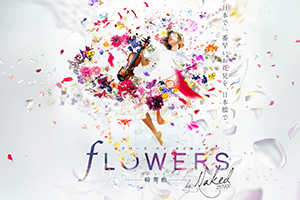 This has the signature of "NAKED," arguably Japan's leading ensemble in terms of high-tech entertainment, so even that would be enough. But the premise of "FLOWERS by NAKED 2018 Rondo" exhibition – that it is a digital experience of flowers with all the senses – makes the prospect even more exciting. Flowers, modern and traditional art, light and sound create a magnificent hanami (flower viewing) in the middle of winter (January 23-February 26).

https://flowers.naked.works/?wovn=en
Special Feature
Around Japan in Tokyo? A Tour of "Antenna" Shops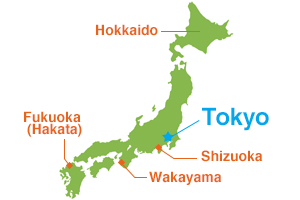 "Antenna Shops" have become all the rage in recent years. As of January 2016, there are over 50 shops in the metropolis representing prefectures and even cities, towns and villages from all over the country. These are establishments selling each area's characteristic products (usually but not exclusively foodstuffs) and often have restaurants where you can try these products on the spot while, at the same time, functioning as information centers for the area's tourist attractions. This makes them an easy and enjoyable way to learn more about Japan without leaving Tokyo!
  For this issue, we visited the Tokyo Kotsu Kaikan near Yurakucho Station and explored the antenna shops it hosts. Having several such shops in the same building makes it easier to look around.
Tokyo Kotsu Kaikan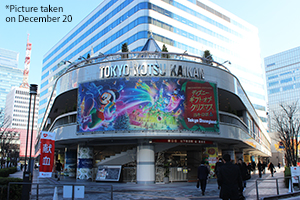 Right in front of you as soon as you exit JR Yurakucho Station, Tokyo Kotsu Kaikan is a complex facility containing stores, restaurants, office space and exhibition halls. The least that can be said about it is that it is like an antenna shop "mall." It contains 13 of them, allowing visitors to obtain all kinds of products and (often unusual) merchandise from all over Japan.
Hokkaido Dosanko Plaza Yurakucho Shop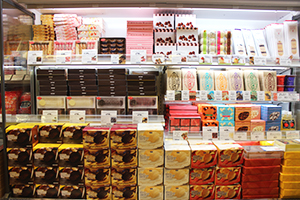 Enjoy the abundant bounty of the northern country's pristine nature. Starting with the big island's famous dairy products, always busy (even on weekdays) Tokyo Kotsu Kaikan's "Hokkaido Dosanko Plaza" offers a wide variety of sea products, fresh produce, wines and very popular sweets.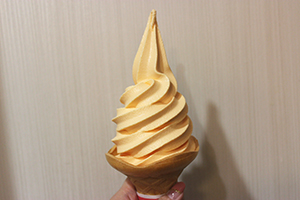 ROYCE POTATOCHIP CHOCOLATE, beef croquettes, etc. The recommendation list is extensive but if we were to pick just one, that would be the Yubari King melon soft serve ice cream! It looks big but the taste is so refreshing that you won't realize how fast you finished it!


http://www.dosanko-plaza.jp/ (Japanese version only)
Shizuoka Mt. Fuji Green Tea Plaza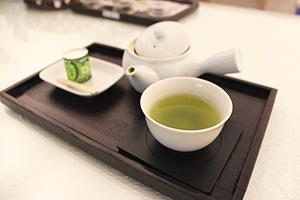 Right in the middle between Tokyo and Osaka, Shizuoka Prefecture is famous for many things: its onsen hot springs, its views of Mt. Fuji and, above all, its tea. At this antenna shop, from noon you can enjoy a tea set featuring Shizuoka's top quality green tea and Japanese-style sweets prepared by a tea instructor. Every day, there are three different flavors to try and compare and depending on where in the prefecture the tea comes from there are noticeable differences, so besides pleasure, each tasting is an education!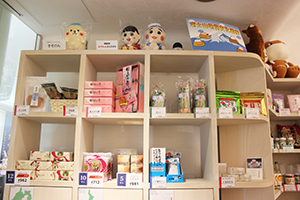 You can try the prefecture's trademark beverage carefully prepared one cup at a time while browsing tourist information about the prefecture's charms. And if you are looking for a more solid kind of souvenir, Shizuoka's famous "Unagi Pie" sweet or tealeaf packages will be a good choice.


http://www.kotsukaikan.co.jp/product_sightseeing/63/ (Japanese version only)
Wakayama Kishukan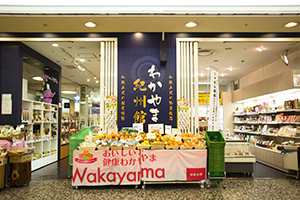 Wakayama Prefecture is more known as the home of Japan's biggest peninsula, the Kii Peninsula. Lovers of Japanese food know it better as a major producer of fruits since among its many land and sea products, its mikan mandarin oranges and its persimmons stand out. Another trademark of Wakayama is umeboshi pickled plums. Most know the sour variety but here you can find over 50 different kinds of products ranging from very sour ones to very sweet ones.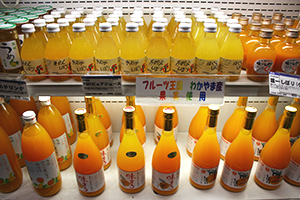 One thing to certainly try at the "Wakayama Kishukan" is fruit juices and if you are going for just one, we recommend the mikan juice. It is like drinking a mikan itself: aroma, color, texture, flavor and sweetness are all absolutely perfect, as they should be since this is made from 100% natural mikan. And if you are looking for something with a little more "bite" there are other choices with tastes somewhat more acidic.


http://www.kishukan.com/ (Japanese version only)
The Hakata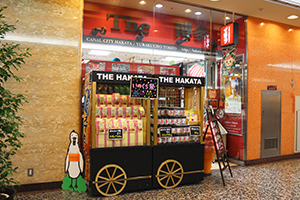 Hakata is the center of Fukuoka City, Fukuoka Prefecture and if we are talking local specialties, the key words here are ramen and udon noodles and mentaiko (seasoned cod roe). In "The Hakata" you can find many different variations of all the above from the always popular instant noodles to mentaiko-flavored potato chips. They all make great souvenirs!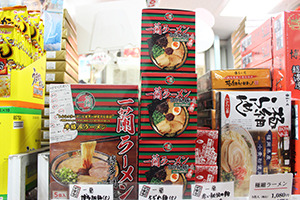 Among the available products, we would certainly recommend the offerings by famous Hakata ramen restaurant chains like "Ichiran" and "Ippudo." Their tonkotsu ramen with tonkotsu soup using pork bones is the area's trademark flavor, so if you are looking for one thing only, this should be it. Taste Fukuoka in a bowl without leaving your home!


http://www.kotsukaikan.co.jp/product_sightseeing/280/ (Japanese version only)


And of course there are many, many more antenna shops all over Tokyo! For more details, check
http://www.gotokyo.org/en/tourists/restaurant/antennashop/index.html

http://www.tourism-alljapanandtokyo.org/category/shop-en?lang=en
Information
Go to our website & find more exciting events and festivals.

http://www.gotokyo.org/eventlist/en/list
Notification from Tokyo Metropolitan Government
Tokyo Tokyo official Website
Tokyo Tokyo official Website revamped and new promotional videos have now been released! We will deliver the "now" of Tokyo where tradition and innovation intersect.
https://tokyotokyo.jp/
Editor's note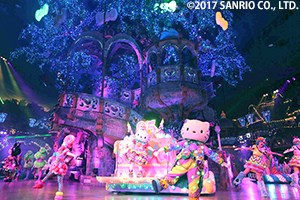 I visited Sanrio Puroland once, 10 years ago with my daughter. Recently I visited again, this time escorting three male journalists from abroad who wanted to get a taste of Japan's "kawaii" culture. What I realized was that it does not matter if you are male or female, young or old – you can't help being moved by the parade. If you visit, make sure not to miss it!

Sanrio Puroland

https://en.puroland.jp/
We would like to hear from you! (Questionnaire)
If questionnaire is not displayed properly, please click
here.
---
To subscribe to Tokyo Monthly, click
here.
To access the previous edition Tokyo Monthly, please visit:
back number.
Issued by: Tokyo Convention & Visitors Bureau
Supported by: Tourism Division, Bureau of Industrial and Labor Affairs, Tokyo Metropolitan Government

If you want to reprint the articles, please contact us.
E-mail: news@tcvb.or.jp