Main content starts here.
vol.81 October 2017
News & Announcements
New Hotel - Right at the Doorstep of Haneda!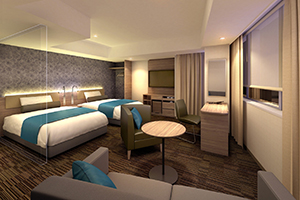 Just one station away from Haneda Airport International Terminal Station and just two stations from Haneda Airport Domestic Terminal Station, the new hotel Keikyu Ex Inn Haneda that opens on October 25 is an excellent choice, especially if your flight leaves early or arrives late, with free shuttle bus service to and from the airport. No worries about being at the airport on time. Superb views overlooking the airport, Tokyo Bay Aqua-Line, and even Mt. Fuji add up to a really accommodating accommodation!

http://www.keikyu-exinn.co.jp/hotel/haneda/ (Japanese version only)
Hokusai and Japonisme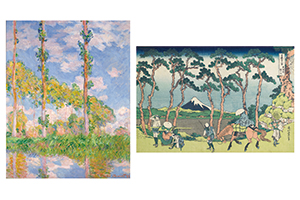 Katsushika Hokusai is undoubtedly one of the most noteworthy Ukiyo-e masters. His influence on Western art led to the late 1800s "Japonisme" craze that swept the West. Now, for the first time, from October 21 to January 28, 2018, the National Museum of Western Art in Ueno stages an exhibition featuring about 90 works of Hokusai comparing to about 200 works of the Impressionists and Art Nouveau artists, allowing visitors to examine his influence in detail.

http://hokusai-japonisme.jp/english.html
Right: Katsushika Hokusai, Hodogaya on the Tōkaidō, from "Thirty-six Views of Mount Fuji"
Woodblock print; ink and color on paper, Minneapolis Institute of Art, Bequest of Richard P. Gale 74.1.237
Photo: Minneapolis Institute of Art
Left: Claude Monet, Poplars in the Sun, 1891, Oil on canvas, The National Museum of Western Art, Tokyo, Matsukata Collection
Official "Sailor Moon store" in Harajuku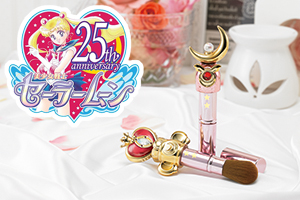 Extremely popular both in Japan and abroad, the "Sailor Moon" manga/anime franchise now has its own official store – "Sailor Moon store"! This is the first such store in the world. Aptly located in Laforet HARAJUKU, the hub of Harajuku's fashion and culture scene, the new store (opened on September 23) will be offering a full range of "Sailor Moon" apparel, cosmetics, stationery and other licensed merchandise including original products created exclusively for the store.

http://sailormoon-official.com/store/ (Japanese version only)

© Naoko Takeuchi
© 武内直子・PNP・東映アニメーション

TOKYO SKYTREE TOWN's Planetarium Is Back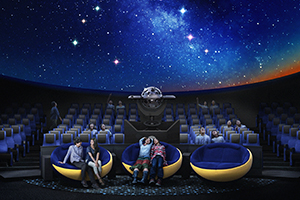 After a major renovation, Konica Minolta Planetarium "Tenku" will open again at TOKYO SKYTREE TOWN® on November 22. With its new projection system, the latest in digital planetarium technology, 3D sound and premium "Crescent seats," it will be the perfect environment to lay back and experience a true starry sky and the sound of the wind even in the heart of the world's most brightly lit metropolis.

https://planetarium.konicaminolta.jp/tenku/foreigner/
Special Feature
Yakatabune: Enjoy the Tokyo Bay Cruising
Find out what it's like to ride the Yakatabune-a unique Japanese "dining boat."
Enjoy the Japanese cruising experience in Tokyo!
https://youtu.be/GQhScVs0gNs

Funasei
Address: 1-16-8 Kitashinagawa Shinagawa-ku, Tokyo
Access: 15 minutes from JR Shinagawa Sta. or Keikyu Shinagawa Sta.

https://www.funasei.com/english/
Information
Go to our website & find more exciting events and festivals.

http://www.gotokyo.org/eventlist/en/list
Notification from Tokyo Metropolitan Government
Tokyo's New Icon
The Tokyo Metropolitan Government has devised a new icon and catch phrase to further enhance promotion of the charms and attractions of Tokyo to the world. For more details, please check here.
https://tokyotokyo.jp/
Editor's note
While the summer heat was still on, I got to enjoy some chilling ghost stories in Asakusa! Although the stories themselves weren't that scary, the tap dancing with geta (clogs) and the actors animating various logos were funny and entertaining. If you find yourself in Asakusa, be sure to check out the "That's ZENtertainment!" performance.
Price: 1,990 yen (including tax)
Where: The Asakusa Rock Yumemachi Theater

http://www.siro-a.com/zentertainment/index_e.html
We would like to hear from you! (Questionnaire)
If questionnaire is not displayed properly, please click
here.
---
To subscribe to Tokyo Monthly, click
here.
To access the previous edition Tokyo Monthly, please visit:
back number.
Issued by: Tokyo Convention & Visitors Bureau
Supported by: Tourism Division, Bureau of Industrial and Labor Affairs, Tokyo Metropolitan Government

If you want to reprint the articles, please contact us.
E-mail: news@tcvb.or.jp