vol.78 July 2017
News & Announcements
New Hostel with a Concept of Enjoying Tokyo to the Full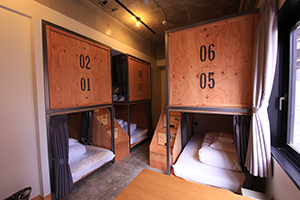 A new hostel, Wise Owl Hostels Shibuya, opened in Shibuya where you can enjoy Tokyo well into the night, just as the hostel's concept, "enjoying Tokyo to the full," suggests. It offers many different accommodation configurations, organic eating, a well-equipped bar where you can enjoy wine until late in the night, and a sleeping environment specially designed to help guests rest and prepare for another day of urban exploration.

https://wiseowlhostels.com/shibuya/en/
First in the World! Eat Just What the Doctor Ordered!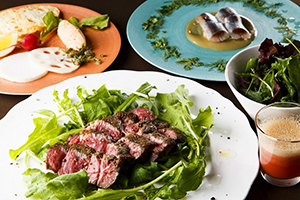 Healthy eating is all the rage these days and the new Igakukai Kitchen Orthomolecular in the Toranomon area, which is home to many countries' embassies, takes the trend to new heights. It is the world's first restaurant supervised by the Japanese Association of Medical Sciences. Its menu is being designed by medical professionals (i.e. doctors, researchers, etc.), guaranteeing that the dishes served, besides their exquisite taste and immaculate presentation, are also beneficial to your body. It is a must-try for all gluten-free, allergen-free, vegan meal lovers.

http://igakukaikitchen.com/ (Japanese version only)

Get immersed in Sound and Light in Shibuya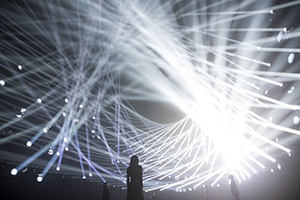 A perfect event for both adults and children is going to be held at Shibuya Hikarie, a landmark in Shibuya. Created by the teamLab group, the double-feature "teamLab Jungle and Future Park" (July 28 - September 10) combines an interactive music festival for adults, "Art Night," and for children, "Kids Noon" (nighttime and daytime respectively). Music, images, lights and colors create a spectacular and vivid world where you can experience touching sounds and the light!

https://www.teamlab.art/jungletokyo/en/
Weekly Shonen Jump Exhibition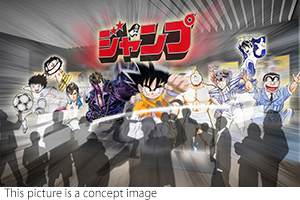 A manga institution for almost half a century, "Weekly Shonen Jump" magazine celebrates its 50th birthday with an enormous three-part retrospective/exhibition at Roppongi Hills' Mori Arts Center Gallery. The first part, "From the first issue to the 1980s – The beginning of the legend" (July 18 - October 15) features original artwork from "Jump's" greatest hits like "Dragonball," "Kochikame," "Hokuto no Ken," "Captain Tsubasa," etc. Movies you can enjoy only at the venue and original merchandise are also available. No Japanese pop culture fan should miss it!

http://shonenjump-ten.com/english/
Special Feature
Looking for the Perfect Cut in Tokyo!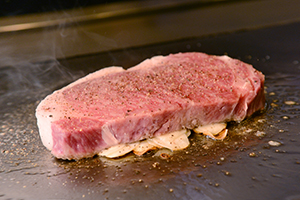 Lately, Japan has been going through an unprecedented meat craze. Although in the mind of most people, Japanese cuisine has been synonymous with fish and vegetables, meat options are becoming more and more prevalent, particularly in the summer, when meat provides lots of energy to the tired body – not to mention that it goes great with beer! The most popular meat choices in Japan are beef, pork and chicken, but particularly in terms of beef, locally produced meat called "wagyu" (i.e. "Japanese beef") has become world-famous because of its good quality and taste. And while you will mostly find it in steak form, in yakiniku BBQ or in shabu-shabu hotpot, in truth there are countless ways to enjoy it, including the Japanese version of dishes from various world cuisines. So join us for some meat adventures in the gourmet capital of the world, Tokyo!

Teppan-yaki
Steak Misono (Ginza Branch, Shinjuku Branch)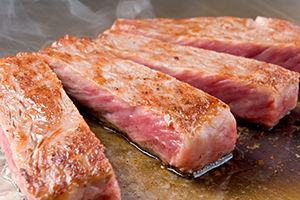 "Teppanyaki" is a type of grilling where the chef prepares the meat on a large steel plate; diners get a treatment for all their senses with the sight being accompanied by the sizzling sound and the tantalizing smell. The Misono restaurant from Kobe, Hyogo Prefecture, is considered the birthplace of teppanyaki steak and they've been keeping their proud tradition alive for over 70 years, offering the finest Kobe and Japanese Black wagyu beef and paying attention to even the slightest detail – their meat is served with fine rice and green tea and is so tender that it does not need a fork and knife: chopsticks are enough! Misono is also said to be the origin of such a Japanese style in serving steak.
http://misono.org/en/
All-out Steak!
Outback Steakhouse (Shinagawa Takanawa Branch, Shinagawa Konan Branch, Shibuya Branch, Roppongi Branch, Ikebukuro Branch)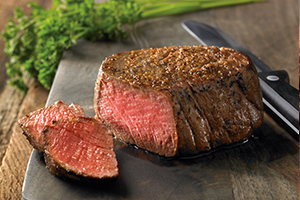 If what you are looking for is an authentic American-style steak, Outback Steakhouse is the place to be! Here, taste goes hand in hand with size and dishes like the Ribeye steak and the fried-to-perfection Bloomin' Onion are the most popular choices, faithful to the original recipes found in the US – but with enough Japanese umami thrown in for good measure!

http://www.outbacksteakhouse.co.jp/en
Japanese Style Arrangement
The Niku Don Shop, Dainingu (Takadanobaba Branch, Harumi Branch, Kamata Branch, Akasaka Branch)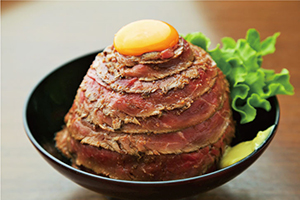 The donburi family of dishes (various toppings served on a bed of rice in a deep bowl) is one of the best ways to fill up at a reasonable price and this shop in Takadanobaba specializes, as its name suggests, in "niku-don" or "meat donburi"! Try its various menu offerings among which the "Roast Beef Don," a fusion of the Western and the Japanese approach, stands out.

http://niku-don.jp/ (Japanese version only)
Gyukatsu Aona (Okachimachi Main Shop, Shibuya Sanchome Branch, Takadanobaba Branch, Seibu Shinjuku Ekimae Branch)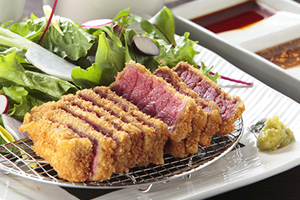 "Katsu" (from "cutlet") is another type of cooking that came to Japan from the West. Especially recently, beef cutlets like these of Aona, combining the crunchiness of the breadcrumbs with the juiciness of the fillet, have been popular in Tokyo. Try them with a touch of wasabi for a bit of a kick!

http://jfoods.co.jp/ (Japanese version only)
Meat Spots
Shibuya Niku Yokocho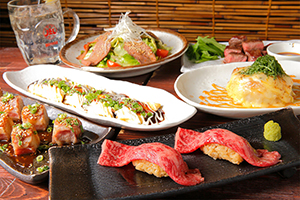 Right in the heart of Shibuya, on the 2nd and 3rd floors of the Chitose Kaikan Building, the "Meat Alley" (or "Niku Yokocho") presents you with 27 meat-related options. Essentially, this is a meat theme park! From staples like yakiniku BBQ and shabu-shabu hotpot to novelties like meat sushi (the neta/toppings are various cuts of meat), you can find them all here so walk around and let your carnivore instincts guide you!

http://shibuyayokocho.com/ (Japanese version only)
Niku no Mansei (Akihabara Main Shop)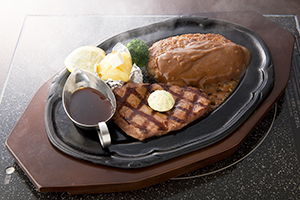 Literally a building dedicated to meat. Japanese beef presented in its most popular versions including hamburger steaks, steaks, shabu-shabu and sukiyaki hotpots, yakiniku BBQ etc. –just pick the floor, the style of cooking and the price you can afford and dig in! And on the first floor, one of the Tokyoites' favorite take-outs, Mansei's cold cutlet sandwiches.

http://niku-mansei.com/foreign_language/index.html
Extra: Tokyo Brand Pork
TOKYO X
Top-grade meat is not just beef. All over Japan you can find excellent quality pork, too, with extra care given to the animals' breeding and feeding methods. Even Tokyo boasts its own brand of first-class pork, made from the "TOKYO X" pig breed, raised with extra care in the Tama area and quite rare to find. As a matter of fact, because of its rarity some people even call it "phantom pork"! And it is a shame because it is really tasty with a distinct nutty fragrance and becomes very tender with even the lightest exposure to fire.
DANRAN-TEI (Tachikawa)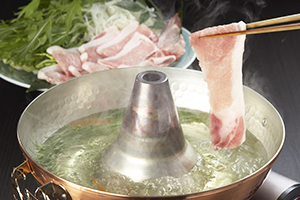 A restaurant backed by a meat wholesaler, DANRAN-TEI is one of the few places where you can try pork from authentic "TOKYO X." Try it yourself and see what all the fuss is about!

http://www.meat-c.co.jp/danrantei/danrantei.html (Japanese version only)
Information
Go to our website & find more exciting events and festivals.

http://www.gotokyo.org/eventlist/en/list
Notification from Tokyo Metropolitan Government
Tokyo's New Icon
The Tokyo Metropolitan Government has devised a new icon and catch phrase to further enhance promotion of the charms and attractions of Tokyo to the world. For more details, please check here.
http://www.metro.tokyo.jp/ENGLISH/TOPICS/2017/170511.htm
Editor's note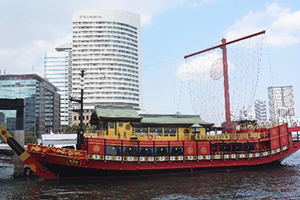 Evening breeze, Tokyo's sea and traditional performance: A cruise on the Atakemaru
We joined Atakemaru trial ride and our first impression was "great!" Seeing Tokyo from the water (especially its world-famous night views) and enjoying an Edo-themed show make for a unique tourist attraction. If you are interested in unique experiences in Tokyo, don't miss our September issue when we'll explore cruises in Tokyo Bay.
We would like to hear from you! (Questionnaire)
If questionnaire is not displayed properly, please click
here.
---
To subscribe to Tokyo Monthly, click
here.
To access the previous edition Tokyo Monthly, please visit:
back number.
Issued by: Tokyo Convention & Visitors Bureau
Supported by: Tourism Division, Bureau of Industrial and Labor Affairs, Tokyo Metropolitan Government

If you want to reprint the articles, please contact us.
E-mail: news@tcvb.or.jp