vol.76 May 2017
News & Announcements
New Hotel in Edogawa City – Alone on Business or With Your Family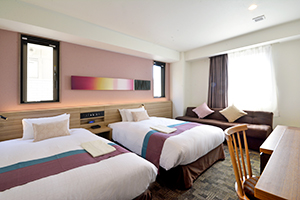 The new Best Western Tokyo Nishikasai Grande Hotel in Edogawa has you covered! It is close to Kasai Rinkai Park with its rich nature, including a bird sanctuary, as well as an aquarium, and an enormous Ferris Wheel and within a short ride to Asakusa, TOKYO SKYTREE and Tokyo Disney Resort (for which there's a free shuttle bus). The new hotel offers comfortable accommodation in an environment decorated with stylish "wa" (classical Japanese style) objects.

http://tokyonishikasai-grande.bwhotels.jp/
Mt. Fuji Comes to Tokyo Midtown!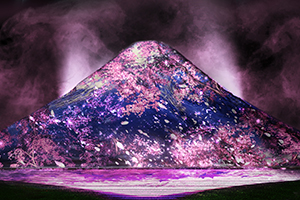 Tokyo Midtown, Roppongi's center of business and culture – home to the Ritz-Carlton Tokyo and Suntory Museum of Art – is already 10 years old. And what better way to celebrate the occasion than recreating in its garden Japan's most long-lasting symbol, Mt. Fuji? A 6-meter-high, 23-meter-wide replica of the land's tallest mountain will welcome you during the day and at night, too (with a splendid projection-mapping show) under the theme of "JAPAN, THE BEAUTIFUL." Why don't you go and enjoy "Mt. Fuji" by way of art and the latest technology?

http://www.tokyo-midtown.com/en/events_news/detail.php?id=810

Attack on SKYTREE®!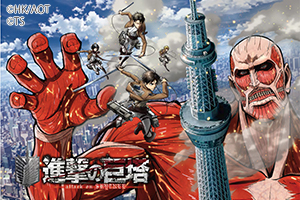 Titans attacking TOKYO SKYTREE®? In a way, yes! Popular manga/anime "ATTACK ON TITAN" will be collaborating with the TOKYO SKYTREE® for a special screening of an original story at the tower's huge "SKYTREE ROUND THEATER®" using the window glass on the 350-meter-high Tembo Deck. Of course it doesn't end there: the whole tower will be transformed with "ATTACK ON TITAN" imagery. A must for anime fans!

http://www.tokyo-skytree.jp/special/shingeki2017/ (Japanese version only)
Planetyze Hostel: From the Heart of Tokyo to Anywhere in Japan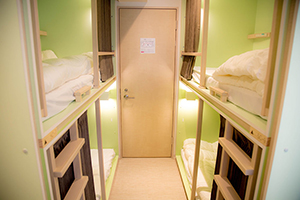 Planetyze Hostel in Nihombashi, whose concept is "helping you to choose your next destination," newly opened on February 13. Browse trip ideas at the Planetyze website accessible through screens in the hostel's lounge. If you are on a extended trip and have to choose destinations in Japan, this hostel suits you. You can also discuss options with its multilingual staff and create your own Japan experience!

https://planetyzehostel.com/en
Special Feature
New Ginza, Venerable Ginza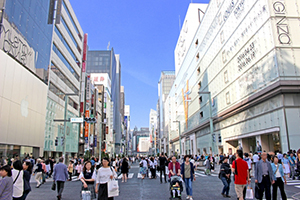 Ginza is undoubtedly Tokyo's most emblematic shopping area. On both sides of its main street, Chuo Dori, world-famous department stores and top brands from all over the world stand shoulder to shoulder, whereas around its always busy hub, Ginza Yonchome crossing, the most expensive real estate in Japan is said to be found.
  In 2016, large-scale commercial establishments started opening one after the other and this April, on the 20th, the area's top-quality complex, "GINZA SIX," is also making its debut, drawing even more attention. Still, and in the midst of all this constant flux of change, traces of Edo-period tradition still exist, mostly in the form of shops with a long history and much beloved by Tokyoites.

Brand New Spot: GINZA SIX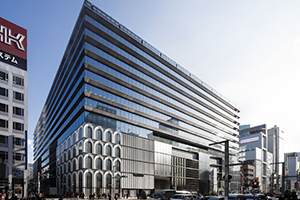 At Ginza Rokuchome district, GINZA SIX is the area's biggest complex, combining everything from office space, commerce (with 241 brands hosted on its premises) and culture, and also being home to the historic Kanze Noh Theater. World-famous brands of House of Dior Ginza, Valentino and Céline's caliber can be found next to old shops specializing in kimono, green tea or traditional lacquer ware, allowing visitors to see all the trends of Tokyo and the world in one exciting space.
GINZA SIX is not just about exciting shopping options: its exterior design pays tribute to traditional architectural elements like noren curtains or hisashi eves, while its interior also uses some traditional lighting elements such as shoji screens and andon lanterns. This also fits Ginza's profile as an area imbued with art, a sensation reinforced even more by events like Yayoi Kusama's installation that marked its opening.

One of the strongest ties of the new complex's relationship with art is the presence in its space of the Kanze Noh Theater, where the Noh drama's most respected lineage performs. As a matter of fact, until the end of the Edo period, the residence of the tradition's head was in Ginza, so by moving to GINZA SIX it is in a way returning to its roots. The theater will be a hub of Japanese culture with performances of all kinds that will also be available to non-Japanese speakers through the use of audio guides.

More information about GINZA SIX, see

https://ginza6.tokyo.e.abf.hp.transer.com/
Ginza's History
This is the high-end Ginza of today but to get there, we need to go back to the Edo period, and the "Ginza Yakusho" – the mint for the city's silver coins ("Ginza" literally means "silver mint"). Craftsmen and artisans started gathering in the area and the section around today's crossing of Ginza Dori and Miyuki Dori had so many shops that it was said to be the equal of Nihonbashi, Edo's main commercial district. In the Meiji period, and particularly after the big fire of 1872, Ginza was rebuilt but this time the Western influence in architecture made it a "red-brick" district with many shops specializing in imports from the West. This was the beginning of Ginza as we know it today. In the area, there had been many residences of Noh and Kabuki actors and painters in the Edo period, and in 1889 Kabukiza Theater was established. At that time, many Western style cafés also opened and became salons for writers and artists. Ginza became the epicenter of culture and fashion as it is known today.
Ginza's Venerable Shops
With such a long history, it is no wonder that there are Ginza shops that have been loved for generations. Following are two of our favorites!
Ginza Matsuzaki Senbei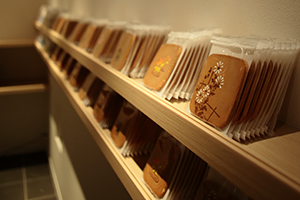 Having opened in 1804, Matsuzaki Senbei (Japanese crackers) and baked sweets shop has a history of over 200 years. Its most famous product is a sweet tile-shaped senbei called "shamido" (because their form looks like the body of the traditional stringed instrument called "shamisen") made of wheat and baked in iron molds. The surface of the senbei features cute motifs from Japan's much loved nature and seasonal themes. At their main store in Ginza, called "Suzuran Dori Store," you can watch a film of how these famous confections are made.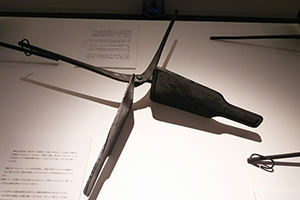 Matsuzaki Senbei has been destroyed three times: in the great fire of 1872, in the Great Kanto Earthquake of 1923 and in WWII. All three times it was rebuilt from scratch. The story goes that during WWII, the government asked people to hand over iron goods to be used in the war effort. The agonizing owner, who could not bear to give up the shop's beloved iron molds, hid them underground until the war was over. These molds still exist and are exhibited in the shop.


http://matsuzaki-senbei.com/ (Japanese version only)
Tenshodo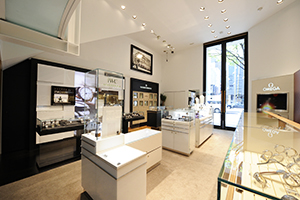 This shop went into business in 1879 so it has been in Ginza for over 130 years offering jewelry, watches and model trains. When it started it first used to deal in imported watches, gramophones, precious metals and other merchandise brought from the West, making it emblematic of Ginza as it once was. It remains popular though, since its many years of experience have given Tenshodo a unique aesthetic sense in selecting the items it offers.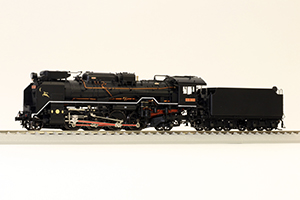 Among Tenshodo's merchandise, train models stand out. Their reputation for quality and craftsmanship has made them sought after by train aficionados from all over the world. From brass models created by expert craftsmen to reasonably-priced but elaborate plastic models and used models, dozens of new and used train models from all over the world take up the shop's 2nd, 3rd and 4th floors. Even if you are not a train maniac, you'll certainly enjoy them!


http://www.tenshodo.co.jp/ (Japanese version only)
Information
Go to our website & find more exciting events and festivals.

http://www.gotokyo.org/eventlist/en/list
Notification from Tokyo Metropolitan Government

The scheduled November 2016 relocation of Tsukiji Market to Toyosu has been postponed.
■ Access
0 min on foot from Tsukijishijo Sta. on the Toei Oedo Line
15 min on foot from Tsukiji Sta. on the Tokyo Metro Hibiya Line
15 min on foot from Higashi-ginza Sta. on the Toei Asakusa Line, or by metropolitan bus bound for "Chuo Shijo (Central Market)"
Editor's note
This year, Tokyo's sakura cherry blossoms started blooming on March 21 and they reached their peak bloom on April 2. Today, April 13, they are starting to fall, but the flurry of falling cherry blossoms is still worth seeing. At the Meguro River the cherry blossoms are floating on the river, dyeing the water pink!
We would like to hear from you! (Questionnaire)
If questionnaire is not displayed properly, please click
here.
---
To subscribe to Tokyo Monthly, click
here.
To access the previous edition Tokyo Monthly, please visit:
back number.
Issued by: Tokyo Convention & Visitors Bureau
Supported by: Tourism Division, Bureau of Industrial and Labor Affairs, Tokyo Metropolitan Government

If you want to reprint the articles, please contact us.
E-mail: news@tcvb.or.jp