Main content starts here.
vol.75 March / April 2017
News & Announcements
Spreading the Magic of Japanese Regions – Tourism of ALL JAPAN & TOKYO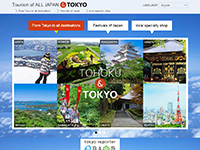 To better prepare for the year 2020, Tokyo's Metropolitan Government has created a web portal offering tourist information about Tokyo and all regions of Japan, in order to entice overseas tourists visiting Tokyo to see other parts of Japan. In Japanese, English, Chinese (simplified and traditional) and Korean, the website offers a lot of helpful information concerning traditional festivals reflecting local cultures, "antenna shops" in Tokyo run by municipalities across Japan, recommended specialty goods, and so on! The website is also connected to "TOHOKU & TOKYO" website, which is going to have ten additional themes (including Onsen and similar topics) and twenty 360 degree VR videos, and "KUMAMOTO OITA & TOKYO" website scheduled to be newly opened soon.

http://www.tourism-alljapanandtokyo.org/?lang=en
Enjoy Tokyo Old Town Atmosphere in Shibamata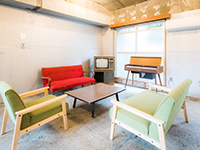 Shibamata Taishakuten Temple and its approach have been considered a popular "downtown" spot by Tokyo townspeople since the Edo period. From March 18 a new accommodation facility is ready to welcome you. Shibamata Fu-ten Bed & Local is a renovated Showa-period (1926-1989) building with private rooms (you can choose between Japanese or Western style), a common kitchen and a laundry. Take a stroll down the shopping street while eating handmade dango dumplings, visit Taishakuten Temple, and immerse yourself in the Japanese culture, starting from Shibamata.

http://shibamatafuten.com/ (Japanese version only)

Accommodation and Personalized Tours in a New Asakusa Hotel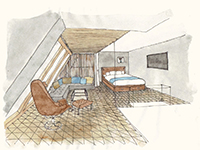 Opening on April 1, Wired Hotel Asakusa is offering various accommodation choices, from private rooms where you can have a relaxed stay, to easy-on-your-budget dormitory beds. The hotel aims at introducing its guests to Japanese and non-Japanese Tokyoites, who will act as "ambassadors" (i.e. guides), so that the guests can enjoy a unique Tokyo experience. From walks around the metropolis (up to 1 mile / 1.6 km) to short one-day trips heading to the surrounding areas (up to 100 miles / 160 km), the guests of the hotel will see more and will get to know Tokyo as locals do. Guests also can talk with such "ambassadors" at the events held at the café inside the hotel.

http://wiredhotel.com/
Must-see for All Cat Lovers! Cat "Art" Exhibition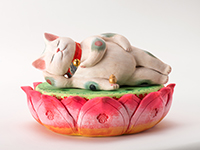 Eighty-year-old ceremony hall Meguro Gajoen has a unique building called "Hyakudankaidan," with seven Japanese-style rooms connected with a 99-step staircase. Among the exhibitions held inside the building, the one from April 26 to May 14 stands out thanks to its original theme: cats! Nine different artists have created several cat-related works including a 3D cat jumping out of a ukiyo-e woodblock print, an illustration of a "monstrous" cat, ceramic wear with cat motifs, and many other similar works. Take part in this unique event and feel the healing power of felines!

http://www.megurogajoen.co.jp/event/fukuneko/ (Japanese version only)
Special Feature
Frills and ribbons: a day in the world of the "Lolita Fashion"
The "Lolita fashion" is a popular style spreading all around Tokyo.
In this new episode, Jenna and Noemi will go to Harajuku, try on Lolita clothes and take few photo shoots for us!
https://youtu.be/2l7k_6vmMdM
Event Information
Go to our website & find more exciting events and festivals.

http://www.gotokyo.org/eventlist/en/list
---
To subscribe to Tokyo Monthly, click
here.
To access the previous edition Tokyo Monthly, please visit:
back number.

Issued by: Tokyo Convention & Visitors Bureau
Supported by: Tourism Division, Bureau of Industrial and Labor Affairs, Tokyo Metropolitan Government

If you want to reprint the articles, please contact us.
E-mail: news@tcvb.or.jp