vol.74 February 2017
News & Announcements
Big Renewal of Tokyo Prince Hotel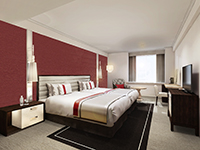 With more than 50 years of history, and already one of Tokyo's top-class accommodations, after its big renewal on April 1, Tokyo Prince Hotel will offer even more. As three-guest rooms are added, it will be more convenient for families and groups. A new Club Floor is set for the 11th floor and also a new Club Lounge will be exclusively opened on the 1st floor for guests who stay on the Club Floor to have a relaxed time. Add a view of Tokyo Tower and easy access to Haneda Airport and you have a winner!

http://www.princehotels.co.jp/tokyo/renewal/
GINZA SIX: Rebirth of Ginza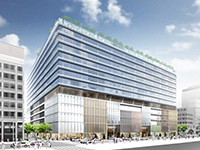 It's here! The long-awaited "GINZA SIX," the shopping, dining and cultural complex that will become Ginza's new landmark opens officially and fully on April 20! What does it bring? A total of 241 shops, restaurants, cafés, one of Japan's most venerable Noh theaters, the Kanze Nohgakudo Hall – these are just the start. Much more than a state-of-the-art modern mall, GINZA SIX is a window into 21st century Japan, a spot where all trends converge.

http://ginza6.tokyo/en/

Welcome to Anime: AnimeJapan 2017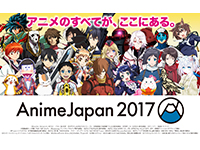 Its title, "Here's Everything About Anime" says it all: for four days from March 23 through 26, Tokyo Big Sight will become the world's anime central, hosting AnimeJapan 2017. This is the biggest expo of the anime industry, bringing together professionals and fans and highlighting an art form that has become one of Japan's best ambassadors abroad. New product announcement and talk shows are to be held on the special stages. Original works, cosplay events, official merchandise, limited-time offers and great food make for an unforgettable experience.

http://www.anime-japan.jp/en/
Different Kind of Exhibition: "Super Ukiyo-e: The Edo Code"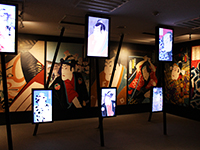 Ukiyo-e woodblock prints are a trademark of Edo (old Tokyo) townspeople culture, a lively colorful culture born in the busy city streets of the 17th-19th centuries. The Super Ukiyo-e exhibition brings new life to this unique art, combining classic imagery with leading-edge digital technology and allowing visitors to jump back into time and see the world of Edo as it really was! A unique event not to be missed! It is held at Nihombashi until May 21.

https://superukiyoe.com/
Special Feature
Get to Know Tokyo's Nature - Enjoy Hiking and Cherry blossoms!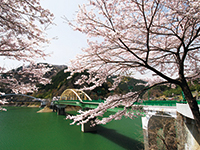 When you hear the word "Tokyo" what are the first things that spring to mind? Skyscrapers? Tokyo Tower? TOKYO SKYTREE? The metropolis has many modern and futuristic landmarks and many images that have come to symbolize it but in reality, it's also surrounded by abundant nature. Take for example the Tama area, just a 1-2 hours train-ride from Shinjuku and a real treasure house of mountains and greenery. Or Tokyo's islands, easily reachable by plane or boat and featuring unique geological formations created by volcanoes and their own distinctive culture.
  Dare to leave the tumult of the city behind and discover the charms of Tokyo's nature: with the cherry blossom season already here, the combination can be magical!

Tama Area
1 night-2 days Tama experience – suggested itinerary

1. Walk Through History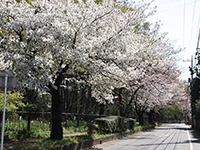 10:00 Shinjuku Station → 10:30 Musashi-Koganei Station
Walk a mere 20 minutes from Musashi-Koganei Station and you'll get to the upper reaches of the Tamagawajosui (conduit), where the cherry trees lining both banks are beautiful and where in spring you can enjoy them in full bloom. What's even better is that these aren't the usual somei-yoshino cherry trees. They belong to the yamazakura variety (they were planted during the Edo period) so they bloom later and last longer.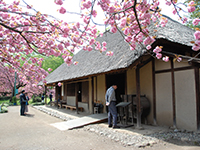 If you walk a little more, you can also get to the Edo-Tokyo Open Air Architectural Museum, featuring 30 fully restored buildings from the Edo and Showa periods (17th to 20th centuries) – a time-warp experience not to be missed!

http://www.tatemonoen.jp/english/index.html
2. Learn About Sake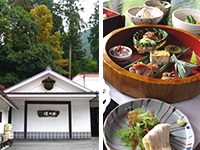 13:00 Musashi-Koganei Station → 14:15 Sawai Station
Just a 3-minute walk from Sawai Station and you reach Ozawa Sake Brewery with over 300 years of know-how in sake production. Their guided tours will help you understand how Japan's national drink is made and of course you will have the opportunity to try some of their finest products. To make things even better (and tastier!) there are near the brewery a Western restaurant and a Japanese restaurant where you can see how sake fits with various flavors!

http://www.sawanoi-sake.com/en/
3. Relax in the Onsen, Sleep in Nature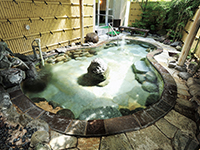 17:00 Sawai Station → 17:20 Okutama Station
Since there are several inns and other lodgings offering onsen (hot spring) services in Okutama, this could be a good choice to spend the night and enjoy yourself. Have a sumptuous local meal and unwind next to a fireplace, perhaps listening to a folk tale from one of the locals. And if you are the outdoors type, campsites are also available!

4. Enjoy Nature at its Fullest with Forest Therapy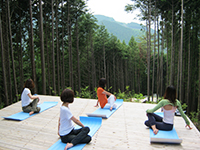 10:00 Meeting at Okutama Station
After a relaxing night at the onsen, try a unique nature experience: a forest therapy healing tour starting from Okutama. Doing yoga in the forest will refresh you in a way you never thought possible. You will feel you're becoming one with the nature surrounding you and this will enhance the effectiveness of the exercises. Another part of the therapy is guided walking tours around the forest. The walks are done at a slow pace that anyone can follow but if you prefer something with even less effort you can just enjoy "Forest Teatime" (i.e. herbal tea and homemade cookies) accompanied by a lecture on breathing exercises.

http://okutama-therapy.com/
(Japanese version only)
16:00 Okutama Station → 17:40 Shinjuku Station
Your arrival at Shinjuku marks the end of your 1 night-2 day trip to the Tama area!
The area is also easily accessible by highway bus from and to Haneda Airport.

Islands' Area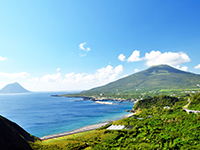 Those into marine sports will certainly find hanging out on Tokyo's islands totally rewarding! You can choose between the Izu Islands, very close to Tokyo (the nearest is about 120 km and the furthest/southernmost 357 km from the metropolis), or the Ogasawara Archipelago, a UNESCO World Natural Heritage site but a good 1,000 km away. For reasons of proximity/accessibility from Tokyo, in the following introduction we have included three islands from the Izu group.

Oshima Island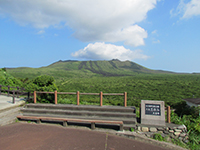 The biggest among the Izu islands, Oshima has at its center Mt. Mihara, with a caldera that still shows signs of activity. At its "Izu Oshima Geopark" you can learn about Earth's dynamic structure and about the creatures that have evolved in the volcanic environment.

Niijima Island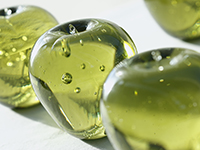 With its beautiful white beach, Habushiura Coast is a popular surfing spot. Olive green "Niijima glass" is created using pumice stone, a specialty of the island. Niijima Glass Art Center offers workshops where you can try glass making. Niijima International Glass Art Festival is held every autumn, inviting prominent artists.

Hachijojima Island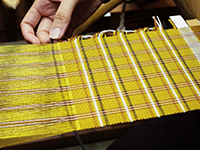 Besides Izu Islands' highest peak, Mt. Hachijo Fuji (854.3 m), at Hachijojima you can find the "Kihachijo" silk fabric that has been designated a traditional craft of Tokyo. What makes it distinctive is its unique color, which comes from hand-weaving of yellow, reddish yellow and black threads, colored using plant dyes.

Of course both the Tama area and the Tokyo islands have many more things that will surprise and excite you; by all means, check
http://tokyoreporter.jp/en/ to see them!

Event Information
Go to our website & find more exciting events and festivals.

http://www.gotokyo.org/eventlist/en/list
---
To subscribe to Tokyo Monthly, click
here.
To access the previous edition Tokyo Monthly, please visit:
back number.

Issued by: Tokyo Convention & Visitors Bureau
Supported by: Tourism Division, Bureau of Industrial and Labor Affairs, Tokyo Metropolitan Government

If you want to reprint the articles, please contact us.
E-mail: news@tcvb.or.jp