vol.72 December 2016
News & Announcements
New Passenger Information Desk in Ueno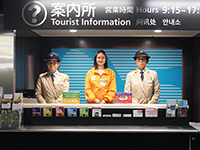 Given Ueno's attractions, there's no wonder that from Dec. 1 it has a new passenger information desk helping travelers from abroad at Tokyo Metro Ueno Station. With English and Chinese speaking staff and a friendly robot, "Pepper," dressed as a panda, for which Ueno Zoological Gardens is famous, and answering questions in Japanese, English, Chinese, Korean, Spanish and French, the desk is waiting for you! At the desk, you can also get "Tokyo Subway Ticket," a practical metro pass for tourists from overseas.

http://www.tokyometro.jp/lang_en/news/157646.html
A New Accommodation for Asakusa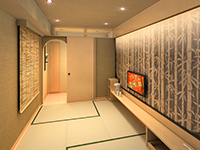 With a design mixing classic Japanese and modern elements and at a spot just a few minutes' walk from Asakusa Station in the bustling center of Tokyo and near the Sumida River, new Hotel Wing International Select Asakusa Komagata is going to open on Dec. 26. Easy access to transportation, Sensoji Temple, Kappabashi (a street full of cooking supply stores) and the TOKYO SKYTREE, great views, and surrounded by many great restaurants and Edo (old Tokyo) culture – does it get any better?

http://www.hotelwing.co.jp/select/asakusa/en/

Sleep Well in Roppongi's New Hotel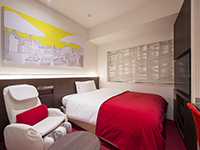 In the Roppongi area that has made a name for "never sleeping," Hotel Remm Roppongi's concept of becoming a quality sleep provider seems almost revolutionary. The new hotel will open its doors on Mar. 30 and the convenience its location offers (right next to Roppongi Station) as well as its several amenities including a floor just for women promise to make it a new Roppongi staple!

http://www-a.global.hankyu-hotel.com/remm-roppongi/
Bathing in Fireworks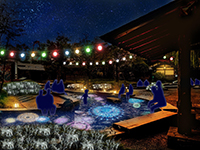 Odaiba's Ooedo-Onsen Monogatari is already a popular destination combining onsen and theme park but the "Fireworks by NAKED" event (from Nov. 26 to Feb. 28, 2017) promises to transform it into something spectacular. The famous event team uses the hot water in the spa's foot-bath as a screen to project fireworks' and kaleidoscopes' imagery – you'll be literally warming your toes in the fireworks' colors! Make your visit to Odaiba unforgettable with this fabulous event!

http://daiba.ooedoonsen.jp/ooedo_fireworks/ (Japanese version only)
Special Feature
Let's Send a Letter from Tokyo!
Don't you want to tell your family and friends about an enjoyable episode from your trip, or that you miss them? Sure, you could just send an email, make a call or contact them via SNS; but isn't it way lovelier to send them a letter? It will remain in your and your family's/friends' memory as something unique. In Tokyo, you can actually buy limited edition letter sets and stationery; in addition, special stamps and postmarks are available! Such a letter is just perfect to tell your loved ones about your Tokyo trip. Sending it to your family and friends is a must, but why don't you send it to yourself as well?
This time we'd like to introduce Jenna, who sent seasonal greetings to her family in Germany.

We recommend the Tokyo Central Post Office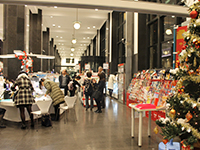 Jenna stopped by the Tokyo Central Post Office. It's close to Tokyo Station, so that you can easily take a look during your sightseeing day.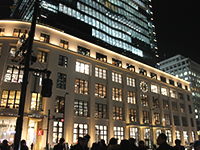 It's located on the first floor of the KITTE shopping mall and just perfect to stop by on your way home. Open till 9 pm!!

A huge variety of goods!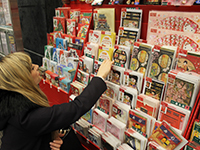 Jenna had a lot of fun choosing a special seasonal letter set in the special goods corner. Beautifully illustrated or in a cute character design, cards with music or lights... So many choices that you will want to take them all.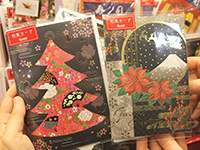 She finally made a decision! A Japanese kimono style Christmas tree design one and another one with a cute Santa Claus at Mt. Fuji.
"It's so cute! I'm going to send it to my mom and sister."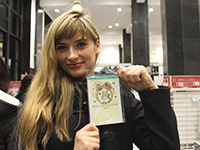 Next corner to go to is the New Year's Cards corner! Jenna found a super cute Japanese character design card! In Japan, it's a very important part of the culture to send New Year's greeting cards.
"This year I'll also send such a card for sure!"

Unique special edition goods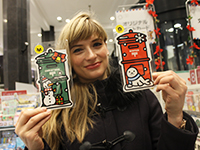 It's one of the special features of Tokyo Central Post Office that you can get limited and rare goods only available here or only available at other post offices in the country. Jenna was so fascinated seeing these special goods that she felt like buying them all.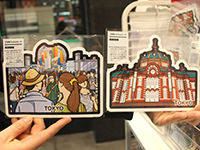 This is really something special to send to your loved ones! – a special design card of Tokyo Station, Asakusa, or Shibuya. Jenna really liked the Shibuya design one.
"The girl with the ponytail reminds me a little bit of myself! *laugh*"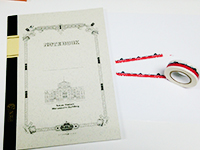 Besides the postal goods, you can buy a lot of stationery goods as well. As this post office is close to Tokyo Station, you'll find a lot of Tokyo Station motif cards. Jenna really loved the old-fashioned notebook and deco-tape with Tokyo Station design. Those two items are only available at the Tokyo Central Post Office.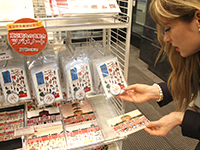 Postcards, clear files, bags and more with special Tokyo Station design.
"Oh....what should I choose??"

Let's send a letter!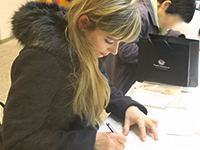 After the fun shopping, it was time to write a letter and send it to her mom and sister!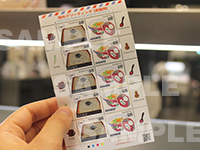 Instead of the regular stamps, you can get special 18-yen stamps with a Japanese food design such as soba (buckwheat noodles) and oyakodon (rice topped with boiled chicken and eggs). If you add one of these special ones to a normal 52-yen stamp, you can send a postcard overseas for a total of just 70 yen. Jenna chose them, because they are typical Japanese designs.
(*The necessary amount of stamps for the postcard Janna chose this day is above 70 yen because its size is not a normal size.)
Images: Set of specially-designed stamps for international mail (for additional postage)/18 yen per piece
The date of issue: Nov. 1, 2016, Sold: Nov. 1, 2016 to Jan. 31, 2017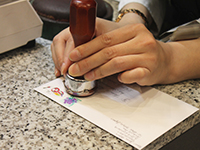 This time, she got a special, pictorial postmark on the envelope. She (and we) are curious: What might be the design of the special postmark available only at the Tokyo Central Post Office is?

"Wow, look at this post stamp mark! It's so special that my mom will notice it for sure!"
*This postmark is stamped on mail with a 52-yen stamp and over.
*When it is stamped on international mail, another date mark is stamped alongside.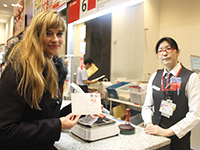 With this nice letter, Jenna's seasonal greetings mission was completed! With a unique stamp and postmark it became a charming letter from Tokyo. OK, off to Germany it goes, cute letter!!

Jenna's comment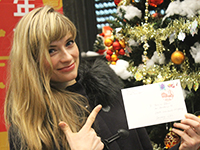 I had already come to Tokyo Station before, but it was the first time to this post office. I'm surprised that you can get so many goods and post cards here! It's just perfect as a gift for your family and friends. Cute goods, special and unique stamps and postmarks! I guess I'll send a lot more letters to my family and friends from now on.
*Before posting, another date mark is stamped next to the pictorial postmark.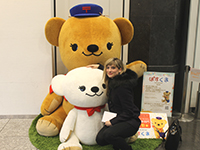 Isn't "Posukuma," the character of Japan Post, cute? The Tokyo Central Post Office has a guide panel in English, Chinese and Korean and the tourist information center "Tokyo City i" is right next to it, which makes it easy for tourists from overseas to come in. There are a number of other post offices in Tokyo where you can get postmarks with unique Tokyo scenery. Why don't you get a few of them by sending letters from different post offices in Tokyo to your family and friends?

http://www.post.japanpost.jp/index_en.html
Event Information
Go to our website & find more exciting events and festivals.

http://www.gotokyo.org/eventlist/en/list
---
To subscribe to Tokyo Monthly, click
here.
To access the previous edition Tokyo Monthly, please visit:
back number.

Issued by: Tokyo Convention & Visitors Bureau
Supported by: Tourism Division, Bureau of Industrial and Labor Affairs, Tokyo Metropolitan Government

If you want to reprint the articles, please contact us.
E-mail: news@tcvb.or.jp