Main content starts here.
vol.71 November 2016
News & Announcements
"SWEETS by NAKED": A world of candy in Tokyo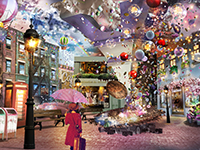 Is there any kid who never dreamed of a world where everything was made of candy? Where the streets are paved with brownies, the mountains are cupcakes and the neon signs are colorful candies? Aided by high-end imaging technologies such as 3DCG and projection mapping, "NAKED" (a Japanese spatial directors' company) has created "SWEETS by NAKED," a space in Omotesando Hills transformed to look exactly like that! Visit from Dec. 1 to Jan. 9, and see, scent, touch, eat and immerse in a world of sweet magic!

http://sweetsbynaked.com/ (Japanese version only)
HUAWEI presents Starry Sky Illumination: A starlit Tokyo night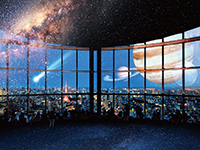 Roppongi Hills' Tokyo City View is among the metropolis' best observation decks, so it's no wonder that it has been chosen for one of this year's most spectacular illuminations (light shows), the "HUAWEI presents - Starry Sky Illumination." Combining the actual view with projections on an enormous screen, the show offers visitors some unique night scenes. At the show, you can also enjoy moving the night stars on your smartphone screen by using the newest technology. "Starry Sky Illumination" will take place from Nov. 23 to Jan. 29, 2017.

http://www.roppongihills.com/tcv/jp/hoshizora/ (Japanese version only)

World's First Light Show of Shooting Stars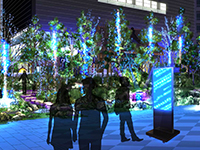 Nihombashi is a popular commercial district in Tokyo, home to the COREDO Muromachi shopping complex, some of the oldest department stores, and "Fukutoku-jinja Shrine." And from Nov. 25 to Jan. 9, 2017, host of "Negai no Mori" illumination (light show) where, thanks to a high-end detection system called "Meteor Broadcaster," shooting stars detected in the sky above the Japanese archipelago are illuminated in the show to be enjoyed in real time. Nature and technology meet in this marvelous event not to be experienced anywhere else in the world!

http://negai-no-mori.jp/ (Japanese version only)
A Gathering of Japan's Charms in Tokyo!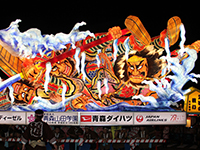 From Aomori's Nebuta Festival to the north to Okinawa's Eisa Festival to the south, Furusato Matsuri Tokyo in Tokyo Dome is a virtual travel to the four corners of Japan! Try local dishes and tens of varieties of sake, enjoy the festival folk arts and marvel at the many diverse sides of the world we call "Japanese culture." The always popular festival with a theme of "Japanese festivals and food," will be held from Jan. 7 to Feb. 15.

http://www.tokyo-dome.co.jp/furusato/ (Japanese version only)
Special Feature
Have Nice Sake & Food at Izakaya
There are many izakayas, Japanese little restaurants, in Tokyo.
Enjoy popular Japanese food and drinks there!
https://www.youtube.com/embed/QLFe4Nrxgeo
Event Information
Go to our website & find more exciting events and festivals.

http://www.gotokyo.org/eventlist/en/list
---
To subscribe to Tokyo Monthly, click
here.
To access the previous edition Tokyo Monthly, please visit:
back number.

Issued by: Tokyo Convention & Visitors Bureau
Supported by: Tourism Division, Bureau of Industrial and Labor Affairs, Tokyo Metropolitan Government

If you want to reprint the articles, please contact us.
E-mail: news@tcvb.or.jp