vol.70 October 2016
News & Announcements
JR East's New Ikebukuro Travel Service Center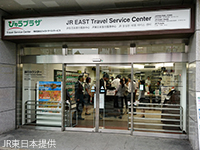 In Ikebukuro, one of the metropolis' most bustling hubs, a new facility promises to make visitors' life easier. It is JR East's Travel Service Center offering routes' information, selling tickets and validating JR Passes and answering any other tourism-related query (and yes, there is English-speaking staff available so no need to worry about communication!). Ikebukuro is one of Tokyo's major destinations so now you have one more reason to visit!

http://www.jreast.co.jp/e/customer_support/service_center_ikebukuro.html
On Nov. 1, Grand Prince Hotel Takanawa Is Back!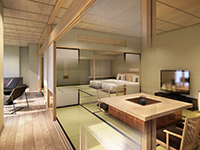 About a 5-minutes walk from Shinagawa Station, Grand Prince Hotel Takanawa is opening its doors again on November 1 offering a complete makeover of all its rooms. The annex with 16 Japanese rooms is renamed as Ryokan "Takanawa Hanakoro" and equipped with an exclusive Japanese lounge and a spa. Particularly worth mentioning is the "Club Floor" on the upper floor of the main building. The exclusive lounge for guests staying there is overlooking the ground floor's traditional garden and also offering business-related facilities (meeting rooms, etc.).

http://www.princehotels.com/takanawa/

New Capsule Hotel in Tamachi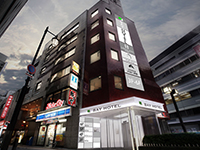 Close to Tokyo and Shinagawa stations, not far from Haneda Airport and almost directly across the street from JR's Tamachi Station, the Tamachi Bay Hotel's designer capsules will be awaiting all budget-conscious visitors from November 1. With different floors for men and women, amenities including TV, free Wi-Fi and USB ports and reasonable prices, the hotel offers a practical alternative to anyone wishing to see Tokyo without breaking the bank!

http://www.bay-hotel.jp/tamachi/ (Japanese version only)
Hotel for Train Aficionados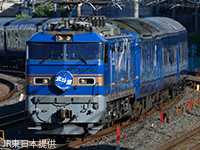 It used to connect Tokyo and Hokkaido; last year it was discontinued but from this December, the Hokutosei sleeping car train returns, now as a hostel in Nihombashi's Bakurocho. The hostel is named after the train ("Train Hostel Hokutosei") and its designers have kept as many of the train's parts as possible so if you're looking for a unique accommodation (or just love trains) you should definitely check it out! All staffers can speak English and a website in English also will be launched.

http://www.jreast.co.jp/press/2016/20160904.pdf (Japanese version only)
Special Feature
Gourmet Tokyo: Celebrities love it too!
Tokyo gets huge numbers of visitors from everywhere; among them celebrities from the world of arts or sports who come either for business or pleasure and explore what the metropolis has to offer. And for many of them, one of the greatest pleasures is the unbelievable gastronomical landscape that made American magazine "Saveur" give Tokyo its "World's Best Food City" award. Is it the taste? The service? The incredible variety? It's everything – and celebrities agree! So who likes what? Which actor has which passion and which singer can't visit Tokyo without tasting which dish? Read on and find out!

Keanu Reeves and his ramen addiction
Soryutogyokudo, Roppongi branch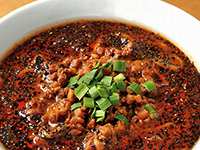 Film actor and director Keanu Reeves really loves ramen and from what we hear, every time he comes to Japan has it at least once. Apparently though, he has a particular fondness for "Soryutogyokudo" in Roppongi: from what the staff told us he has visited it twice in a row and had the Kurogoma (black sesame) Tantan-men with all the toppings: chashu (slices of roast pork), boiled egg, menma (bamboo shoots) and negi (Welsh onion). Satisfied with the volume and the spiciness, the star of "Matrix" even gave the restaurant his autograph!

http://kiwa-group.co.jp/restaurant/335/
(Japanese version only)
Lady Gaga's mandatory bowl of tachigui soba
Shinagawa Station's tachigui (standing) soba restaurant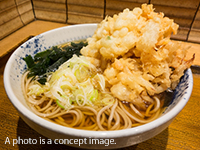 World famous singer Lady Gaga has a particular affinity for Japan, as witnessed from her writing on her expensive classy handbag "I love small monster. Tokyo Love." with katakana characters. (Yes, her fans went wild!) For Lady Gaga, the dish that says "Japan" most is soba buckwheat noodles eaten standing at a station stall with her favorite being that in JR Shinagawa Station's platform. These restaurants-stalls are all over Tokyo (some even consider them the metropolis' most characteristic eateries) and a bowl of tempura soba seems to fit Lady Gaga's busy schedule, before she's off to a rehearsal or a visit to her other Tokyo favorite, the second-hand clothes shops in Harajuku.

John Lennon and his cup
Café Paulista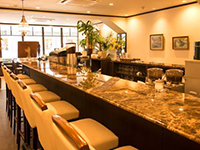 "Café Paulista" is a Ginza institution established over 100 years ago and for a big part of its long life it has been a gathering spot for intellectuals and artists. It's no surprise then that in 1978 it was noticed by John Lennon and his wife, Yoko Ono. The story goes that the couple came for three consecutive days and nights enjoying the coffee and even signed a cup and saucer set – ask to see them the next time you are there!

http://www.paulista.co.jp/shop.html
(Japanese version only)
A monja-yaki for Brad Pitt
Tsukishima, Monkichi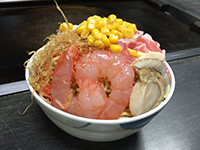 Monja-yaki is considered one of Tokyo's representative dishes and in Tsukishima's "Monja Street" you can find dozens of restaurants specializing in it crammed one next to the other. The one Brad Pitt tried was "Monkichi" in one of Tsukishima's backstreets and from what we found out, his choice was the "Monkichi Special" featuring pork and seafood; although this was his first time he seems to have enjoyed both the dish and the lively shitamachi (old downtown) atmosphere of the restaurant and the neighborhood.

The pasta that stopped F1's Fernando Alonso
Al Dente, Ginza Sony Building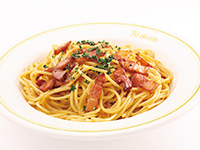 F1 ace driver Fernando Alonso is well known as a fan of Japan's samurai and anime. What most people don't know though is that every year when he comes to Japan he will certainly stop at Italian restaurant "Al Dente" in Ginza: the place is filled with pictures of Alonso's many visits. His favorite dish is "Al Dente's" famous carbonara made, as the original Italian recipe dictates, without the use of cream and we hear that he enjoys the food as much as the mesmerizing view of Ginza's busy boulevards.

http://www.sonybuilding.jp/e/shop/
Bonus Suggestion - Experience the world of Haruki Murakami
DUG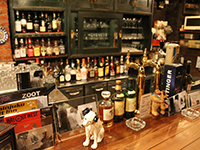 Haruki Murakami is perhaps Japan's best known novelist. But here's a detail that some may not know: the backdrop for his most famous novel "Norwegian Wood" is "DUG," an actual café-bar still open and doing fine in Shinjuku! Go by, immerse yourself in jazz and, why not, order a vodka-tonic like Murakami's protagonists and cool down.

http://www.dug.co.jp/
(Japanese version only)
And these are not all! There are many more places where celebrities visit and experience Tokyo's universe of tastes – join them and see if your own tastes match theirs!
Event Information
Go to our website & find more exciting events and festivals.

http://www.gotokyo.org/eventlist/en/list
---
To subscribe to Tokyo Monthly, click
here.
To access the previous edition Tokyo Monthly, please visit:
back number.

Issued by: Tokyo Convention & Visitors Bureau
Supported by: Tourism Division, Bureau of Industrial and Labor Affairs, Tokyo Metropolitan Government

If you want to reprint the articles, please contact us.
E-mail: news@tcvb.or.jp