vol.68 August 2016
News & Announcements
Tokyo – and More!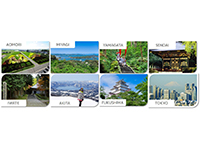 Tokyo is Tokyo but Japan is much more and "Tohoku & Tokyo" is here to help you discover it. After renovation, this website offers many exciting ideas for Honshu's northeastern region in nine languages and several 360 degree videos. Certainly worth checking out!

http://www.tohokuandtokyo.org/
Tokyo's first Cultural Heritage Site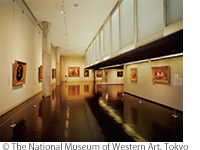 In July 2016, the National Museum of Western Art, Tokyo in Ueno was added to UNESCO's World Heritage list making it the first Cultural Heritage site in Tokyo. Its main structure was created by France's master modern architect Le Corbusier in 1959 and is the only building of his in Japan, making it a work of art unto itself! Be sure to visit it and experience Le Corbusier's vision "Museum of Unlimited Growth."

http://www.nmwa.go.jp/en/

Opening of a New Hotel near Tokyo Station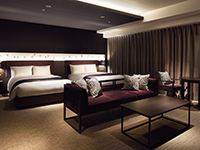 Only 5-min walk from Tokyo Station, the Mitsui Garden Hotel Kyobashi opens its doors on September 1. With easy access to popular tourist destinations Ginza and Nihombashi, the hotel features 233 rooms accommodating at least two guests, making it perfect for couples and families. Plus, from this autumn it will be also close to the new business establishment Kyobashi Edogrand!

http://www.gardenhotels.co.jp/eng/kyobashi/
Passing through Haneda Airport? This Hotel is for you!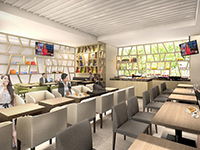 Haneda International Airport is Tokyo's aerial gateway and from September 1, Hotel JAL City Haneda West Wing promises to be one of the most convenient accommodations nearby. Just a 4-minute walk from the closest station, Anamoriinari Station, and two stations away from the airport (via Keikyu Line), the hotel has incorporated in its rooms classic design elements including Mt. Fuji, offering guests a taste of Japanese "wa" style and typical Japanese scenery.

http://www.okura-nikko.com/japan/tokyo/hotel-jal-city-haneda-west-wing/
Special Feature
Wonder in a Capsule: Akihabara's capsule toys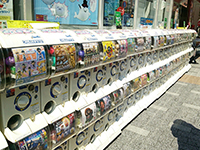 Walking around Tokyo, you have certainly noticed rows of these machines, right? Commonly known as "gachapon" or "gacha-gacha," these gadgets dispense small presents in round plastic capsules. You just need to insert a few coins, turn the lever and wait for your capsule to drop. Of course, a good part of the fun is wondering which figure is hidden inside the capsule you will get!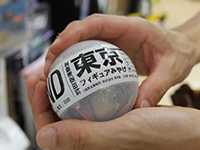 It is often said that "gachapon" came from the American gumball dispensers of over 50 years ago. However, in Japan they evolved in a different way, with the gumball being replaced by small toys. Even though they were initially intended for children, they increasingly became more popular among adults with the toys and figures in capsules, which cost around few hundred yen each. No one can tell how many different variations of toys there are in the market since companies add dozens of new models every month. In the following article we present you the fascinating world of Japan's capsule toys!

In Akihabara: The official store of one of the most famous manufacturers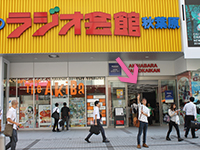 Akihabara, world-famous as a center for electronic goods, anime, and manga, features many rows of capsule toy machines. This time an Italian (That's me!) will be experiencing these machines from the inside, so to speak, by visiting "Kaiyodo Hobby Lobby Tokyo." The place is on the 5th floor of the "Rajio Kaikan" building right off the "Electric Town" Exit of JR's Akihabara Station.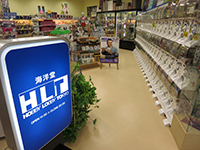 Kaiyodo manufactures figures, ranging from anime characters to Buddhist entities to animals – the breadth of its lineup and the quality of its products have made it famous worldwide. And, of course, part of this lineup includes several series of original capsule toys (Capsule Q).

http://kaiyodo.co.jp/kaiyodo_HB/TK_topics/
(Japanese version only)
Capsule toys available only in Japan
I was completly baffled by the dozens of capsule toy machines in the shop . After a few steps further inside, I found exactly what I was looking for: the"Souvenir of Nippon Traditional Culture," a Japan limited series gachapon! Then, I inserted my 400 yen, crossed my fingers and turned the lever!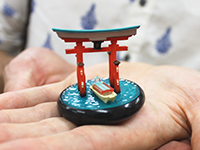 On opening the capsule, I found the figure of a brightly colored torii gate. It was the big torii from Itsukushima-jinja Shrine in Hiroshima. I have visited the place and this accurately shaped miniature brought back memories of my trip there! Since the capsule containes also an information leaflet written in English, I think it would be a perfect souvenir for a friend.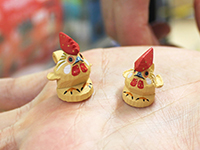 My next choice was the "Miniature Toys from All Over the Country" (400 yen each). These are all very cute and they are known to be extremely popular among women. The one I got was a toy from Yamagata Prefecture, carved wooden birds, which, despite their tiny size, were surprisingly detailed. No doubt the mold was made by one of the company's master craftsmen.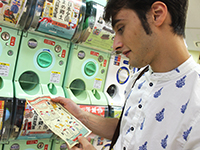 Wow! There are really a lot of local toys in Japan!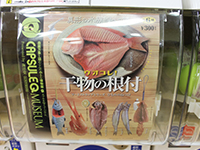 I want to show you something that really caught my eye! Is it a fish? What could that be? Apparently, it was a cell phone strap featuring a traditional Japanese dish: fish preserved by drying. This was something I had never seen in Italy so I had to get one! The series collection is called "Uokore! Sun-dried Fish Netsuke" ("netsuke" are miniature carvings attached to pouch strings – and now cell phone straps!). They cost 300 yen each.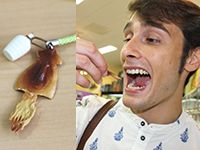 Here is what I got: a cuttlefish. It was so realistic that I tried to take a bite!
Souvenirs from Tokyo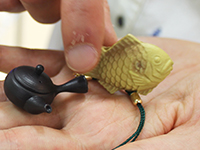 I was also surprised to find the limited edition "Tokyo Figure Miyage" for only 400 yen each! I had to take the challenge to win one of my favorite things in Tokyo, Senso-ji Temple's Kaminarimon Gate, but instead I got a cell phone strap of a taiyaki, one of the most popular Japanese confections. However, since I love Tokyo's taiyaki as well it was more than a consolation prize.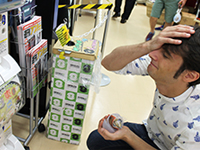 But I still wanted that Kaminarimon! Should I try again? This is the great fun of capsule toy hunting!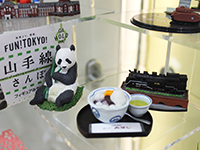 And of course there are several other series that will help you remember your trip to Tokyo, such as the one featuring famous places spots on the JR Yamanote Line, the cell phone straps with Kabuki Theatre motifs, and more.
Have fun assembling your own capsule toy!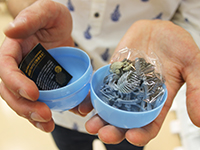 One of the shop's recommendations was the "Fight! Dokuroman" series (400 yen each) that has already sold over 100,000 units all over the country and is also very popular among foreigners! (It seems that skeletons are popular all over the world ).What you get in the capsule is the figure in pieces, so part of the fun is assembling it yourself!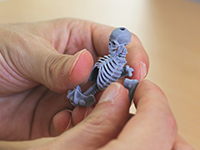 It wasn't hard to assemble it following the instructions. Wow! It is extremely delicate and not at all what you would expect from a capsule toy. From the moment I started working on it, I fell in love with it!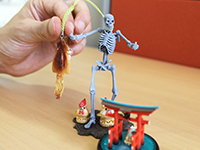 Finished!
I was really astonished by the attention that had been put into the joints of this little guy. Time to play with them :-)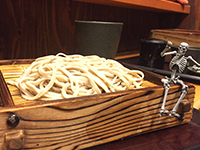 Or even better, take Dokuroman with me to my sightseeing around Tokyo and take some funny photos to share on social media.
Impressions from the capsule toy experience?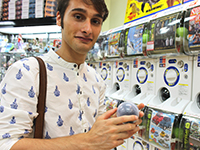 It was absolutely wonderful! There were tons of different toys so it was impossible to get bored; through the toys I got a better understanding of Japan; they were very easy and fast to buy and they were perfect for souvenirs. Furthemore, I really enjoyed the atmosphere of the shop, which perfectly succeed in putting together the long handcrafted art tradition with the latest Japanese trends. Overall a great experience!
There are several specialized capsule toy shops in Akihabara so you can enjoy them anywhere you are in the neighborhood. Next time you're in Tokyo, be sure to give them a try!
Event Information
Go to our website & find more exciting events and festivals.

http://www.gotokyo.org/eventlist/en/list
---
To subscribe to Tokyo Monthly, click
here.
To access the previous edition Tokyo Monthly, please visit:
back number.

Issued by: Tokyo Convention & Visitors Bureau
Supported by: Tourism Division, Bureau of Industrial and Labor Affairs, Tokyo Metropolitan Government

If you want to reprint the articles, please contact us.
E-mail: news@tcvb.or.jp