vol.65 May 2016
News & Announcements
A New Luxury Hotel at the Heart of the Metropolis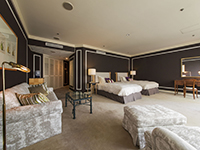 In trendy Aoyama, one of Tokyo's top areas, a new hotel opens on June 1. The Allamanda Aoyama, right next to the Gaienmae Station, allows guests to leave behind the hustle and bustle of the metropolis and relax enjoying a view of the Meiji Jingu gardens and a taste of the finest cuisine. A luxurious oasis perfect for a break from Tokyo's bustling rhythms!

http://hotel-allamanda-aoyama.jp/ (Japanese version only)
BMW/MINI Experience Showroom in Odaiba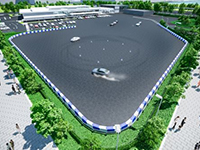 This July BMW, one of the world's premiere automobile manufacturers, opens its biggest store in Japan, the BMW GROUP Tokyo Bay. Apart from a spacious showroom showcasing the complete BMW and MINI lineups, the new store will be offering visitors the chance to drive the cars and experience first-hand each model's features. A great opportunity not to be missed by any car lover!

http://www.bmw.co.jp/ja/press/2016/20160414-3.html (Japanese version only)

From Eery to Endearing: Yōkai in the Arts of Japan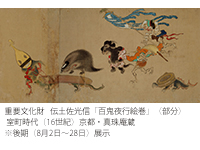 What better way to fight the heat and humidity of Tokyo's summer than with a chilling parade of apparitions from a tradition going back 4,000 years? In the Edo-Tokyo Museum, from July 5 to August 28, you can enjoy a good scare becoming acquainted with a collection of Japan's supernatural creatures ranging from traditional cultural treasures to modern anime. An imaginative exhibition, perfectly suited to the season!

http://yo-kai2016.com/
Discover Noh & Kyogen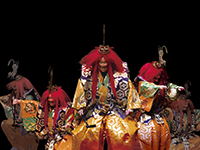 Designed especially with those who have little to no experience with Noh and Kyogen in mind, "Discover Noh & Kyogen" seeks to introduce newcomers to these traditional performance arts on June 24. The live performance will be enhanced with a personalized subtitle system, available in four languages, English, Chinese, Korean and Japanese. Furthermore, an introduction to the costumes and mannerisms, presented in English, will be included as well. It is a great opportunity to get immersed into these deep-rooted traditional art forms and enjoy the contrast of the comedic and active Kyogen, and the more subtle expressiveness of Noh.

http://www.ntj.jac.go.jp/schedule/nou/2016/4870.html?lan=e
Special Feature
DISCOVER & TOKYO: your high-tech travel guide to Tokyo
In an effort to help foreign visitors to Japan find their way around the metropolis and enjoy their trip with less effort and minimal trouble, the Tokyo Metropolitan Government and the Tokyo Convention & Visitors Bureau have created a new, multilingual service, called "DISCOVER & TOKYO" centered around a state-of-the-art digital signage information system. The service aims to allow everyone to walk around Tokyo and enjoy everything the capital has to offer and to achieve that, its creators have loaded it with all kinds of data and add-ons.
This system is the first of its kind in Japan and as of May 2016, four devices are already in operation – two in Shinjuku and two in Ueno. The two areas were chosen because they are very popular among tourists but the plan is to have more installed in the near future.
So without further ado, let's take these first "DISCOVER & TOKYO" devices for a spin!
Walking Around Town Information
In Ueno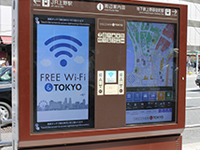 One day in May I found myself in Ueno, one of Tokyo's most touristic areas. I was interested in Tokyo's history but with all the museums there, I didn't know where to start. I kept wandering around until in front of the Ueno 3153 building I came across a digital signage with the words "DISCOVER & TOKYO Tourist Information" written on it. I immediately went through the available language options (English, Traditional and Simplified Chinese, Korean and Japanese) and chose English.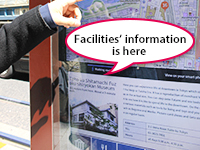 From the various categories – "Tourist Attractions," "Shopping," "Restaurants," etc. – I touched "Tourist Attractions" and, wow! The area's tourist facilities appeared on the map and I was overwhelmed: I didn't know they were so many! Touching on the facilities appearing on the bottom part of the screen, detailed information about them as well as access information popped up. Among them there was something about a "Shitamachi Fuzoku Shiryokan Museum," a museum focusing on the history and everyday life of downtown Tokyo. This sounded interesting and it was only a 3-minute walk from there so that's where I'd go!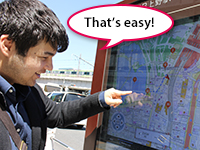 On the map on the top part of the device, the route from the spot I was standing at to the museum appeared in blue. The map, by the way, includes detailed information about stations, landmarks, ATMs, and even public toilets and coin-operated lockers. Also, you can look for barrier-free routes and for places with elevators or ramps, which means that everybody can find a way to enjoy their wanderings around Tokyo!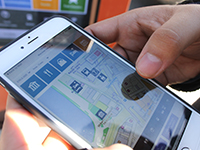 I had found my destination but I was still somewhat worried about something: would I be able to find my way there if I left the map? This was when I discovered another very useful service! First, I had to connect through Wi-Fi – near the digital signage device you can use the "Free Wi-Fi & TOKYO" service and the device will also show you how. From there on, after reading the QR Code provided by the device (or through NFC) I could get the same map on my smartphone, which meant I could consult it every time I wasn't sure if I was in the right direction!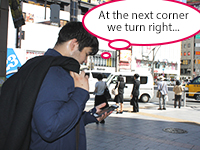 From then on, I could head for the Shitamachi Fuzoku Shiryokan Museum! Over the crossing... Then... Wait: over there is a koban... so I should go straight? I continued while checking the map on my phone but even with its help, Tokyo is really hectic!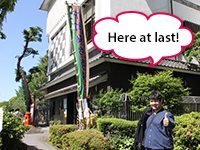 Finally I arrived at my destination: something that would otherwise have been an ordeal had been made easy. So in the museum we go!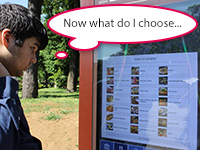 After the museum I walked back to Ueno Park and took a couple of pictures with the famous statue of Saigo Takamori. By now I was a little tired, though, so I thought it'd be a good idea to grab some lunch. This time, using the "DISCOVER & TOKYO" device installed in the park, I touched the "Restaurants" icon from the categories menu and saw my options: sushi, ramen, monja, all kinds of ethnic cuisines... again, the number of choices was overwhelming! Because the day was hot, I opted for cold buckwheat soba noodles. Touching the "Soba" option on the screen made the soba restaurants in the area appear on the map. I found the one closest to where I was, confirmed the route and I was on my way.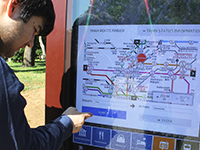 After a full day of sightseeing it was time to get back to my hotel. But, which train do I ride from Ueno to get there? Once again, the digital signage came to the rescue! By touching "Train transfers," the railway system map appeared so I chose the departure and the arrival stations and then "Search," and the device came back with the line I had to take to go from Ueno to my destination station. And because the system is updated in real time, I was able to choose the combination of lines that were trouble-free.
Sayonara Ueno – I'll be back!
Impressions after the use of the service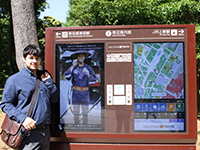 A great way to enjoy your outing if you find yourself with nothing to do on a beautiful day. (Ramil from Switzerland)
In Case of Emergency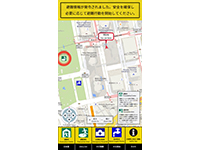 The digital signage is not just for tourist information: particularly worth mentioning is the fact that in times of a disaster such as an earthquake above a certain magnitude, etc., the screen switches to a disaster information mode. The information provided includes evacuation spots, hospitals, shelters and so on, and is available in four languages. Furthermore, the system will provide QR Codes for websites with services for disaster victims as well as phrases that will help them communicate any problem with the authorities, healthcare providers, etc. So if something happens, please remember to take a look at the "DISCOVER & TOKYO" near you.
As we will be moving towards the 2020 Olympics, there is a plan to install more "DISCOVER & TOKYO" digital signage devices all over the metropolis. If you happen to visit, make sure to check them out and make the most out of your trip!!

"QR Code" is a registered trademark of DENSO WAVE INCORPORATED in Japan and other countries.
Event Information
Go to our website & find more exciting events and festivals.

http://www.gotokyo.org/eventlist/en/list
---
To subscribe to Tokyo Monthly, click
here.
To access the previous edition Tokyo Monthly, please visit:
back number.

Issued by: Tokyo Convention & Visitors Bureau
Supported by: Tourism Division, Bureau of Industrial and Labor Affairs, Tokyo Metropolitan Government

If you want to reprint the articles, please contact us.
E-mail: news@tcvb.or.jp