vol.64 April 2016
News & Announcements
Grand Opening for the Tokyu Stay Ginza Hotel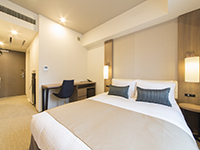 One minute from Higashi-ginza Station and three minutes from Ginza Station, the new Tokyu Stay Ginza Hotel is one of the best spots to use as your base while wandering around one of Tokyo's greatest commercial areas. Among other things, it's also very close to the Tsukiji Fish Market. Together with the recently opened Tokyu Plaza Ginza shopping center, the new hotel is a marker of Ginza's continuous evolution.

http://www.tokyustay.co.jp/e/hotel/GZ/
A New Information Service for Visitors to Japan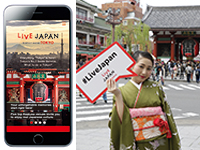 You just arrived in Tokyo and there's lots of things you don't know. The routes, the best places to eat, the Wi-Fi spots... From April 13, there's a new service you can rely on: the "Live Japan Perfect Guide Tokyo"! Useful information and the latest buzz on what's going on in the metropolis available in eight different languages will help you make the most of your Tokyo experience.

http://livejapan.com/

The New Tourist Information Center in Shinjuku Is Up and Running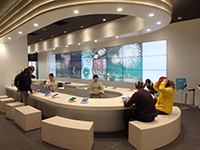 Together with "Shinjuku Expressway Bus Terminal," which opened on April 4, the station's New South Entrance now offers a spot essential for everyone visiting Tokyo. The Tokyo Tourist Information Center is providing travelers information about Tokyo and the whole country in four languages (Japanese, English, Chinese and Korean). Besides planning and organizing your trip, you can also exchange currency, make bookings, arrange to have your luggage delivered or even have it temporarily safeguarded while you explore the area. The Wi-Fi service is freely available.

http://www.gotokyo.org/en/tourists/topics_event/topics/160404/topics.html
A Women-only Capsule Hotel in Shibuya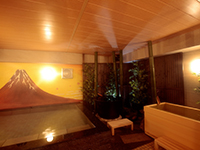 Very different from any other capsule hotel, the Nadeshiko Hotel Shibuya offers women travelers on a budget the opportunity to spend a quiet and worry-free night while enjoying some of the best aspects of Japanese tradition. Free yukata bathrobes and tabi socks, communal baths with a Mt. Fuji painting, and cocoon beds, all in an appealing environment not far from Tokyo's most trendy area and with English-speaking staff eager to help!

https://cozy-japan.com/featured-hotel/nadeshiko-hotel/
Special Feature
Shinjuku – Now and Then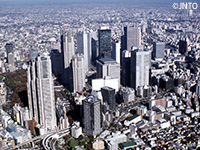 Rows of skyscrapers towering over a commercial district bustling with energy while hordes of visitors from Japan and abroad are roaming its streets shopping and sightseeing – this can only mean Shinjuku! Even though the area has gone through several transformations, 2016 has brought some particularly big changes, especially when it comes to the New South Exit area of Shinjuku Station. There, on Koshukaido Avenue, there is now the New South Exit featuring the Shinjuku Expressway Bus Terminal with new commercial and tourist information venues that are drawing more and more attention with each passing day.
When speaking about Shinjuku you can't neglect Kabukicho. Having attained fame as an adult entertainment area, Kabukicho has also been undergoing major changes that will definitely make you see it under a different light.
In this issue, we gathered some of these new spots and present them to you, in the hope you will appreciate this juxtaposition of the old and the new Shinjuku, always changing, always remaining the same, always charming, always inviting.
Shinjuku Station New South Exit – A brand New Hub
"Shinjuku Expressway Bus Terminal" & Tokyo Tourist Information Center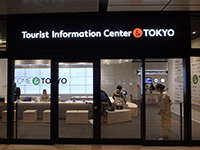 It's finally here: the terminal for the highway bus lines connecting Tokyo to various regions of Japan. The new center brings together all the terminals previously scattered around Shinjuku Station, making direct transfer from the station to them a breeze – Shinjuku is now literally the center of Japan! And while you're there, make sure to check out and use the new Tourist Information Center. You can read more about it in this issue's "News" section.

http://www.gotokyo.org/english/agent/citypromotion/mailnewsletter/mn_64.html#anc1_3
"NEWoMan" Shopping Center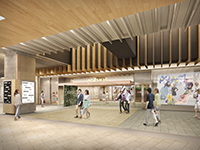 Fully open since April 15, it expands Shinjuku Station's shopping area, which was until now associated with the West Exit. Focusing mainly on female customers as its name suggests, NEWoMan is replete with exquisite fashion items as well as a variety of other offerings. For more details about it, check:
http://www.gotokyo.org/english/agent/citypromotion/mailnewsletter/mn_63.html#anc1_3
Kabukicho – The Old and the New
Right in the heart of Shinjuku "The city that never sleeps" – an apt name for Kabukicho, Tokyo's top entertainment district. Literally packed with restaurants and bars, game centers, and karaoke clubs, it has earned the right to be called a "City of the Night."
The Old...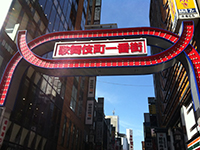 Kabukicho's history goes back over 60 years. The area was completely burned down during WWII and during the post-war restoration process there were plans to have a theater for Kabuki built there, hence the name "Kabukicho," or "Kabuki neighborhood." The theater was never built but the name remained. Later, in the 1950s, and with the opening of the "Shinjuku Koma Theater" and the "Milano-za" cinema, Kabukicho became a cultural hub, whereas even later it started gaining fame as an adult entertainment district.
...and the New
Shinjuku Toho Building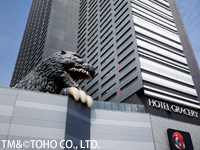 One of the main moves to alter the area's image was the development (on the site of what used to be "Shinjuku Koma Theater," which was closed down in 2008) of a new landmark, the "Shinjuku Toho Building" right in the heart of Kabukicho. The "Toho" is a state-of-the-art theater, exploiting the latest in projection technologies, and the complex also includes a hotel and several food outlets – not to mention a life-sized Godzilla peeking from its roof! Very popular with tourists, the building has become Shinjuku's new favorite photo spot.
Samurai Museum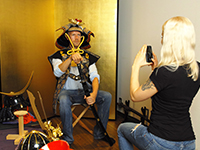 Another Kabukicho attraction that has been gaining in popularity since its opening last autumn is the "Samurai Museum." Particularly appealing to visitors from overseas, it offers lessons in the history of the bushi (samurai) and also the chance to get your picture taken in their kabuto helmets and katana swords.

http://www.gotokyo.org/english/agent/citypromotion/mailnewsletter/mn_59.html#anc1_3
Kabukicho Art Project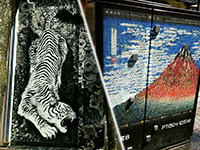 Artists have also rallied to lend a hand in Kabukicho's transformation through the pilot "Kabukicho Art Project." This consists of giving life to the cold electrical transformer boxes by painting on them. Enjoy your walk around Kabukicho trying to find the picture you like most!

Kabukicho is changing from an adult entertainment district to a neighborhood that visitors can enjoy during daytime as well. Explore it and discover new and exciting spots; at the same time, remember that it hasn't lost its "City of the Night" edge so if you're visiting after sundown, be alert for touts to illegal pastimes!
Shinjuku: an Old-fashioned Cityscape
While the skyscrapers and their modern image dominate Shinjuku, if you look hard enough you can still find spots where the past still lives on – from 1960's bars to Edo Period traditional culture and crafts.
Shinjuku Golden Gai & Omoide Yokocho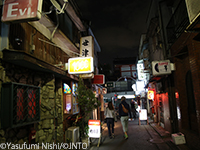 These are two of Shinjuku drinking areas featuring an enormous number of tiny shops tightly packed next to each other. Both areas are said to have evolved from the drink and food stalls that sprang up around Shinjuku Station after the devastation of WWII, which means that they have a history of over 60 years.
On Shinjuku Station's East Exit side, "Shinjuku Golden Gai" is a labyrinth made up of 300 small bars while on the West Exit "Omoide Yokocho" hosts numerous minuscule restaurants offering yakitori (chicken skewers) and other cheap but delicious dishes.
To learn the best way to enjoy izakaya taverns, check:

http://www.gotokyo.org/english/agent/citypromotion/mailnewsletter/mn_51.html#feature
Dye Trails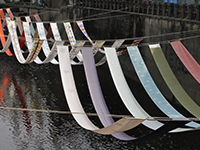 Near Nakai Station in Ochiai, eight minutes by train from Seibu Line's Seibu Shinjuku Station, a dyeing tradition going back to the Edo Period is still alive. In an area so quiet that you can hardly believe is so close to the heart of the metropolis, you can try your hand at the traditional techniques of a dyeing studio. If you visit in February you will also have the chance to see the "Dye Trails" ("Some no Komichi"), open air exhibitions where long multicolored strips of fabric are being hung over the river.
Event Information
Go to our website & find more exciting events and festivals.

http://www.gotokyo.org/eventlist/en/list
---
To subscribe to Tokyo Monthly, click
here.
To access the previous edition Tokyo Monthly, please visit:
back number.

Issued by: Tokyo Convention & Visitors Bureau
Supported by: Tourism Division, Bureau of Industrial and Labor Affairs, Tokyo Metropolitan Government

If you want to reprint the articles, please contact us.
E-mail: news@tcvb.or.jp