Main content starts here.
vol.63 March 2016
News & Announcements
Tokyo Metro 24-Hour Ticket: Wander with ease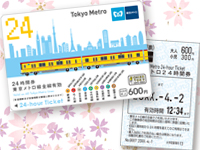 Using the Tokyo's subway system is indispensable for exploring the metropolis and until now, the most widely used option has been the 1-Day Ticket. From March 26 though, Tokyo Metro is changing this ticket for a 24-hour one with the 24 hours beginning to count from its first use, unlike the former one that is available until the last trains of the day you first use it. This way, even if you first use the ticket in the evening, it will be good for the next day. Get one and enjoy Tokyo!

http://www.tokyometro.jp/en/top/pdf/recenttopics_16.pdf
Sky Night Show at TOKYO SKYTREE®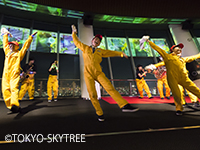 A new light and sound performance titled "SKYTREE ROUND THEATER™" opens from March 18 at the 350m (1,148ft) TEMBO DECK of the TOKYO SKYTREE, the world's highest freestanding broadcasting tower with a full height of 634m (2,080ft). The deck's windowpane has been converted to a huge screen incorporating Tokyo's magnificent nighttime cityscape. Also, from April 10 visitors will be able to enjoy a Spring Vacation Special Event that includes cherry blossom decoration and a special lighting scheme.

http://www.tokyo-skytree.jp/srt350/ (Japanese version only)

http://www.tokyo-skytree.jp/en/pdf/20160208_springevent_en.pdf
NEWoMan: The new shopping center in Shinjuku Station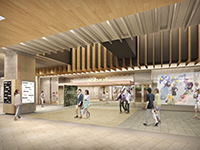 Another new landmark named "JR Shinjuku Miraina Tower" was born in the JR Shinjuku Shin-Minami area. In the tower and inside the train station, "NEWoMan" shopping mall opened its doors on March 25 (first phase) and will fully open on April 15 (second phase). Quality-oriented apparel and cosmetics are available, focusing on adult female customers. Check out the wagashi (Japanese confectionery) shops from all over Japan and the high-end sushi shop!

http://www.newoman.jp/en/
From the Oldest to the Newest: Play to your heart's content!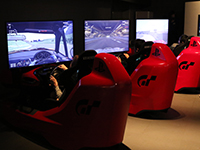 "GAME ON: Why are videogames so interesting?" is the name of a different kind of exhibition being held until May 30 in a different kind of museum, namely, Miraikan (The National Museum of Emerging Science and Innovation) in Odaiba. From the arcade and TV-games that started the gaming craze in the '70s and '80s to an exclusive foretaste of PlayStation® VR (limited number of tickets available for each day, only for 12 years old or over), visitors of all ages have the opportunity to experience the entire game continuum in the most enjoyable way.

http://www.miraikan.jst.go.jp/en/spexhibition/gameon/
Special Feature
Enjoy panoramic views from TOKYO SKYTREE®!
Along with its height, TOKYO SKYTREE is outstanding in its aesthetics. Do you want to climb with us?
https://youtu.be/BKyTppN0BOA
Event Information
Go to our website & find more exciting events and festivals.

http://www.gotokyo.org/eventlist/en/list
---
To subscribe to Tokyo Monthly, click
here.
To access the previous edition Tokyo Monthly, please visit:
back number.

Issued by: Tokyo Convention & Visitors Bureau
Supported by: Tourism Division, Bureau of Industrial and Labor Affairs, Tokyo Metropolitan Government

If you want to reprint the articles, please contact us.
E-mail: news@tcvb.or.jp