vol.62 February 2016
News & Announcements
Official Regional Specialty Shops' website: Food & Tokyo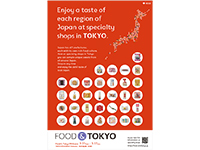 In Tokyo, there are many official regional specialty shops run by each local municipality. At these shops, visitors can enjoy the delicacies of the different regions while still being in Tokyo, making the shops one of its tourist attractions. We are hereby pleased to announce the launch of a campaign for foreign visitors to Tokyo. This campaign introduces confectionery representing the specialties and tourism attractions of various areas of Japan, which are sold at official regional specialty shops. Satisfy your sweet tooth for scrumptious Japanese delicacies with the confectionery available for purchase. They also make great take-home gifts for tourists.

http://food.andtokyo.jp/
Airport-style Duty Free Shops in Ginza!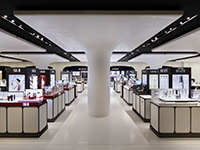 On January 27 a new shop was added to Ginza's Mitsukoshi store. It is "Japan Duty Free GINZA" and within its 3,300 square meters (35,520 ft2) of floor space visitors can find a wide selection of fashion items, cosmetics, watches etc. normally associated with airport duty free shops. Goods purchased here can be picked up at specific counters of Narita or Haneda airport at the time of your departure; certainly a novel and fun way to shop!

http://www.japandutyfree-ginza.jp/?lang=en
A New Design Hotel in Shibuya
In Shibuya, the hub of everything trendy in Tokyo, "Shibuya Hotel En" made its debut on February 5. Conveniently located at a walking distance from Shibuya's bustling shopping district, the hotel will amaze visitors with its concept rooms, all incorporating unique elements from Japan's traditional and pop culture.

http://www.shibuyahotel.jp/en/?_ga=1.123284235.1481634216.1454404835
Yurakucho, the Gateway to Ginza, Gets a New Tourist Center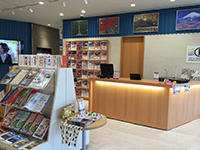 Yurakucho, just a few minutes from Ginza and the Tokyo Station, is now featuring the new "Tokyo Tourist Information Center Yurakucho." The facility is operated by JTB and its services include a wealth of information on both the metropolis and the rest of the country, a travel desk where travelers can book tours and accommodation, currency exchange, free Wi-Fi as well as a shop with a selection of souvenirs from all over Japan.

http://www.jtbtic.jp/tokyo/yurakucho/en/
Special Feature
Strawberries: Tokyo's spring taste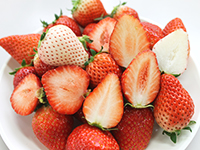 From spring to early summer, a good way to welcome the season is with strawberries, one of Japan's most popular fruits. As a matter of fact, strawberry cultivation in Japan has borne some surprisingly tasty samples. Tokyo gathers strawberries from all over the country which means that you have the chance to taste and enjoy lots of different varieties either raw or in all kinds of cakes and sweets, including some that have been invented right here! We will try to acquaint you with Tokyo's strawberries and help you discover their charm.
The different faces of Japan's strawberries
Tochiotome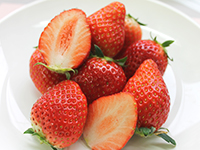 Tochigi Prefecture is Japan's topmost strawberry-producing area and the variety mostly cultivated there is "Tochiotome," which has recently become one of the most popular kinds of strawberry in the country. Tochiotome is a big strawberry, sweet with a slight touch of sourness that can also be easily found in Tokyo's supermarkets.
Also, trending in the metropolis' department stores and fruits and vegetables stores lately are brand strawberries: these are top-class fruits going for over 500 yen apiece! *The strawberries offered can vary considerably from store to store or from variety to variety. Furthermore, other factors such as the weather can have an effect on the crop or the price.
Amao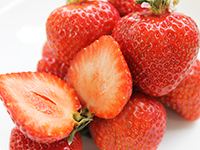 Fukuoka Prefecture comes second in strawberry production after Tochigi and its ambassador is the "Amao." It's bigger and more round than the Tochiotome, and is strongly sweet and full of juice while its deep red flesh keeps its brightness even in cakes or jams.
Skyberry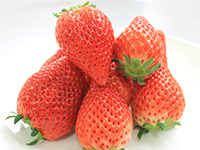 Skyberry is the new creation of Tochigi Prefecture and one that has become quite noticeable lately. Big and shaped like a cone, it is a little sour and mildly sweet and this balance makes it very popular – that and its fragrance, which you will certainly enjoy!
Hatsukoi no Kaori ("Scent of First Love")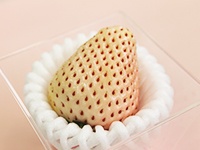 A strawberry that will probably surprise you at first sight since its color varies from white to pale pink even when fully matured. Compared to the red strawberries it doesn't lack in sweetness and its acidity is mild but because of its small production it is somewhat rare and its price is rather high. Regardless, you should try it, at least once.
Strawberry confections born in Tokyo
Strawberries are also great in sweets. And both of the two most common strawberry confections in Japan have been invented in Tokyo! *Opinions on their origin may vary.
Shortcake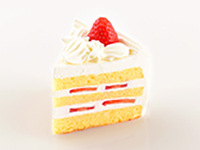 In Japan, shortcake has become synonymous with cake itself. The fluffy texture of its sponge base and the sweetness of fresh cream come in perfect balance with the strawberry's sweet and sour taste. This cake was born over 90 years ago here in Tokyo: the story goes that the founder of the "Colombin" confectionery went to France to study the art of Western sweet-making and came up with this recipe for a sweet that would match Japanese tastes.

http://www.colombin.co.jp/
Strawberry Daifuku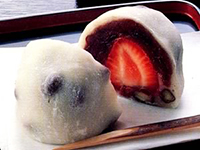 When it comes to purely Japanese strawberry sweets though, the answer is one: Ichigo Daifuku.(strawberry daifuku) This is a sweet where the fruit is enveloped by sweet anko red bean paste and mochi pounded rice and can be found in all Japanese-style confectioneries and as of late even in convenience stores. It is said that it was invented by the proprietor of the well-known "Osumi Tamaya" confectionery about 30 years ago. Their strawberry-bean daifuku blends the sweet and sour taste of the strawberry with the sweetness of the anko, while the black beans kneaded in the mochi paste add a salty accent.

http://www.oosumi-tamaya.co.jp/
Strawberry sweets – on limited offer
Shiseido Parlour Ginza "Salon De Café"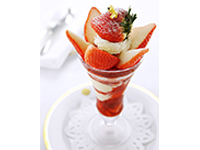 Shiseido Parlour boasts a history of over 100 years, and "Salon De Café" on the 3rd floor of the Ginza shop is hosting the "2016 Kodawari Ichigo Fair" featuring carefully selected strawberries from all over Japan. As part of the fair, and from March 1 to 31, the café will be serving the "Fukuoka Yayoihime Strawberry Parfait" and the "Gifu Minomusume Premium Parfait" in limited servings. This is a rare chance to try these luxurious sweets containing big and quite expensive top quality strawberries.
*Quantities and times are subject to change depending on the delivery of goods.

http://parlour.shiseido.co.jp/
Jiyugaoka Sweets Forest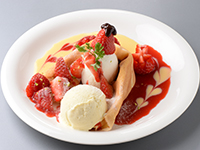 "Jiyugaoka Sweets Forest" is a confectionery "theme park" featuring several top-class confectioners. All kinds of sweets are available to try right on the spot. Particularly worth mentioning is the "Royal Queen Sweets Fiesta" featuring the rare and expensive "Royal Queen" strawberry, but with all shops offering their own strawberry creations, visitors have the opportunity to sample and compare.

http://sweets-forest.com/
Eggs 'n Things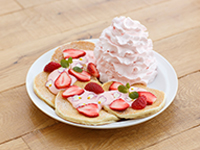 Founded in Hawaii, "Eggs 'n Things" is said to have sparked the recent pancake craze in Japan, and to celebrate its 6th anniversary here it's introducing a special "LeaLea Pancakes" menu item! With strawberry cream cheese sauce, strawberry whipped cream, and sliced Tochiotome strawberries, this is a rare treat you can enjoy only until March 31.

http://www.eggsnthingsjapan.com/
Event Information
Go to our website & find more exciting events and festivals.

http://www.gotokyo.org/eventlist/en/list
---
To subscribe to Tokyo Monthly, click
here.
To access the previous edition Tokyo Monthly, please visit:
back number.

Issued by: Tokyo Convention & Visitors Bureau
Supported by: Tourism Division, Bureau of Industrial and Labor Affairs, Tokyo Metropolitan Government

If you want to reprint the articles, please contact us.
E-mail: news@tcvb.or.jp