Main content starts here.
vol.61 January 2016
News & Announcements
"TOHOKU&TOKYO"Website has launched!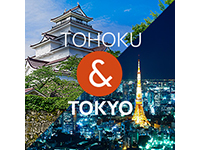 This website introduces attractions and itineraries connecting Tokyo and respective Tohoku region. Travel reviews written by journalists and bloggers from overseas. Airlines and railways service information for foreign travelers.

http://www.tohokuandtokyo.org/
Special Ticket, Exclusively for Foreign Visitors!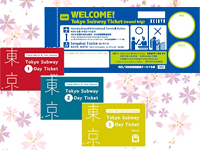 WELCOME! Tokyo Subway Ticket (round trip)," a new offering allowing you to move from Haneda Airport, the gateway to Japan, to the Tokyo metropolitan area, is now on sale. This special ticket includes a round trip from Haneda Airport International Terminal Station to Sengakuji Station on the Keikyu Line as well as unlimited free rides on all Tokyo Metro and Toei Subway lines for one, two or three days. It can be purchased at the Keikyu Tourist Information Center (Keikyu TIC) on the second floor of Haneda Airport International Terminal Station. Its bargain price and simplicity guarantees it will be your best partner in getting to know Tokyo!

http://www.haneda-tokyo-access.com/en/info/discountticket_welcometokyo.html
Birth of a Luxurious Landmark in Ginza!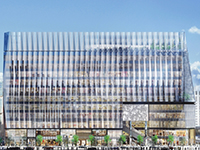 From March 31, Tokyo's timelessly trendy Ginza will be featuring a new commercial establishment, the "Tokyu Plaza Ginza." With 125 shops ranging from luxury brands' flagship stores to airport-style duty free shops as well as spots offering some of the most exquisite work of traditional Japanese craftsmen, the Tokyu Plaza Ginza will be combining the best of all worlds. And all that in a sparkling building evoking the classic cut glass called "Edo Kiriko" – no wonder everyone is looking forward to its grand opening!

http://ginza.tokyo-plaza.com/ (Japanese version only)
Two New APA Hotels in Ueno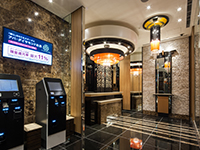 Ueno, the popular area endowed with the lush Ueno Park now features two new hotels: "APA Hotel Ueno Station" which opened on January 27 and "APA Hotel Keisei Ueno Station" which is scheduled to open on March 1. Easily accessible because of their close proximity to one of Tokyo's biggest stations, with free WiFi in all rooms and with direct transition to Tokyo, Shinjuku, Ginza and other places of interest, they can become a premium choice when selecting a base for your visit to the metropolis.

http://www.apahotel.com.e.ju.hp.transer.com/language/shutoken/43_ueno-ekimae.html

http://www.apahotel.com.e.ju.hp.transer.com/language/shutoken/44_keiseiueno-ekimae.html

Special Feature
Taste Monja: Taste Tokyo!
Tsukishima's monjayaki is the trademark dish of "shitamachi," Tokyo's old downtown. See how it feels making it for the first time!
https://youtu.be/UI9BqBYZAQI
Event Information
Go to our website & find more exciting events and festivals.

http://www.gotokyo.org/eventlist/en/list
---
To subscribe to Tokyo Monthly, click
here.
To access the previous edition Tokyo Monthly, please visit:
back number.

Issued by: Tokyo Convention & Visitors Bureau
Supported by: Tourism Division, Bureau of Industrial and Labor Affairs, Tokyo Metropolitan Government

If you want to reprint the articles, please contact us.
E-mail: news@tcvb.or.jp