vol.60 December 2015
News & Announcements
New Richmond Hotels Nearby Two of Tokyo's Tourist Attractions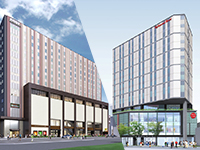 December saw the opening of two new Richmond Hotels: "Richmond Hotel Premier Tokyo Oshiage" and "Richmond Hotel Premier Asakusa International." One of their main attractions is their proximity to TOKYO SKYTREE TOWN® and Senso-ji Temple, respectively, while the latter hotel also features exclusive concierge services. Business or pleasure travelers can enjoy a superior level of accommodation right next to two of Tokyo's most famous spots.

http://tokyo-oshiage.richmondhotel.jp/

http://asakusa-international.richmondhotel.jp/
Opening of Oakwood Premier Tokyo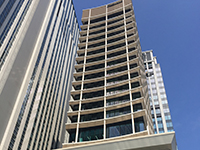 From early February, "Oakwood Premier Tokyo" will start offering its top grade service apartments in Marunouchi, adjacent to Tokyo Station. All 123 rooms are fully equipped with furniture and a functioning kitchen while bilingual staff will be available to offer support for various services (restaurant reservations, laundry, etc.). The apartments will be available for all kinds of stay, from short-, medium- and long-term, offering luxury and comfort.

http://www.oakwoodasia.com/tokyo/oakwood-tokyo-marunouchi.php
Ikebukuro's Sunshine City Planetarium Is Cranking it Up!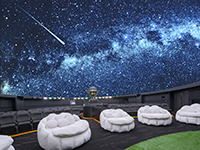 Konica Minolta's Planetarium "Manten" is again open from December 1 in Ikebukuro's popular Sunshine City. The new planetarium is the answer to the quest for a natural, beautiful starry sky offering a majestic spectacle of high-definition shiny stars on a jet-black celestial background. Visit, lie down on a "turf" or "cloud" seat (two of the planetarium's new features,) forget the city's hustle and bustle and enjoy the open space and the glorious night sky.

http://www.planetarium.konicaminolta.jp/manten/ (Japanese version only)
Nezu Museum New Year Collection Exhibition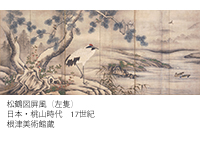 Famous for its Japanese and Oriental art collections (including seven national treasures), the Nezu Museum in Minato City will hold from January 9 to February 14 an exciting exhibition titled "Pine, Bamboo, and Plum: Auspicious Designs in Celebration of the New Year." The exhibition consists of a variety of works (paintings, ceramics, etc.) featuring the long familiar pine, bamboo and plum elements, an age-old triptych symbolizing longevity and good fortune and perfectly fitting for welcoming the New Year!

http://www.nezu-muse.or.jp/en/exhibition/next.html
Special Feature
Spending New Year's Holidays in Tokyo
New Year's holidays are an important event in the annual calendar of Japan. Among other things, people make their first visit (aka "hatsumode") to temples and shrines to pray for a happy and prosperous year, or enjoy a different kind of shopping with the "fukubukuro" mystery bags and the bargains accompanying the first sales of the year.
Tokyo is of course full of such enjoyable events so here are some ideas to make your New Year's holidays memorable!
Hatsumode
There are dozens of temples and shrines of historical significance in Tokyo and during the New Year holiday period they are all crowded with people wishing for health and happiness. To give just one example, it's estimated that Meiji Jingu Shrine gets up to 3 million visitors between December 31 and January 3! Also popular, especially with tourists, is Asakusa's Senso-ji Temple: returning from the visit to the temple, people also enjoy trying the various delicacies from the shops along Nakamise-dori Street.
Here are some more choices for your hatsumode:
Nishiarai Daishi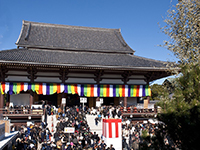 Also an historical temple, this time in Adachi City. Hatsumode there is said to ward off evils, offer protection for the family, and prosperity in business.
Address: 1-15-1 Nishi-Arai, Adachi-ku, Tokyo
Nearest station: Daishimae Sta. on the Tobu Daishi Line

http://www.nishiaraidaishi.or.jp/ (Japanese version only)
Ookunitama Jinja Shrine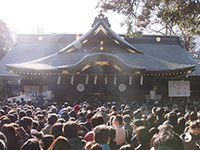 Built in the year 111 (according to legend), this is considered to be Tokyo's oldest shrine, protecting families and businesses and also aiding successful marriage ties. On New Year's Day a special ritual is performed where the sound of the drum is believed to ward off evils.
Address: 3-1 Miya-machi, Fuchu City, Tokyo
Nearest station(s): Fuchu Sta. on the Keio Line, Fuchu Honmachi Sta. on JR's Nambu and Musashino lines

https://www.ookunitamajinja.or.jp/ (Japanese version only)
First Sales & Mystery Bags
Big stores (department stores, supermarkets, etc.) often hold limited-time sales during the change of the year period. Although New Year's Day is a holiday for most (business usually resume on January 2), with every year more and more stores have started opening even on that day. This has also given rise to the trend of "hatsu-uri" or "first sale." For most consumers, the charm of the first sale is in the mystery bags (aka "fukubukuro"). In the original concept, each bag contains various items and the thrill is in waiting after the purchase to see what these items are. Although the odds of landing something very good and/or expensive are quite good, recently the department stores have changed the idea drastically. Precious items limited only to the mystery bags, the opportunity to purchase an "experience" or even the option to pick the contents of your fukubukuro yourself are some of these changes.
*As of 2016; contents subject to change from year to year.
*Goods are in limited qualities and there's also sometimes a chance in a raffle.
Tobu Department Store Ikebukuro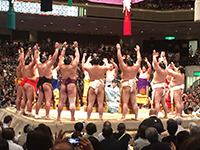 A mystery bag offering the chance to win a spot at the morning training session of a sumo stable, see the wrestlers and train and eat chanko-nabe dish with them! To make the experience even fuller, a former wrestler will be your companion and explain the subtleties of the practice.
*Interpretation will also be provided.

http://www.tobu-dept.jp/ikebukuro/
Daimaru Tokyo
Another "experience the 'wa' spirit of Japan" mystery bag: this one containing a stay at one of Hakone's traditional hotels and trying your hand at the making of kamaboko fish-paste products. Other popular mystery bag choices are one containing a set of 12 Buddha statues and another offering various meal options.

http://www.daimaru.co.jp.e.md.hp.transer.com/tokyo/
Matsuzakaya Ueno Store
This mystery bag offers a chance to stay at the "Sakura Panda Room" of the Mitsui Garden Hotel Ueno ("Sakura Panda" is Matsuzakaya's cute and well-loved mascot). On offer also are mystery bags with handmade artifacts created by local artisans.

http://www.matsuzakaya.co.jp.e.me.hp.transer.com/ueno/
Osechi Ryori: New Year's Dish
When it comes to food and the first days of the new year, the answer is invariably "osechi ryori": special dishes with auspicious connotations packed in splendid multi-tiered boxes. In the past, these dishes were prepared at home but nowadays, some people buy them from department stores and restaurants. Often you need to pre-order them but depending on the store, they can also be bought – or even consumed – on the spot.
Shibuya Hikarie "ShinQs"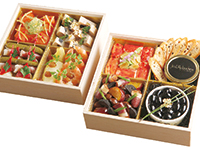 A special osechi menu jointly created by one of Ishikawa Prefecture's best-known ryokans and one of the most famous patissiers, brings the taste of the Hokuriku region to Tokyo. Also available is a French-inspired osechi menu by top chef Joël Robuchon.
*As of 2016; contents subject to change from year to year.
*Reservation required.

http://www.hikarie.jp.e.ui.hp.transer.com/
Extra feature: First Sunrise of the Year
Another popular New Year activity is watching the first sunrise of the year; there are various viewing spots, some allowing entrance from late at night, some opening early in the morning and some created just for the occasion.
Depending on the weather conditions, you might not be able to actually see the sun rise.
Tokyo Tower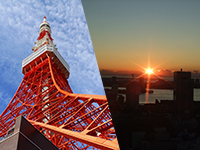 On January 1 only, Tokyo Tower opens at 6 a.m., and the special observatory at 250 meters (820 feet) is limited to the first 80 visitors. A wonderful view of sunrise over Tokyo Bay and a special commemorative medal for the first arrival!

http://www.tokyotower.co.jp/eng/
Roppongi Hills Tokyo City View observation deck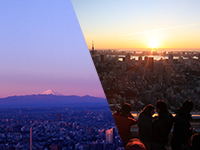 Special ticket for January 1, 6 a.m. to 8 a.m. (reservation required). If the weather permits, you will able to see Mt. Fuji together with the dawn of the new year.
*All January 1, 2016 special tickets for the rooftop Sky Deck have been reserved.

http://www.roppongihills.com/tcv/en/
Event Information
Go to our website & find more exciting events and festivals.

http://www.gotokyo.org/eventlist/en/list
---
To subscribe to Tokyo Monthly, click
here.
To access the previous edition Tokyo Monthly, please visit:
back number.

Issued by: Tokyo Convention & Visitors Bureau
Supported by: Tourism Division, Bureau of Industrial and Labor Affairs, Tokyo Metropolitan Government

If you want to reprint the articles, please contact us.
E-mail: news@tcvb.or.jp