Main content starts here.
vol.59 November 2015
News & Announcements
A Makeover for the Official Tokyo City Guide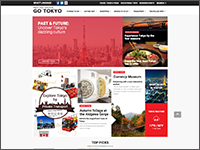 If you're looking for the latest and best in Tokyo, the official guide to the metropolis, "GO TOKYO," has been redesigned and is up since November 19. With a much cleaner look, it showcases Tokyo's charms in both text and pictures; finding information is faster and works equally well on both PC and cellphone. Events, places to experience Tokyo's exciting culture, daily updates and more – you really don't want to miss it!

http://gotokyo.org/en/index.html
A New Hot Spring in Mt. Takao!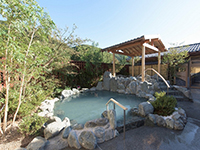 Mt. Takao is a spot of great scenic beauty, just 50 minutes from Shinjuku. And now you have one more reason to visit it: the new onsen (hot spring) "Keio Takaosan Onsen Gokurakuyu," right next to Keio Takao Line's Takaosanguchi Station. Gokurakuyu offers seven different bath facilities including a cypress bath with micro-bubbles, baths changing according to season, a sauna, and open-air natural hot spring baths. Equally varied are the dinner options including the area's famous soba (buckwheat noodles) and tororo (grated yam). An ideal way to restore yourself after a day of hiking!

http://www.takaosan-onsen.jp/english/
Shinjuku's New Hot Spot: Samurai Museum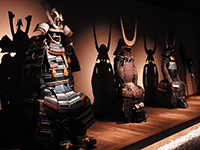 A recent addition to Shinjuku's Kabukicho and gaining daily in popularity, the "Samurai Museum" offers the visitor the chance to get to know key protagonists of Japan's history and culture, the samurai. A variety of swords and armor from the samurai's 700-year-long history (from 1100 to the end of the Edo period in 1868) brings to life Japan's legendary warriors, and if you desire a more personal experience you can also dress-up in yoroi armor and kabuto helmet for a commemorative photo!

http://www.samuraimuseum.jp/en/
TOKYO SKYTREE TOWN® Christmas Event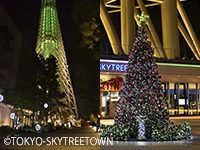 From November 11 to December 25, TOKYO SKYTREE®, one of the must-go spots for all visitors to the metropolis, offers an exciting event called "TOKYO SKYTREE TOWN Dream Christmas 2015." The world's tallest tower (634 meters/2,080 ft) will be lit up in different color schemes likening it to the world's biggest Christmas tree. At the same time, visitors will be treated to an actual 6.34 m/20 ft tree, projection mapping accompanied by music, and the whole town shining bright. The theme of the event will be "Grant a wish."

http://dreamchristmas2015.jp/ (Japanese only)
Special Feature
A day in Asakusa!
A look at some of the most popular attractions in Asakusa, the center of Tokyo's traditional Shitamachi district.
https://youtu.be/ItQvPiiBa7Q
Event Information
Go to our website & find more exciting events and festivals.

http://www.gotokyo.org/eventlist/en/list
To subscribe to Tokyo Monthly, click
here.
To access the previous edition Tokyo Monthly, please visit:
back number.

Issued by: Tokyo Convention & Visitors Bureau
Supported by: Tourism Division, Bureau of Industrial and Labor Affairs, Tokyo Metropolitan Government

If you want to reprint the articles, please contact us.
E-mail: news@tcvb.or.jp