vol.58 October 2015
News & Announcements
A New Shopping Center for Asakusa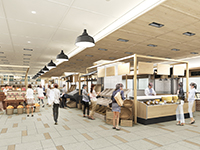 "See it," "taste it" and "bring it home with you" are the bywords for the new shopping center "Marugoto Nippon" opening on December 17 at the new Tokyo Rakutenchi Building in Asakusa. The center will be featuring 50 shops with products (delicacies, crafts etc.) from all over Japan as well as cooking classes for local specialties.

http://marugotonippon.com/ (Japanese version only)
The 2nd New-version of Japan Fine Arts Exhibition "Nitten" at The National Art Center, Tokyo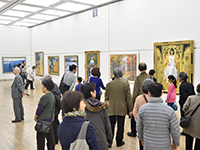 With a history going back over a century, "Nitten" is Japan's foremost exhibition, combining works of Japanese and Western style painting, sculpture, traditional crafts and calligraphy and offering the public the opportunity to see Japan's artistic spectrum in its entirety. This year's exhibition will be held in The National Art Center, Tokyo in Roppongi from October 30 to December 6.

http://www.nitten.or.jp/english/
Midtown Christmas 2015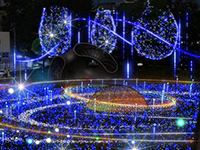 Large facility complex Tokyo Midtown in Roppongi will be offering a spectacular light show for the holiday season. This year's show, held from November 12 to December 25, will be called "Starlight Garden 2015" and 180,000 LED bulbs (some of them arranged in a 6m/19ft "Vision Dome") will transport visitors to the outer reaches of space.

http://www.tokyo-midtown.com/jp/xmas/2015/ (Japanese version only)
Bunka Hostel Tokyo, a New Lodging Opening in Asakusa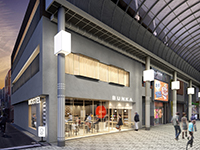 In Asakusa, arguably Tokyo's most popular tourist destination, a new hostel, the "Bunka Hostel Tokyo," will be opening its doors in mid-December. With a contemporary design, an in-house izakaya (Japanese-style pub), and a flexible arrangement of stay spaces (dorms, rooms for groups and families etc.), the hostel offers a nice alternative to the budget conscious without sacrificing the warmth of Japanese hospitality.

http://bunkahostel.jp/en/
Special Feature
"Tokyo Brand" Reaching for the World! Creation of a New Logo and Slogan

With the 2020 Tokyo Olympics and Paralympics in sight, the Tokyo Metropolitan Government has decided to promote the idea of Tokyo as the world's premium tourist destination. To that effect, it has created the new brand (and its logo and slogan) "& TOKYO" aiming to enhance the appeal of the metropolis by utilizing scenes from Japan and abroad.
What is "Tokyo Brand"?
Tokyo is a place constantly in flux, where old traditions meet and fuse with new ideas and technological advances; it's a city of never-ending change. Consequently, visitors can always enjoy an enormous variety of styles being born almost on a daily basis. This is the premise upon which the creation of the "Tokyo Brand" was decided and to better express it, the Metropolitan Government has put together a set of "Tokyo's Five Core Values."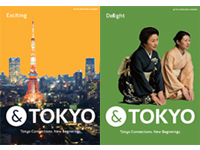 Unique・・・ Where unique traditions and advanced culture coexist and come together
Excellent・・・ Where everything is innovative and sophisticated
Exciting・・・ Constantly changing, dynamic, and vibrant
Delight・・・ Overflowing with hospitality, friendliness, and sincerity
Comfort・・・ Where everything is safe, accurate, and convenient, ensuring a pleasant experience
What is "& TOKYO"?
The "& TOKYO" brand concept aims to convey the idea that Tokyo is a city where the traditions of old are in a constant state of fusion with ideas and technologies of the future; its ever-changing nature offers people the opportunity to discover new and exciting ways to enjoy themselves. The "&" in front of the name of the city allows any word to be connected to it, thus bringing to mind the idea of "Tokyo Connections. New Beginnings."
Using "& TOKYO"
By putting pretty much any word, concept or corporate logo in front of the "&," everyone – locals, private businesses, organizations or even foreign visitors – can use the "& TOKYO" to express their thoughts and feelings about Tokyo.
The following are examples of how the "& TOKYO" logo will be welcoming visitors to Tokyo.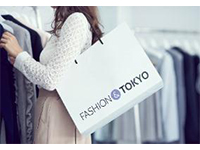 - Hospitality and Tokyo: OMOTENASHI & TOKYO
An icon indicating to foreign visitors the high level of hospitality and services offered.
- Shopping and Tokyo: FASHION & TOKYO
An icon indicating to foreign visitors the unique experience of shopping in Tokyo.
- Public Transportation and Tokyo: MOVING & TOKYO
An icon indicating the safety and security of Tokyo's transportation infrastructure.

What comes to your mind when seeing "& TOKYO"? Could it be...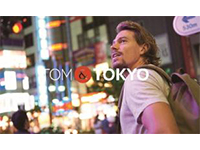 - An individual's name and Tokyo: TOM & TOKYO
An icon intended for individual foreign travelers wanting to convey the fascination Tokyo holds for them.
- Food and Tokyo: SUSHI & TOKYO
An icon indicating Tokyo's unique take on Japan's gastronomical culture.
- Tradition and Tokyo: KABUKI & TOKYO
An icon indicating the charms of traditional culture, craftsmanship and Tokyo's history.
- Subcultures and Tokyo: ANIME & TOKYO
An icon indicating that Tokyo is the best place to enjoy the worlds of anime and computer games.

Spreading "& TOKYO"
To convey the message of "& TOKYO" connoting "Tokyo Connections. New Beginnings," the Metropolitan Government has designed new posters using as background the motif of the city's Five Core Values. Also, it has created short videos featuring two foreign tourists, a man and a woman and their personal experiences of Tokyo as the videos' centerpiece. These videos are available at the following URLs. In addition, there are going to be commercials broadcast through the world's premier news channel, CNN. Be sure to check them out!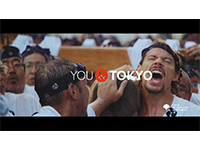 On the Tokyo Brand's website:
https://andtokyo.jp/en/brand/
Just the videos on YouTube:
https://youtu.be/ySMrUyADZoU/
Discover your own, original "& TOKYO" in this enchanted metropolis!
Event Information
Go to our website & find more exciting events and festivals.

http://www.gotokyo.org/eventlist/en/list
---
To subscribe to Tokyo Monthly, click
here.
To access the previous edition Tokyo Monthly, please visit:
back number.

Issued by: Tokyo Convention & Visitors Bureau
Supported by: Tourism Division, Bureau of Industrial and Labor Affairs, Tokyo Metropolitan Government

If you want to reprint the articles, please contact us.
E-mail: news@tcvb.or.jp