vol.56 August 2015
News & Announcements
Better Breakfast Makes a Better Day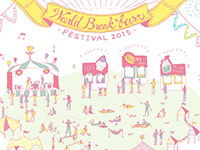 From September 8 to September 17 you can start your day by awakening your body with yoga and pilates and then by enjoying breakfasts around the world in the beautiful grassy surroundings of Showa Kinen Park. The event is the Breakfast Festival, which will enable you to find a clue for a better morning.

http://chousyokufes.com/ (Japanese version only)
Senso-ji under a Different Light
From September 13 to September 27, one of Tokyo's temples, Asakusa's Senso-ji will be illuminated by hundreds of artistically painted toro lanterns. Get there by sundown and see one of Japan's landmarks and its environs (the Goju no to pagoda and the Kaminarimon and Hozomon gates) literally glow in the dark!

http://www.asakusatouroue.com/ (Japanese version only)
ShinQs Returns in Shibuya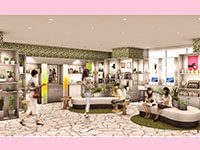 After a major reform, the ShinQs shopping center reopens in Shibuya's "Hikarie" on September 18. The new ShinQs will feature 33 fashion items, jewelry, etc. shops, some of which unavailable in the Kanto area until now. Particularly worth mentioning is "rooms Ji-Ba" offering folk handicrafts from all over Japan.

http://www.tokyu-dept.co.jp/shinqs/
A Stay-in Library: "BOOK AND BED TOKYO"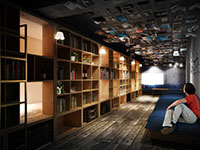 A new-concept hostel is making its debut in Ikebukuro this September. The "BOOK AND BED TOKYO" offers a wide selection of books and comfortable beds that allow visitors to enjoy their reading in the most comfortable manner. Try it and relive that warm sensation of falling asleep while immersed in a good book.

http://bookandbedtokyo.com/ (Japanese version only)
Special Article
The Evolution of International Cuisines in Tokyo
As usually happens in international cities, a multitude of cuisines have found their way in Tokyo; after being transformed to suit the Japanese tastes and local ingredients, the recipes from these cuisines have taken a life of their own. Especially in recent times the increase of cultural influences from abroad have resulted in the creation of many new recipes and this article offers some of our recommended selections and the spots you can find them.
Bread
Among the foods that have been imported in Japan, bread is the one that first springs to mind. Among the innumerable variations available, here's a few that were born in Tokyo.
Kare-pan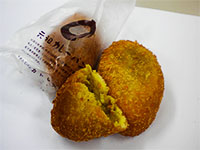 Oval-shaped dough filled with curry, battered in breadcrumbs and baked. It was created by "Meikado" (now "Katorea") in Morishita, Koto City and even to this day you can enjoy its original recipe there.
An-pan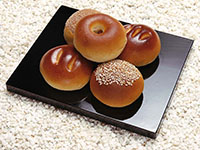 Round and filled with anko (sweet red bean paste), an-pan was invented by Ginza's "Kimuraya" and remains the store's most popular item until today (together with its variation, sakura an-pan spiced with salt-pickled cherry blossoms).

https://www.kimuraya-sohonten.co.jp/anpan
Hamburger
US-born hamburger has become a standard lunch choice in Japan. The Japanese chain "MOS BURGER" has come up several unique variations, incorporating Japan's food culture.
Teriyaki burger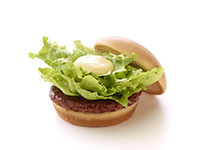 The Teriyaki Burger's sweet and savory taste comes from the combination of miso and soy sauce. It is also complemented by the smooth texture of mayonnaise and the crunchy texture of fresh lettuce. Among the many creations of MOS BURGER, the Teriyaki Burger is perhaps one of the most distinctive.

http://mos.jp/menu/detail/010330/1/
Rice burger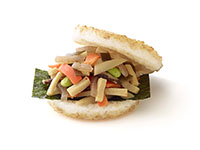 Rice burger uses a bun made of rice, an evolution of Japan's much loved concept of onigiri (rice-balls). It was first introduced in 1987 and the MOS BURGER replaces the patty with signature Japanese tastes such as kimpira (thinly chopped vegetables) or seafood kaki-age (deep-fried battered seafood and vegetables).

http://mos.jp/menu/detail/020015/3/
Spaghetti
Italy's favorite dish has become a popular choice in many Japanese homes. The renowned Japanese pasta restaurant "Kabe no Ana" in Shibuya has contributed to the birth of various Japanese style spaghetti by mixing native ingredients with spaghetti.
Tarako spaghetti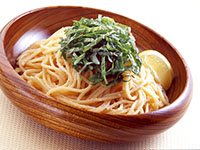 The combination of cod roe and pasta is a perfect example of the evolution of non-traditional food in Japan. Created by "Kabe no Ana" in 1967, tarako spaghetti blends the familiar taste of pasta with salt, pepper, lemon and butter and another Japanese staple, finely cut nori seaweed or shiso.

http://www.kabenoana.com/menu/menu1.html
Natto spaghetti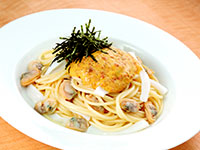 Natto spaghetti is also a good example of Japanese fusion pasta. This spaghetti dish uses natto (a traditional Japanese food made of fermented soy beans) as its main ingredient.

http://www.kabenoana.com/menu/menu1.html
Omu-raisu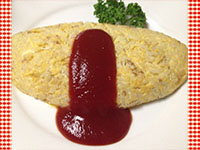 Omu-raisu is, as the name suggests, rice cooked with various vegetables and ketchup and wrapped in a thin omelet. Theories about its origins vary but the prevailing one is that it was invented as a way to enjoy the native taste of rice with the French taste of omelet at the same time.

One of the shops considered to be the inventor of omu-raisu is "Renga-tei" in Ginza. Even to this day, their menu includes the prototype for omu-raisu, called "rice-omelet"; recommended is the version where rice is mixed with beaten eggs and cooked together.
Tonkatsu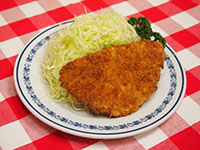 Tonkatsu is a slice of pork, floured, dipped in beaten egg and breaded. Its origin is the French cutlet but in contrast to the original recipe, it isn't prepared in a frying pan; instead it is deep-fried evoking the native cooking technique of "tempura." That way, the meat remains juicy while the outside has a crunchy texture, is very popular among Japanese.

Tonkatsu is another specialty credited to Ginza's "Renga-tei." Up to this day, the shop serves the original tonkatsu with the signature crispy exterior; we recommend enjoying it the Japanese way, with a touch of Worcestershire sauce.
Korokke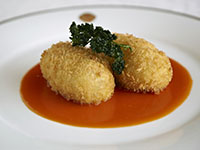 Another recipe with French connections --it's believed to have originated from the idea of croquette. Boiled and mashed potatoes are mixed with minced meat and onion, shaped into discs and then breaded and deep-fried.

Ginza's "Shiseido Parlour" is thought of as the first restaurant to serve korokke in Japan; a visit will expose you to over a century of experience in refining the culinary traditions of the West, including meat croquettes (korokke).

http://parlour.shiseido.co.jp/restaurants/traditionalmenu/meatcroquette.html
Matcha Ice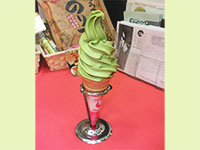 It is not clear who came up with the idea of combining matcha green tea and ice-cream but the result, paying tribute to Japan's tradition (matcha is the green tea used in the tea ceremony) has become one of Japan's most loved ice-cream flavors.

Long-standing "Cha no Ikedaya" in Shinjuku Station's west entrance is one of the places you can try a matcha soft serve (in Japanese: matcha soft-cream) balancing the astringency of matcha with the sweetness of cream at a reasonable price.
Event Information
Go to our website & find more exciting events and festivals.

http://www.gotokyo.org/eventlist/en/list
---
To subscribe to Tokyo Monthly, click
here.
To access the previous edition Tokyo Monthly, please visit:
back number.

Issued by: Tokyo Convention & Visitors Bureau
Supported by: Tourism Division, Bureau of Industrial and Labor Affairs, Tokyo Metropolitan Government

If you want to reprint the articles, please contact us.
E-mail: news@tcvb.or.jp