vol.54 June 2015
News & Announcements
Accessibility during Late-night/Early-morning Hours at Haneda Airport Further Improves!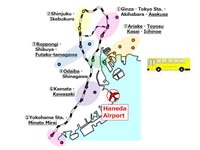 Bus operation during late night and early morning from (to) International Terminal of Haneda Airport to (from) the central areas of Tokyo started in October, 2014 and will continue until March 31, 2016, and beyond. Since April, 2015, the number of shuttle bus routes has been increased from 5 with 13 stops to 7 with 30 stops. Three new routes for a late-night bus departing from the domestic terminal are newly set up. Three free shuttle bus services between the international and domestic terminals are now available. Each route operates one round-trip per day.

http://www.mlit.go.jp/common/001084074.pdf
Renewal for Glass Square in Garden Place Yebisu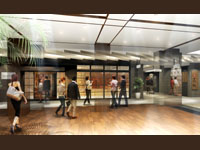 Open again since June 25 after its big renovation, Glass Square presents visitors with the opportunity to try seven new restaurants offering several kinds of cuisines. "Salt Water by David Myers," produced by Michelin Star winner David Myers, is its first shop in Japan.

http://gardenplace.jp/special/glasssquare15/ (Japanese version only)
Meguro Gajoen "Wa no Akari x Hyakudan Kaidan" (Japanese Lights and 100-Step Staircase)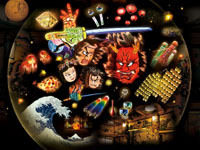 An exhibition-installation featuring ukiyo-e prints of Katsushika Hokusai, painters of the early 20th century, and artwork from various festivals (including the majestic imagery of Aomori Prefecture's Nebuta Matsuri) will be on display from July 3 to August 9 at the wooden 100 Steps Staircase at Meguro Gajoen, one of Tokyo's Tangible Cultural Properties.

https://www.megurogajoen.co.jp/event/wanoakari/index.html/(Japanese version only)
Next-generation Entertainment "Epson Aqua Park Shinagawa" Opening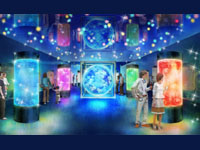 The recently refurbished "Epson Aqua Park Shinagawa" will open its doors again in Shinagawa Prince Hotel on July 10. The facility's concept is "sound, light, imagery and living creatures coexisting" and the presentation promises a unique experience, such as the world's first touch-panel-style display and dolphin performances with water curtains and illumination.

http://aqua-park.jp/ (Japanese version only)
Special Article
Tokyo's Nightscape Spots
The lit windows of the office buildings, the signs of the neighborhood stores, the headlights of passing cars – Tokyo is a treasury of splendid night scenes and in this article we present you with some of the best.
Enjoy the Light-up!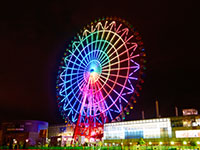 Giant Sky Wheel Pallete Town
Giant Sky Wheel in Pallete Town "Daikanransha" has become a landmark of Odaiba. Every night it colors the sky with illuminations reflecting the Japanese four seasons. With a height of 115 meters, it offers a sweeping night view of Tokyo. (Daikanransha: Admission fee required)

http://www.daikanransha.com/common/file/multilingual-guide.pdf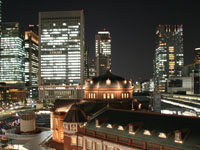 Tokyo Station's Red Brick Building
Tokyo Station's Marunouchi Red Brick Building, a National Important Cultural Property, is lit up from sunset until 9 p.m. The best spots to view it are from nearby KITTE's 6th floor roof garden, the terrace on the 5th floor of Marunouchi Bldg. and the Marunouchi House on the 7th floor of the Shin-Marunouchi Bldg.

Rainbow Bridge
The best spots to see the three-color transformation of the Rainbow Bridge together with the Tokyo nightscape are the observation deck and beach nearby Odaiba Kaihinkoen Park.

Tokyo Tower
Tokyo Tower lights up every day from sunset until midnight; on Saturdays, from 8 p.m. to 10 p.m. There's also the "Diamond Veil," an extra lightshow interweaving seven different colors. The best spot to see it is nearby Shiba Park. (Shiba Park: No admission fee / Tokyo Tower's observatory: Admission fee required)

http://www.tokyotower.co.jp/eng/
TOKYO SKYTREE®
Every night the TOKYO SKYTREE is illuminated with two colors, a pale blue reflecting traditional "Edo chic," and a violet symbolizing its aesthetic refinement. Located at heights of 350 and 450 meters respectively, its two observation decks offer a 360-degree panoramic view of Tokyo's beautiful night scenes. (Observation decks: Admission fee required)

http://www.tokyo-skytree.jp/en/index.html
Haneda Airport Observation Deck
Studded with 4000 LEDs and overlooking the landing and liftoffs of airplanes on the runways, the observation deck of Haneda's Terminal 2 dubbed "stardust stage" will allow you to see another side of Tokyo's nightscape.

https://www.tokyo-airport-bldg.co.jp/service_facilities/view_deck/
On Board!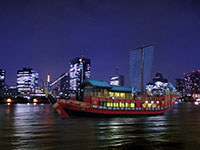 Pleasure Boat Atake-Maru (THE SAMURAI SHIP)
A Tokyo Bay cruise in a Japanese-style boat starting from Hinode Pier and turning at Gate Bridge. You can see Tokyo Tower and TOKYO SKYTREE in one direction. You can choose a plan combining viewing with dinner or a dance and music performance. (Cruise ticket fare required)

http://www.gozabune.jp/
Symphony
A cruise on a passenger boat taking you under Rainbow Bridge, Gate Bridge, etc. as far as the open sea near Haneda Airport. Feast on the glimmering coastline of Tokyo Bay – and on a course meal or a buffet option. (Cruise ticket fare required)

https://www.symphony-cruise.co.jp/index.php
On the Vehicle!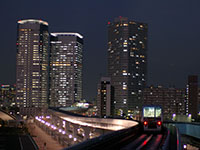 Yurikamome
The spectacular view from the windows of Yurikamome train connecting Shimbashi to Toyosu is breathtaking. With striking views of Odaiba, Rainbow Bridge, and high-rises, you may have the feeling that you are catching glimpses of a city of the future. (Train fare: from 190 yen)

http://www.yurikamome.tokyo/
Odaiba Night Course by Skybus Tokyo
Enjoy the nightscape of Tokyo riding on a two-storied bright red, open-deck bus! The Odaiba Night Course will take you from Tokyo Tower to Rainbow Bridge, Odaiba, Ginza and Marunouchi. (Bus fare rerquired)

http://www.skybus.jp/n01.php?lang=en&no=&bno=
Regular Viewing Spots
Yes, they are quite well known – but this doesn't mean you should miss them!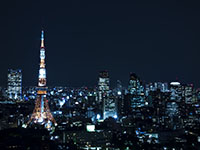 World Trade Center Observatory
From Tokyo Tower to the cluster of skyscrapers in Shiodome, you can see them all from WTC's observatory. (Admission fee required)

http://www.wtcbldg.co.jp/wtcb/facility/seaside/pdf/seaside_en.pdf
Tokyo Metropolitan Government Building Observation Deck
You can enjoy Tokyo's townscape from the 45th floor of the building, which offers two observatories, the North and the South. The North, which has a restaurant that also serves drinks, opens in the evening as well as the daytime. ※When the North is closed, the South opens in the evening instead.

http://www.yokoso.metro.tokyo.jp/page/tenbou.htm
Tokyo City View Interior Observation Deck
The observation deck on the 52nd floor of Roppongi Hills' Mori Tower offers a view of most of Tokyo's famous spots. (Admission fee required)

http://www.roppongihills.com/tcv/jp/floor_map/52f/index.html
Here is the Previous Issue on Tokyo Night View!
https://www.gotokyo.org/jp/discovery/vol8/special01.html
https://www.gotokyo.org/jp/discovery/vol8/special02.html
Event Information
Go to our website & find more exciting events and festivals.

http://www.gotokyo.org/eventlist/en/list
---
To subscribe to Tokyo Monthly, click
here.
To access the previous edition Tokyo Monthly, please visit:
back number.

Issued by: Tokyo Convention & Visitors Bureau
Supported by: Tourism Division, Bureau of Industrial and Labor Affairs, Tokyo Metropolitan Government

If you want to reprint the articles, please contact us.
E-mail: news@tcvb.or.jp