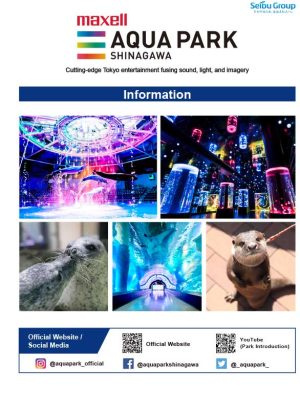 Publication Date

2021

Language

English

Others

Category

Tag

Area

Publishers

Maxell Aqua Park Shinagawa

Reference Links
Overview
The cutting-edge of entertainment in Tokyo that showcases the wonderful world of marine creatures with dazzling sound, lighting, and imagery.
Captures the expressions of "the four seasons in Japan" with 350 species of some 20,000 marine creatu「es in perfo「mances that change depending on the time of day or night.
Located in the well-connected transport hub of Shinagawa, the fact that Maxell Aqua Park is entirely indoors means you can enjoy it regardless of the weather. Visit us to take a step out of the ordinary and experience the mesmerizingly beautiful and high-quality Tokyo-style ente「tainment that we offer.
* Operating hours vary depending on the season.