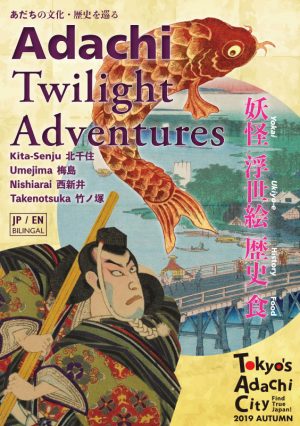 Publication Date : 2019
Language : English
Others :
Category :

Sightseeing

Events

Dining

Area :
Publishers :

Adachi Tourism and Exchange Association

Reference Links : http://adachikanko.net/
Overview
Filled with the Adachi's culture and history and so much more!
It features a lot of amazing old stories and oral traditions also bring you to the many historical places related to the iconic cultured person, such as "Matuo Basyo" and " Kobayasi Issa" and so on.Offered in Japanese and English writing.
The remarkable two illustrations, [大緋鯉(Big red cap)] and [そば閻魔(Soba Yama)], are specially written work for this brochure by Yukio Amano, widely known as "Youkai illustrator".