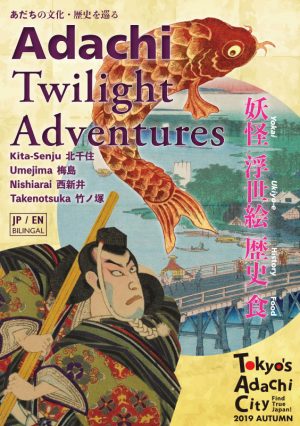 Publication Date

2019

Language

English

Others

Category

Tag

Area

Publishers

Adachi Tourism and Exchange Association

Reference Links
Overview
The pamphlet contains the legends of Adachi, some places remembered in connection with cultured person, such as a haiku poet, Basho Matsuo and Issa Kobayashi in both English and Japanese. Hope this will help you know the history and culture of Adachi.
Most of the spots published in it are located within walking distance from each station between Kita-Senju Sta. and Takenotsuka Sta. on Tobu Skytree Line.
The illustrations, such as "The Giant Red Carp" and "The Soba Enma" etc. in the article of The Seven Mysteries of Senju were newly written by Mr. Yukio Amano, Yokai, ghost illustrator for this pamphlet.