Main content starts here.
See, taste, play, and experience
Landing highlights
Landings are situated near notable sights and places of entertainment, from Nihombashi and Asakusa full of history and tradition to the popular Odaiba.
This section looks at the joys of waterfront areas including dining, shopping, and experiences of culture.
Asakusa/Sumida/Ryogoku
Joys of the shitamachi ambience and the latest destinations
This area fuses the charms of the new and the old. Go sightseeing in the lively shitamachi area around TOKYO SKYTREE®, rent a kimono and take a stroll around Asakusa, and get a taste of history and culture in the sumo district of Ryogoku.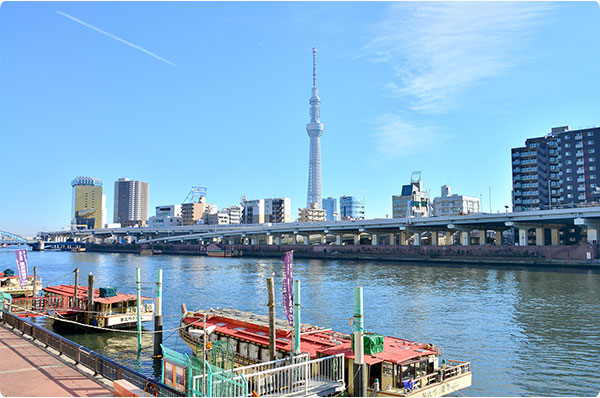 Nihombashi
An experience of traditional Edo and modern Japanese culture
Nihombashi flourished as the center of the premodern city of Edo. Highlights include established and renowned restaurants, new commercial facilities, and casual experiences of traditional Japanese culture. Stroll the streets while admiring historic buildings, and take part in fun events like a cherry blossom festival and the Nihombashi-Kyobashi Festival.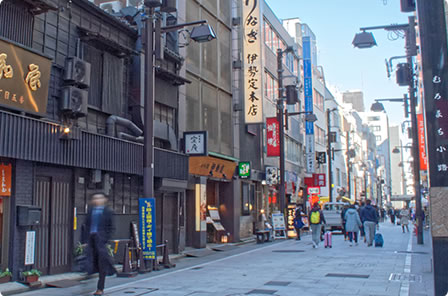 Hamamatsu-cho/ Keihin/Shinagawa
Fusion of canals and streets in a buoyant urban space
This area is home to a spectrum of entertaining spots, like Hama-rikyu Gardens representing classical landscape architecture from feudal Japan, Epson Aqua Park Shinagawa and the Shinagawa Aquarium perfect for families and couples, high-grade hotels and museums, and restaurants commanding a night view of Tokyo Bay.
Fukagawa/Tsukishima
Streetscape full of ambience and delicious shitamachi cuisine
This area retains the ambience of the stylish and creative shitamachi area of Edo-period Tokyo. Explore the tiny alley of Tsukishima Monja Street and savor the signature shitamachi dish of monjayaki pancakes. Fukagawa highlights include Narita-san Fukagawa-fudo Temple, Kiyosumi Gardens, and Tomioka Hachimangu Shrine—host of one of three major festivals of Edo, the Fukagawa Hachiman Festival.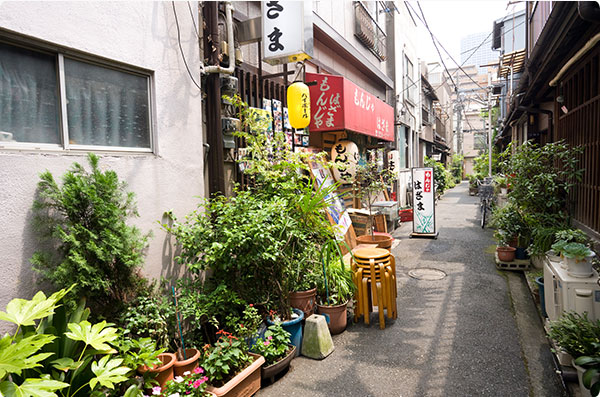 Odaiba
A full day of family entertainment
Odaiba is home to countless recreational destinations, like large commercial facilities, Oedo Onsen Monogatari, and Odaiba Seaside Park. Savor trending dishes and have fun at an indoor theme park and museum all day long, until Rainbow Bridge and the skyline sparkle against the night sky.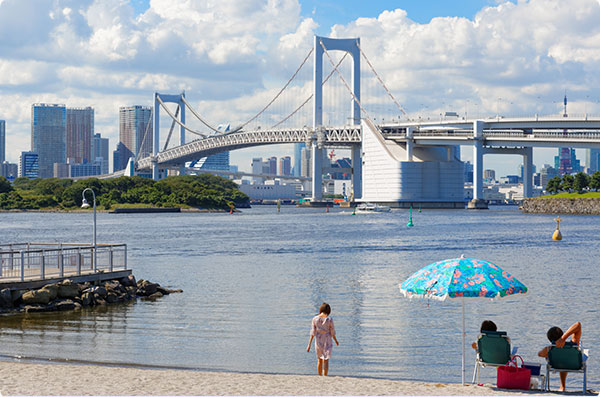 Edogawa/Kasai
Cherry blossoms of Shinkawa plus recreational spots by the lush green and sea
This area attracts lively crowds including families with the 1,200 cherry trees of Shinkawa, the Tokyo Sea Life Park, and Kasai Rinkai Park—facing Tokyo Bay, featuring Japan's largest Ferris wheel, and complete with a barbecue field.