Enjoy Izakaya just like the Japanese!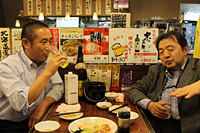 [1]
When it comes to eating in Japan, everyone talks about sushi-ya and perhaps some of those more "in the know" counter with ramen-ya or tempura-ya. Still, what most long-term residents (and all Japanese!) know is that there is one kind of eatery that says "Japan" more than anything else: it's the izakaya, that unique cross between a bar, a tavern, a greasy spoon and a regular restaurant. This is where the Japanese put down their briefcases, where the men actually loosen their ties and the women let their hair down and where they all let off steam surrounded by friends, good drink and even better food. [1]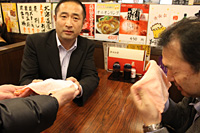 [2]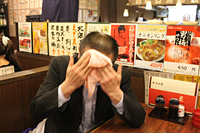 [3]
Typically marked by a red chochin paper lantern with the characters izakaya (居酒屋) on them, often big and belonging to chains (some of the best known are Amataro, Domadoma, En, Gyukaku, Hanano-mai, Kamadoka, Murasaki, Shirokiya, Shoya, Tengu, Tofuro, Tori-kizoku, Tsubohachi, Warayakiya and Watami) and even more often hole-in-the-wall places belonging to a family operating them for years in some neighborhood corner or in clusters like those found in Shinjuku's Omoide Yokocho, Shibuya's Nonbei Yokocho, Ebisu's Yokocho, Asakusa's Koen-rokku, Ueno's Ameyoko or around Shimbashi station, izakaya are the most delicious way to realize the great depths and incredible diversity of Japanese cuisine.

Literally "izakaya" means "a place to hang out and drink" but don't let the emphasis on the drink fool you: they are full-fledged restaurants offering an enormous variety of plain or more elaborate dishes. If you do want to drink though, start with a "toriaezu biru" ("beer for now") [4] and from there either refill or continue to the (usually large) available collection of sake, shochu or even whisky. (An izakaya standard is the whisky and soda known as "highball.") Oh, and while waiting for your toriaezu beer, unfold your hot oshibori towel [2], wipe your face and hands [3] and start nibbling on the otoshi appetizer which will come without ordering it: it is a sort of table charge, it's cheap and it's (usually) very tasty.
Ordering might seem tricky at first. Some of the big chain izakaya like the ones mentioned above have gone high-tech: they offer tablet-like devices which you can use to choose what you want and communicate it directly to the staff. Obviously in this case the pictures will help you pick up the dishes that seem most promising but what happens in the majority of izakaya where the only thing you see are listings, usually hand-written, on the walls? One good way would be to look around and see what other people are having, point to it and ask for the same - even if the staff only speaks very little English they will understand and try to explain (try saying "areh wa nan des' ka?" - "what is that over there?") Still, in many izakaya this won't be necessary: more and more have started having an English menu often with pictures and even a brief description of each dish.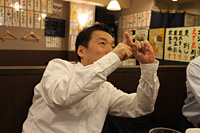 [5]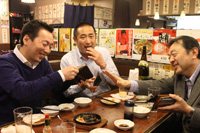 [6]
What will surprise you pleasantly is the variety of dishes: contrary to regular restaurants specializing in one cooking style (sushi, ramen, soba, steaks etc.) there's little that the izakaya menu doesn't include - from fried fish, chicken or potatoes to pork or chicken skewers, to croquettes, to different versions of cooked or raw tofu, vegetables (like the trademark beer-snack, edamame soybeans), to sashimi and yakisoba (fried noodles) even the most hard-to-please diner will find something to their liking. As for the size of the dishes/portions, they're small because they're meant to be shared: everything goes to the middle and everyone nibbles from all plates - remember, izakaya are all about the company!
When you're full of drinks and food (and the time for the last train approaches) you'll ask for the bill or "o-aiso" (Check please) - you've been there enough to feel comfortable so try asking old-school style: by flashing to your waiter an "X" made of your two crossed forefingers [5]. The usual way to pay at an izakaya is by splitting the bill among all members of the group - the assumption is that everyone drank and ate pretty much the same - but you'll notice that the, otherwise composed, Japanese patrons will invariably start a contest about who will pick up the tab, insisting and arguing cordially - but loudly! [6] Remember: most of the groups you see around you are co-workers doing this regularly so it makes sense that they pay in turns.
Informal (some don't even use chairs but upside-down beer crates!), loud, warm, indoors or out on the street, with flavors that will make your taste buds explode and with a welcome and helpful staff, izakaya illustrate another, unexpected face of the spirit of omotenashi hospitality Japan is famous for. Miss them and you've missed a wonderful aspect of deep Japan hidden in plain sight in every neighborhood of this city.