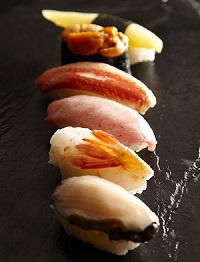 Sushi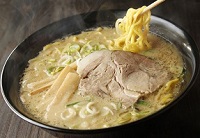 Ramen
I think Japanese food holds immense soft-power on a global scale. Sushi in particular is a Japanese delicacy that foreign tourists come to enjoy. Most people know of Tsukiji, Tokyo´s famous fish-market, but there are many places in Tokyo where good sushi can be found. Some of my favorites are the reasonably priced but high-quality sushi restaurants located in between the Tsukiji and Ginza areas.

Tokyo is great because you can eat cheap and delicious food like ´katsu-curry´ (pork cutlet and curry with rice) and ´cha-han´ (mixed fried rice) at restaurants aimed at students located near universities and student towns. There is a particular old Japanese curry shop called 'Murugi' in Shibuya, which only has short business hours serving lunch from 11:30~15:00 but has some of the best curry I have ever tasted. I also think yaki-niku (grilled slices of meat) is something overseas tourists would enjoy, as it is like having your own personal BBQ, where you can cook the meat to your preference on a grill in the middle of the table.

There are also many kinds of wonderful noodles, soba, udon, and ramen. Scenes of people slurping down a hot bowl of ramen can often be seen in Japanese animation and movies. It´s a typical Japanese noodle dish, and seems to be booming overseas as well. Slurping noodles, is not common overseas, but it´s another fun part of Japanese culture that overseas tourists can enjoy while eating (slurping!) their meal. I also like how you can find restaurants which westernize or create new and original combinations of Japanese noodle flavors, like tomato udon and curry udon etc. Not to mention the opposite, where western pasta dishes are given a Japanese flavor. There are countless different noodle dishes that can be found throughout Tokyo for tourists to enjoy.

I also love Toraya 'yokan,' a traditional type of Japanese sweet which comes in the form of a bar of sweetened and jellied bean paste made by the Toraya Corporation.

Japanese cuisine alone works as an excellent tourist attractor with countless tourists coming to Tokyo every year to indulge on an array of different dishes and sweets that cannot be found elsewhere.