––Beekeeping in Ginza, the bustling center of the metropolis, seems to be unprecedented. Please tell us the reason why you started this.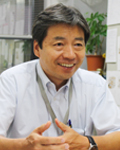 Mr. Atsuo Tanaka
In the spring of 2006, we made a sudden decision to raise beehives on the roof of a Ginza building. The reason for this was that we heard a certain beekeeper was looking for open space on a building rooftop. We told him ours was small but he was free to use it. He replied it didn't have enough space to run a business on it, but a few developments later, we ended up raising bees ourselves with advice from the beekeeper.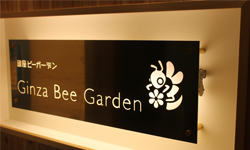 Sign of Ginza Bee Garden
When people around us heard this news, they were worried, saying "Are you in your right mind keeping bees in the center of Ginza?" or "Ginza is too urbanized to have enough flowers for bees?" However, originally Ginza has a culture of accepting new things. Thus, with a concept of "how about doing it and then we'll see," we started with a three month limit.
Ginza is a town far from agricultural sites, but we wanted to try exploring the beauty of nature by keeping honey, and making a link between the town and the honey. We figured if we organized various projects that fit the identity of this town, with its history and tradition, this could have an impact.
––When you actually tried starting up, how did things go?
At the beginning, we thought if we could just produce a little honey that'd be great, but when we tried it out, we managed to get with a cherry blossom aroma, and continued getting different aroma honeys that the bees collected from various trees week by week. We eventually collected 150 kg honey in the first season.
It is said that honeybees can move within 3-4 square km (1.2-1.5 square miles) and Ginza has the Imperial Palace, Hibiya Park, and Hama-rikyu Gardens in the vicinity. Moreover, administrative district Kasumigaseki and Maronie-dori Street in Ginza are home to horse chestnut trees and Namiki-dori Street in Ginza is lined with many trees including lindens. We surprisingly found Ginza is a town of flowers.
The quantity has been steadily increasing and we got 1,000 kg (2,205 lbs) of honey last year!