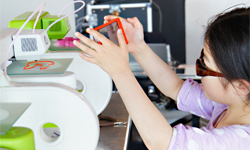 Smoothly connecting to the Internet, communicating in English, and having a cup of delicious coffee. These are things available in many cafes, but in addition to these things, FabCafe is one of the few cafes where you can actualize your creative ideas and your inner sense of fun.
FabCafe opened in 2012 at the top of Dogen-zaka with the concept of "Monodukuri"—making things. Available on site are 3D printers, lazar cutters, 3D scanners and other digital tools, and even novices can enjoy make things. Come in and put your name on the waiting list. While waiting for your turn, create your designs on the available iPads or bring in your designs on your own device. When your turn comes, give your data to the staff and relax while your creativity becomes a reality. If you have a lot of time, this is a great way to spend free time.
Even if you don't have much time, it is worthwhile to drop in and sip the 3rd wave coffee. This is a place everyone should check out in Shibuya, a great place to rest uploading pictures to Facebook or tweeting!