Tokyo, the capital of business, fashion, shopping. While advanced technology is a large part of the cityscape, there are many places where you can still enjoy traditional Japanese culture. If you are among those who aren't just satisfied checking out the sights written down in your guidebook, why don't you try experiencing the culture yourself?

[Note]
*All activities require reservations in advance.
*For activities led exclusively in Japanese language, you will generally need to be accompanied by an interpreter.


Traditional Arts
Tea ceremony, handcrafts, calligraphy, kimono wearing and Kabuki makeup experience are some of the activities available. Get closer to some of these traditional art forms and try aspects of them yourself.


Tea Ceremony
Sen No Rikyu (Tea master, 1522-1591) is the founder of this practice. There are many rules that come along with tea ceremony's 500 year history. The pouring of the tea, as well as its receiving have many detailed points one cannot go astray from. You can try these traditional methods for yourself and get a sense of the rich history of tea ceremony. You'll also get to try green tea and Japanese sweets.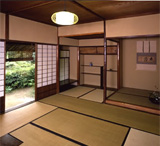 Teahouse Muan
| | |
| --- | --- |
| Name | Happo-en |
| Program and price | Surrounded by a large traditional Japanese garden, teahouse Muan offers two Japanese tea ceremony experiences. Tencha consists of a serving of matcha green tea along with seasonal Japanese sweets (840 yen, 8.4 USD). The second type of tea lesson, the reservation required Otemae, gives a lesson on the proper etiquette of enjoying Japanese tea (2,100 yen, 21 USD). Muan was built in the Meiji period (1868-1912) by Heihachi Tanaka, a merchant based in Yokohama. This prestigious teahouse was later relocated and reconstructed to preserve the appearance of the original. |
| Reservations | Tel: 03-3443-3775 (Japanese, English available) |
| URL | http://www.happo-en.com/english/garden/index.html |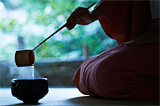 Formal Tea Ceremony
Name
Hotel Chinzanso Tokyo
Program
Located in a large traditional Japanese garden, Zangetsu, a tea house that was built by imitating Zangetsutei, a building which was in Sen No Rikyu's residence, and recognized national tangible cultural property, offers tea ceremony experience. Those who wish can try the pouring of the tea themselves as well.
Price
Formal tea ceremony: 5,000 yen (50 USD) and up
Reservations
Tel: 03-3943-5489
E-mail: info@hotel-chinzanso.com
Guidance
Primarily Japanese guides, English-speaking guides are also available at times (Please request when making reservation)
URL
http://www.hotel-chinzanso-tokyo.com/view-events/573
Edo-komon (dyeing with a fine pattern) / Edo-sarasa (Cotton dyeing)
Japanese handcrafts, which have in recent times become popular and fashionable, are also something you can try yourself. Edo-komon are known for their fine pattern and Edo-sarasa have exotic patterns of persons, birds and flowers.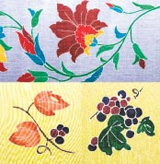 Edo-sarasa
Name
Futaba-en
Program
Get a chance to dye a table centerpiece. Using 10 sheets of paper, you can dye 5 different colors at once, giving your work an authentic variety of shade.
*This is a dyeing experience, so please bring an apron with you.
Price
Edo cotton print dyeing experience: 2,500 yen (25 USD)
Reservations
Tel: 03-3368-8133 (Japanese only)
Fax: 03-3362-3287 (Japanese only)
E-mail: info@futaba-en.jp (Japanese, English available)
Guidance
Primarily Japanese guides, English-speaking guides are also available at times (Please request when making reservation)
URL
http://www.futaba-en.jp/eng/
Various Cultural Experiences Complex
These are facilities where tea ceremony, calligraphy,
kimono
wearing, flower arrangement,
Kabuki
,
origami
folding paper and various other Japanese cultural activities can be experienced.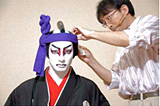 Kabuki Makeup Experience
Name
Tourist Information, YANESEN
Program
This facility is located in Yanesen area, a popular place among people from overseas where old houses and alleys mostly remain intact. You can dress in real Kabuki costumes, have your face made up, and take souvenir pictures on stage. Tea ceremony, ink painting, calligraphy, flower arrangement, incense ceremony, taiko drumming, rakugo comedy, haiku, zen meditation, soba noodle making, kimono wearing, shamisen guitar, shakuhachi flute, cooking and others can be experienced as well.
Price
Depends on activity chosen
Reservations
Tel: 03-3828-7878 (Japanese, English available)
Online Reservations: http://www.ti-yanesen.jp/en/contact/index.shtml
URL
http://www.ti-yanesen.jp/en/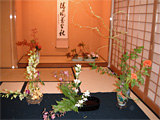 Flower Arrangement
| | |
| --- | --- |
| Name | Koomon |
| Program | Tea ceremony, calligraphy, kimono wearing and flower arrangement can be experienced here. Very easily accessible from Tokyo Station. |
| Price | Depends on activity chosen |
| Reservations | Tel: 03-5202-5737, E-mail: info@koomon.com (Japanese, English and others available) |
| URL | http://www.koomon.com/e_culture.html |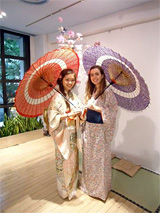 Name
marunouchi cafe SEEK
Program
Located in the same building of JNTO, TIC (Tourist Information Center) in Marunouchi, a leading business district near Tokyo Station, this facility is a new center for international cultural exchange. Trying on a beautiful kimono is free and you can take a photo against a Japanese style backdrop. It also offers workshops of Japanese calligraphy, origami (paper folding), monkiri (paper cutting), and others.
Price
Free
Reservations
Reservations are not required, but if you have inquiries, contact here.
Tel: 03-3212-5025 (Japanese, English available)
E-mail: info@marunouchicafe.com (Japanese, English available)
URL
http://www.marunouchicafe.com/english/