Japanese people are said to extremely fond of bathing. So do Tokyoites. There are a variety of "sentos," or public bathhouses in Tokyo, from traditional types to hot springs theme-park types. Let's go to a sento!

Sento's images
What is a Sento?
The current type of public bathhouse was first built in Tokyo in the late 19th century. With the increase of private residences with a bath, the number of public bathhouses has been decreasing since the late 20th century, but even now some people like to go to a public bathhouse because they can relax more by soaking in larger bathtubs or enjoy many types of bathes such as saunas, mist baths, and bubble baths. Some sentos even offer medical baths, mud baths, and massages.
How to take a bath at a Sento
Basics of Sento
What you have to bring
When you go to a sento, you usually bring a towel for washing, bath towel, soap, shampoo, and change of clothes. But if you don't prepare them, don't worry - basic essentials can be bought at all sentos. So don't forget bringing a small amount of money for entrance, or for buying some drinks or getting some additional services. Taking along valuables is NOT recommended, but if you do, depositing them in a locker for valuables is highly recommended.
How to use
1. Paying the fee
There are two types of entrances. In a traditional type, at the entrance, doors for men and women are separate. The door for men has a curtain (usually bluish) with
kanji
character "男" (meaning men) and the door for women has one (usually reddish) with
kanji
character "女" (meaning women). Enter through the appropriate door according to your gender, and pay at the reception desk, which is called "
bandai
."
In another, newer type, the entrance is the same for men and women. Inside the building, rooms for men and women are separated. After entering the building, pay the fee at the front desk.
The fee is set at 450 yen for an adult for all sentos in Tokyo (as of July, 2013).
Take your shoes off and put them in a shoe locker.
2. Undressing
At the changing room, get undressed. Please remember to undress completely, which is the proper manner at a public bathhouse. Put your belongings and clothes in a locker with a key. You may wear the key on your wrist or ankle.
3. Entering the bathroom
When you enter the bathroom, first splash your body, using a small bucket, with hot water from one of the tubs. This is to clean your body before soaking in a bathtub and also to prevent surprising your body by first accustoming yourself to the water temperature. Some people like thoroughly cleaning the whole body before soaking in a bath. In the same vein, don't add oil, salts, or creams to your body before soaking in a bath.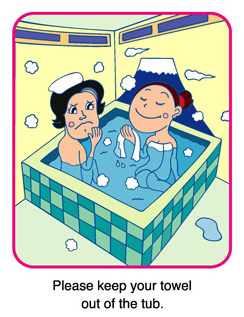 Courtesy of
Tokyo Sento Association
When you soak in a bathtub, don't put your towel in the tub; rather, put it on your head or put it in a wash bowl. Usually there are at least two or more kinds of bathtubs, with different temperatures, etc., so enjoy each of them. Finally, wipe moisture off your body with a towel and enter back into the changing room. While bathing, you'll sweat a lot. So it is a good idea to drink water or a beverage after bathing.
Important things
You should not take a bath just after eating or drinking alcohol, and also you should not take a bath while drinking alcohol. Taking photos in the bathhouse is NOT allowed and also using smartphones or cellular phones is NOT recommended.
Check
http://www.ota1010.com/sentou.cgi
for further information on sento's basics.
Enjoyable Wall Painting
For some, seeing gigantic wall paintings is one of fun things in visiting a sento. Picturesque scenery is usually painted and among other scenes, Mt. Fuji is the most popular item. It was first painted at a bathhouse in Kanda, Tokyo, in 1912, and many bathhouses have Mt. Fuji painted on the wall. Since Mt. Fuji was registered as a World Heritage site this June, Mt. Fuji paintings on bath walls have started to draw fresh attention. There are only two specialists that paint sento wall paintings remaining in Japan, Mr. Morio Nakajima and Mr. Kiyoto Maruyama. Why not come to see Mt. Fujis and other dynamic scenes in sentos in Tokyo - after seeing the real Mt. Fuji?
Fukuno-yu (Sendagi, Bunkyo City)
The two specialized painters paint Mt. Fuji in both the male and female bath areas.
| | |
| --- | --- |
| Open | 11:00-24:00 (weekday), 8:00-24:00 (Sat, Sun and holidays) |
| Closed | Everyday open |
| Nearest Station | Honkomagome (Tokyo Metro Namboku Line) / Map |
| URL | - |
Arai-yu (Honjo, Sumida City)
Arai-yu is in the vicinity of TOKYO SKYTREE® and the tower is painted, in addition to the Mt. Fuji mural.
Must-see, Traditional Sento
Some people are interested in the sento from the viewpoint of art. You may be somewhat confused to see a traditional sento building, because it is gorgeous and looks like a temple with a unique "
karahafu
" roof.
Karahafu
-style is a prestigious architectural style that was used for castles and temples in the 16th century. Why do sentos adopt this style? Most sentos in Tokyo were destroyed by the Great Kanto Earthquake in 1923. After the earthquake, large sento buildings were reconstructed by temple-specialized carpenters. They built gorgeous buildings for sento, which were community places in those days, in the hope of revitalizing the town. In addition, sento then and now are dynamically ornamented with high ceilings, colorful tile paintings, and large wall paintings, and so on. The following sentos are a little bit far from the center of Tokyo but worth seeing.
Myojin-yu (Minami-yukigaya, Ota City)
This is an authentic, traditional Japanese-style sento, which is rare now in Tokyo. It is often used as a setting for movies and commercial films.
Takara-yu (Senjumotomachi, Adachi City)
This bathhouse has a majestic
hafu
-style roof and a picturesque Japanese garden.
Sento in the Center of Tokyo
Even the center of Tokyo has sentos, most of which stand among other, taller buildings. The following are particularly noteworthy.
Konparu-yu (Ginza, Chuo City)
Opened in 1863. This is in the prestigious commercial area, Ginza.
Shimizu-yu (Minami-aoyama, Minato City)
Located in the fashionable Omotesando area, this is a modernized bathhouse that has a100 year-history but was renovated in 2009.
| | |
| --- | --- |
| Open | 12:00-23:30 (weekday), 12:00-22:30 (Sat, Sun and holidays) |
| Closed | Friday |
| Nearest Station | Omotesando (Tokyo Metro Ginza, Hanzomon, and Chiyoda lines) / Map |
| URL | http://shimizuyu.jp/ (Japanese only) |
Kuroyu
One of characteristics of Tokyo's sento is
kuroyu
, or blackish brown water. In particular, Kamata, an area near Haneda Airport, is famous for being home to many
kuroyu
public bathhouses. The color, which comes from organic substances in the water, may be surprising at first glance but your skin will smooth as a baby's after bathing. Here are some lists.
Kaisei-yu (Nishikamata, Ota City)
Yu-city-kamata (Kamata, Ota City)
For more info, see
http://www.ota1010.com/e_main.html
Onsen Theme Park
At most local, traditional sentos, services are not available in English. For those who hesitate to visit such sentos but want to experience public bathhouses, large-scale spa-type facilities are recommended. The prices are higher, but these facilities are enjoyable in the way of a hot-springs theme park. Services are usually available in English, so you may feel more at ease. Some of these onsen-type "sento" require wearing swimsuits.
Ooedo-Onsen Monogatari (Aomi, Koto City) /
Map
One of the largest onsen theme parks in Japan, which opened in Odaiba in 2003.
http://www.ooedoonsen.jp/higaeri/english/
Spa LaQua (Kasuga, Bunkyo City) /
Map
A spa facility adjacent to Tokyo Dome in Korakuen.
http://www.laqua.jp/pages/en/
Sento Runner
In recent days, a so-called "sento runner" system has been attracting a lot of attention. You start running from a sento after changing clothes to running wear and depositing your bag at the sento, and then after completing your run you come back to the sento, refresh by soaking in a bath, and then change to town clothes to go home or go beer-drinking. As many runners jog around the Imperial Palace, this system began in that area. It is a new way of using and enjoying sento!
Bain Douche (Kojimachi, Chiyoda City)
Not residential in character, Chiyoda City has only four sentos as it is home to central government offices, the Supreme Court, and numerous companies. But also with the Imperial Palace nearby, this small bathhouse, the origin of the "sento runner" system, is usually full of runners.