With a variety of museums and art spaces, Tokyo is "teeming" with art, all the time. Special exhibitions are, of course, attractive, but most museums have fascinating, permanent exhibitions, so you can enjoy art at any time.
Museums with Outstanding Appearances and Atmosphere
Tokyo is home to museums of which the building and space itself is sophisticated, as well as the exhibited works themselves. Let's experience art with all of the five senses!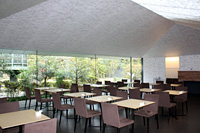 NEZUCAFÉ
Nezu Museum (Minami-Aoyama, Minato-ku)
After a 10-minute walk from Omotesando Station, you will find a prominent building standing in the fashionable Aoyama district. The main building features a large roof reminiscent of a traditional Japanese-style home. This is Nezu Museum. While it is home to a diverse collection of Japanese and East Asian arts, including seven National Treasures and 87 Important Cultural Properties, the appearance of the museum is a work of art in itself and creates an attractive artistic atmosphere.
The building was renewed in 2009, designed by Kengo Kuma, one of the leading architects in contemporary Japanese architectural circles. The huge garden around the building is dotted with four tea houses and stone monuments in various shapes. After strolling in the hilly garden, have a break at NEZUCAFÉ! You will be surprised to see abundant greenery and have a peaceful time even though being right in the center of Tokyo.
Nezu Museum
Map
Hara Museum of Contemporary Art (Kitashinagawa, Shinagawa-ku)
Going up from Shinagawa Station, a small museum is situated in a quiet residential district. Among the many museums in Tokyo, Hara Museum of Contemporary Art has a reputation of being a chic museum with an elegant building and a lovely garden. The building was a mansion built in 1938 for Kunizo Hara, a businessperson who was president and chairman of several companies including Japan Airlines. Designed by Jin Watanabe, who also designed the main building of Tokyo National Museum in Ueno, this plush building has such an aristocratic feel that seeing the building itself is worth looking at and appreciating.
The museum opened as a contemporary art museum in 1979. Because of its intimate size, the museum houses not so many works, but you will be satisfied being there with a balanced harmony of the works and surroundings. Having a cup coffee in a quiet cafe while enjoying the view of the picturesque garden is a fine way to top off your visit.
Hara Museum of Contemporary Art
Map
Fantastic Museum Shops and Cafes
Some people say looking for artistic goods in museum shops and having a relaxing time at stylish museum cafes is one way to enjoy museums. For some, moreover, visiting museum shops and cafes is sometimes a purpose to go there. Here are such places where you can enjoy every time, regardless of what exhibitions are held.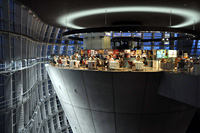 Brasserie Paul Bocuse Le Musée
The National Art Center, Tokyo (Roppongi, Minato-ku)
With waving glass walls, the eye-catching building in Roppongi is The National Art Center, Tokyo, which opened in 2007. Designed by big-name architect Kisho Kurokawa, this is one of the largest museums in Japan with about 14,000 sq. meters of exhibition space.
What makes this museum even more popular in addition to the unique huge architecture and exciting special exhibitions is a fancy French restaurant, three stylish cafes and a museum shop. Brasserie Paul Bocuse Le Musée on the third floor is the first brasserie that Paul Bocuse, a high-end French restaurant in France, opened overseas. You can enjoy a "collaborative menu" of art and cuisine with soft sunshine through the glass wall in the daytime and a fantastic night view in the evening. At noon time, prices are really reasonable (from 3,500 yen) and the ambience enjoyable in a casual manner. The museum shop is full of nice original goods including creators' works from the whole world. Find nice souvenirs.
The National Art Center, Tokyo
Map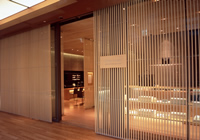 © Keizo Kioku
Suntory Museum of Art (Tokyo Midtown, Roppongi, Minato-ku)
Suntory Museum of Art is located in the sophisticated commercial complex Tokyo Midtown. Since its establishment 50 years ago (then in Marunouchi), the museum has been exhibiting works under the theme of "Art in Life," such as Japan's antique arts and crafts. Though the size is not as large as public museums, the selected collection is worth a visit.
This museum has a comfortable space with a shop and cafe. The cafe is run by a venerable shop from Kanazawa, a historic town in Ishikawa Prefecture. It originally specializes in "
Kaga-fu
" (wheat-gluten cakes) that is popular for being organic and healthy, but also serves a variety of sweets created in accordance with exhibits. The elegant museum shop offers original goods that are designed based on the collection and you will find fantastic goods under the concept of "Japan modern."
Suntory Museum of Art
(Japanese only)
Map
Mori Art Museum (Roppongi, Minato-ku)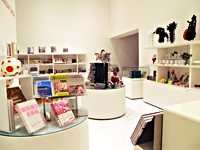 Museum Shop (53F)
Since its opening in 2003, Roppongi Hills has been drawing much attention as a trend-setting place of Tokyo. Mori Art Museum located on the top of Mori Tower (53F), a symbol of Roppongi Hills, does not have permanent exhibitions but always holds exciting exhibitions, especially ones featuring contemporary art. This is the highest-located museum in Tokyo and you can enjoy the panoramic view from the observation deck.
It has three museum shops. One is located within the 53F museum. Another is on the 52nd floor for visitors to the museum as well as Tokyo City View (52F) and Sky Deck (54F) and the other is on the 3rd floor where everyone can enter. Both shops offer fancy original goods and unique goods by distinguished Japanese contemporary artists, such as Yayoi Kusama, Yoshitomo Nara, Takashi Murakami, Makoto Aida, Mika Ninagawa, and Taiko Matsuo. The goods are nice for souvenirs and also good for yourself, of course. In addition, Maman, a gigantic spider sculpture by American sculptor Louise Bourgeois, and other public art works by world-famous artists can be seen outdoors here and there and add an artistic feel to the Roppongi Hills area.
Mori Art Museum
Map
Unique Art Places You Should Visit
Art is not limited to museums. Tokyo has distinctive galleries, unique places of Japanese art for free, and other interesting art spaces.
Galleries in Kyobashi/Ginza Area (Kyobashi & Ginza, Chuo-ku)
In the area near Tokyo Station, there are large and small galleries, their exhibits ranging from traditional to contemporary art. The area is also home to Bridgestone Museum of Art, which is well known for its museum shop with original goods and a tearoom.
Edo Shitamachi Dento Kogeikan (Edo Traditional Craft Museum) (Asakusa, Taito-ku)
The museum in Asakusa, a bustling traditional tourist town, displays about 400 traditional crafts from 50 industries made in Taito-ku, such as
Edo-kiriko
(cut glass) and
hagoita
(decorative battledores).
Edo Shitamachi Dento Kogeikan
(Japanese only)
Map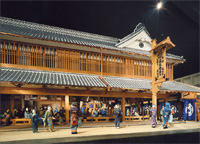 EDO-TOKYO-MUSEUM
Edo-Tokyo Museum (Yokoami, Sumida-ku)
When you get off at Ryogoku Station, you are in Ryogoku, a "sacred
sumo
place" with Ryogoku Kokugikan and will immediately find the vast building of Edo-Tokyo Museum, which is modeled after an ancient elevated-floor type warehouse. The old town of Tokyo (Edo) is reproduced inside the building and Tokyo's 400 years of history and culture is on display. Volunteer guide service is available in English and several other languages. Reservations are needed but the service is for free.
Edo-Tokyo Museum
Map
Pen Station Museum & Café (Kyobashi, Chuo-ku)
Stationery manufacturer Pilot runs a museum of pens and stationery from around the world. The first fountain pen produced in Japan in 1918 and
makie
-lacquered fountain pens are worth a look.
Pen Station Museum & Café
Map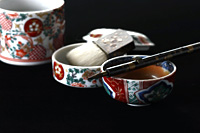 Makeup items
Late Edo to Meiji period, 19th century
Isehan-Honten Museum of Beni (Minami-Aoyama, Minato-ku)
This is a unique museum featuring
beni
, or traditional rouge using an organic dye of safflower, run by an old lipstick maker established in 1825, and which is the only such maker existing now. You can see the history and culture of
beni
and also check out a variety of
beni
goods.
Isehan-Honten Museum of Beni
Map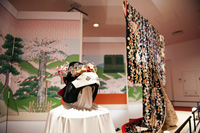 © Shochiku Co.,Ltd.
Kabukiza Gallery (Ginza, Chuo-ku)
As we introduced in the March issue of the e-Tokyo Today magazine, this interesting museum displaying authentic
kabuki
costumes, stage properties, and valuable videos was just launched on April 24 in KABUKIZA TOWER, which opened this April. Have a relaxing time while enjoying a rooftop garden! The admission fee is 500 yen.
Kabukiza Gallery
(Japanese only)
Map
Tokyo Museum Grutt Pass (Round-Trip Pass) 2013
"Grutt Pass" is a value-priced ticket booklet providing you admission or discounts to 77 museums and various other facilities in Tokyo. The new version for 2013 is now on sale at 2,000 yen until January 31, 2014. There are valuable and convenient set passes at 2,800 yen with one-day tickets for Tokyo Metro or Toei Subway, respectively.
Tokyo Metropolitan Foundation for History and Culture
Guide of "Tokyo Museum - Grutt Pass 2013"