Ukiyo-e and Edo
Utamaro, Sharaku, Hokusai,
and
Hiroshige
... If you are familiar with these names, you are a real Japan expert. They are the big names in the world of
ukiyo-e
of the Edo period (1603-1867).
Ukiyo-e
, Japanese woodblock prints, are a representative art of Japanese traditional culture that is considered to be a catalyst of the "Japonism" that largely influenced Western arts, mainly inspiring many European impressionist painters. However,
ukiyo-e
originally served as media, too, that reported all kinds of information to the urban residents of Edo times, rather than as a fine art to be appreciated as such. People were able to get information about trendy spots, favorite
kabuki
actors, and popular places to visit in
Edo
(current Tokyo), through
ukiyo-e
. Let's go into the world of
ukiyo-e
!
(Click the ukiyo-e below to enlarge)
Popular Sightseeing Places depicted in Ukiyo-e
Even in Tokyo, an ever-changing metropolitan city, there remain some things that are unchanged. Here are some of these places, which used to be and still are popular places to visit among locals and tourists, and appear in
ukiyo-e
.
"Kinryuzan Temple,
Asakusa"
(Asakusa Kinryuzan
from One Hundred
Famous Views of Edo)
by Utagawa Hiroshige,
stored at Brooklyn Museum
Asakusa, which has long been one of the most popular tourist destinations in Japan, prospered as a temple town of Senso-ji Temple from the old days. Its origin dates back to 628, when a temple was made for the statue of Goddess of Mercy that was found in the Sumida River. As time went by it attracted a lot of ordinary and noble people alike, and after being designated as a prayer place of the Tokugawa government in the beginning of the Edo period, it attracted even more people.
The large lantern at the Kaminari-mon gate in the front and the approach stretching to Senso-ji Temple and its five-storied pagoda are seen in the block print. By the way, do you notice the difference on the lantern between past and present? The actual lantern at the Kaminari-mon is marked as "雷門" (kaminarimon). Meanwhile, the lantern in the
ukiyo-e
is marked as "志ん橋" (shimbashi), which was dedicated by an association of Japanese restaurants and
geishas
in Shimbashi, one of the entertainment districts in
Edo
. Now, the lantern with "shimbashi" is hung at the main building of the temple instead.
Map
Senso-ji
"Suruga-cho"
(Suruga-cho from
One Hundred Famous
Views of Edo)
by Utagawa Hiroshige,
stored at
Isetan Mitsukoshi
Holdings
Surugacho
was the name of an area and now a corner of Nihombashi Muromachi. At that time,
Surugacho
was a special place for people in
Edo
, as they could see both Edo Castle (the palace of the Shogun of the Edo government of those days) and Mount Fuji in a single view.
The town was named after
Suruga-no-kuni
(Suruga domain, current Shizuoka Prefecture). Known as the birthplace of the first Shogun in the Edo period,
Tokugawa Ieyasu
, as well as the area where Mount Fuji is located, Suruga domain was a special location for many Japanese.
"Wide Perspective View of
the Interior of Echigoya in Surugacho"
by Okumura Masanobu,
stored at Isetan Mitsukoshi Holdings
"A sketch of the Mitsui
shop in Suruga in Edo"
by Katsushika Hokusai,
stored at Tokyo National Museum
Image:TNM Image Archives
Both sides of the main street in
Surugacho
were lined with
Echigoya
, a kimono store that is the origin of Mitsukoshi Department Store. Today the left side has Mitsukoshi Department Store and the right side has Mitsui Main Building, which was the home of the Mitsui Zaibatsu (financial group) before WWII and which also got its start with
Echigoya
.
Echigoya
was established by a talented merchant,
Mitsui Takatoshi.
He opened a shop selling kimono and dealing with money exchange in
Edo
. He pioneered a series of new business methods, including a cash sale system instead of the traditional credit system. He moved the shop to
Surugacho
in 1681, and it became the Shogunate's designated kimono store as well as an official government bank.
Wide Perspective View of the Interior of Echigoya in Surugacho
tells us much about the great success of
Echigoya
.
In
Hokusai
's woodblock print, you can tell it is the New Year holiday by the kites in the sky. People working on the roof seem to be tilers.
Map
Mitsukoshi
"Kameido Tenjin Keidai"
(Kameido Tenjin Shrine from
One Hundred Famous
Views of Edo)
by Utagawa Hiroshige
Kameido Tenjin
Shrine in Koto ward, which is also called
Tenman-gu
, enshrines
Sugawara Michizane
, popularly known as the God of Learning. He was a politician and also an excellent poet in the 9th century. After his death in Fukuoka, where he was sent for demotion following the political conflict he had been involved in, a series of natural disasters struck the then-capital Kyoto, and people thought the city was haunted by his angry spirit. So people started to enshrine him to calm and comfort his soul.
There are many
Tenman-gu
in Japan, with all of them enshrining
Michizane
. While most of them are famous for plum blossoms, the flower he loved most,
Kameido Tenjin,
has been famous as Japanese wisteria blossom since the Edo period. Go on the Taikobashi Bridge, and you can look down on a carpet of beautiful wisteria on the trellises in late April to early May.
The woodblock print depicts the Taikobashi Bridge, wisteria blossoms surrounding the pond, and people enjoying the blossoms under the trellises just as we do with cherry blossoms. There used to be tearooms and sake-serving restaurants in the precincts, and now there are old-style high-class Japanese restaurants around the shrine in a well-preserved Edo atmosphere.
Map
Kameido Tenjin
Festivals in Ukiyo-e
Sanno Matsuri
"Chiyoda no On-Omote,
View of Sanno Matsuri"
by Yoshu Chikanobu,
stored at Hie Shrine

"Sanno Matsuri from Edo Meisho"
(Sanno Festival from Famous
Views of Edo)
by Utagawa Shigenobu,
stored at Edo-Tokyo Museum
Tokyo locals were more enthusiastic and even frenzied about their annual festivals than you can imagine. Among a number of festivals in
Edo
, Sanno Matsuri of Hie Shrine in June and Kanda Matsuri of Kanda Shrine in May were very special ones.
These shrines were regarded as the dwelling of the tutelary deity of the Tokugawa Shogun family and the guardian deity of
Edo
, respectively, so it was natural they were so much respected and worshipped, and their annual festivals were called
Tenka Matsuri
(Shogun's festivals) and their floats were allowed to enter Edo castle and received in audience by the
Shogun.
We can see floats in these two
ukiyo-e
woodblock prints. Flags held by people in "
Sanno Matsuri from Edo Meisho
" tell you that they belonged to Koji-machi, one of the shrine's parish towns. It is said that each parish town had its own float.
Sumo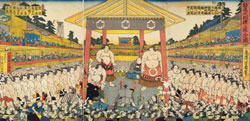 "Kanjin Ozumo Dohyoiri no Zu"
(View of the Dohyo-iri
Ceremony at Kanjin Sumo)
by Utagawa Kuniyoshi,
stored at National Diet Library
Sumo is both one of Japan's ancient
Shinto
rituals and festivals and a martial art and wrestling sport. The current grand sumo originated from
kanjin
(temple solicitation) sumo, which began in the early Edo period for the purpose of fund raising to get money for renovation and construction of shrines and temples. Sumo and theatrical shows were the two most popular entertainments in
Edo
.
This piece can tell a lot about difference and similarity between today's sumo and that of the Edo period.
It depicts
dohyo-iri
("entering the ring"), a ceremony to introduce sumo wrestlers before top division bouts. Wrestlers on the left side (Western side) were about to mount the ring while the Eastern side wrestlers had just finished the ceremony. Today
dohyo-iri
is still held in a simplified manner.
In the Edo period, sumo was held outside because there was no particular stadium, and mostly held at Eko-in Temple. The four pillars of the ring represent the Four Symbols of the four mythological creatures of the four directions (north, south, east and west). In the current Grand Sumo Tournaments held six times a year, the pillars are replaced by tassels that have been hung from the ceiling since 1952. But the biggest difference was that only men were allowed to be in the audience for
kanjin
sumo. However, the gallant appearance of popular sumo wrestlers gathering at the
dohyo-iri
ceremony surrounded by a huge audience remains the same.
Grand Sumo
Where to Appreciate and Buy Ukiyo-e
Places to Appreciate Ukiyo-e
Tokyo National Museum
Ukiyo-e Ota Memorial Museum of Art
Sumo Museum
Due to changing of displays that takes place six times a year, there may be no display of
ukiyo-e
during some periods.
Ukiyo-e
of the end of the Edo period will be exhibited from October 23 through December 24, 2012.
Places to Buy Ukiyo-e
Original Ukiyoe Gallery Toshusai
Ohya Shobo Book Store
Mita Arts Gallery
Shukado
The Adachi Institute of Woodcut Prints
: The company has a showroom as well as a studio, and sells reprints of
ukiyo-e
.