Are you like the majority of people who think everything in Japan is expensive?
Japan is definitely not a cheap place to travel as you know, and the current strong yen may make you think traveling to Tokyo as a mission impossible. However, what you may not know is that travelers are actually enjoying getting around Tokyo on a smaller budget. We will guide you with smart and useful tips for traveling in Tokyo.
(100 yen= 1.26 dollars, 1.02 euros, 0.80 pounds)
Accommodations
Tokyo offers a cornucopia of choices. You will never fail to find an option perfect for your budget.
A place to stay? Yes, you will find a good one! There are lots of hotels in Tokyo offering accommodations at reasonable prices.
1. "Business Hotels"
Business hotels are basically meant for those who are on a domestic business trip. These hotels offer limited service, but most of the necessary things for comfortable overnight accommodation with convenient locations and prices. So why not for tourists? Some business hotels offer a stay with breakfast for less than 5,000 yen. Search under "business hotel Tokyo," and get one perfect for you.
2. Capsule Hotels
Make your stay a once-in-a-lifetime experience. A capsule hotel offers literally capsule-like rooms of about 1 meter by 2 meters, which is just like a bed in a sleeping train.
Each capsule room has what you need for overnight accommodation, including a set of bedding, TV, radio, and an alarm clock. Prices are lower than those of business hotels, of course, considering the surface area you occupy.
Capsule hotels were developed in Japan taking into account land prices and safety factors in the large cities. Now they are getting popular among foreign tourists who want to experience things "uniquely Japanese." Most of the capsule hotels are only for men, but some offer rooms for women, too. Prices are about 3,000 yen to 4,500 yen, depending on the location and day of the week.
Transportation
1. Trains
Once your destination is set, check the train fare to get to the place. Here is a list of major one-day train passes that allow you unlimited boarding and re-boarding privileges within a designated area during a designated period. They need to be used a certain number of times to get their worth, but basically the more you use them, the more you save. If you want to get around Tokyo for a whole day, you should get one suitable for your travel plans.
http://www.jorudan.co.jp/english/
http://www.hyperdia.com/en/
Major Discount Tickets
Child prices are about half of Adult prices.
Name
Price
(Adult)
Areas
Minimum Fare
Where to Buy
Image
Tokyo Metro 1-Day Open Ticket
710 yen
All Tokyo Metro lines
(Except for Toei Subway lines)
160 yen
Ticket vending machines at all Tokyo Metro stations



Common One-day Ticket
for Tokyo Metro & Toei Subway
1,000 yen
All Tokyo Metro and
Toei Subway lines
Ticket vending machines at all Tokyo Metro stations, Toei Subway stations, and Nippori-Toneri Liner stations
Toei One-Day Economy Pass
700 yen
Toei Subways, Toei Buses, the Toei Streetcar (Toden) Arakawa Line, and the Nippori-Toneri Liner
170 yen
Ticket vending machines at all Toei Subway stations, Nippori-Toneri Liner stations, and on Toei busses and streetcars
Tokyo Metropolitan District Pass
(Tokunai Pass)
730 yen
The designated open seating zone in the 23 Special Wards of Tokyo
130 yen
JR Ticket Offices (Midori-no Madoguchi) and at Travel Service Centers (View Plaza) in most major Tokyo stations.
Tokyo Combination Ticket
Tokyo One-Day Free Ticket

1,580 yen
All lines of Tokyo Metro, Toei Subway, Toden, Tobus, all routes of Nippori-Toneri Liners, and all JR lines within the metropolitan district
Ticket vending machines at all Tokyo Metro stations (except a few stations), all Toei Subway stations (except a few stations), Nippori-ToneriLiner stations, and JR stations within the metropolitan district
More interested in taking time for each tour spot rather than zipping around everywhere?
Traveling in Tokyo by train is not very expensive compared to doing so in other cities around the world. Doesn't sound believable? The minimum Metro fare is 1.7 euros (167 yen) in Paris, 2.5 dollars (198 yen) in NY, and, a surprising 4.3 pounds (538 yen) in London, while it's only 130 yen for JR and 160 yen for subways in Tokyo. Now you know.
2. Buses
"Tokyo Shitamachi Bus" is especially suitable for first-time visitors to Tokyo who are going to TOKYO SKYTREE® and Akihabara.
It runs between Kinshicho Station and Ueno Matsuzakaya through TOKYO SKYTREE® and Asakusa Kaminarimon Gate on weekdays, and on Saturdays and Sundays it goes to Nihombashi Mitsukoshi and Tokyo Station via Ueno. The bus comes every 20 minutes, and you can get on it for only 200 yen per boarding, without a reservation.
Tokyo Shitamachi Bus
Planning to spend a whole day looking around Marunouchi, Nihombashi or Odaiba? Then a free shuttle bus service is perfect for you.
Shuttle bus services, called Metrolink Nihombashi (Tokyo Station Yaesu Exit, Nihombashi etc.), Marunouchi Shuttle (Shin Marunouchi Building, Hibiya, etc.), and Tokyo Bay Shuttle (National Museum of Emerging Science and Innovation (Miraikan), VenusFort, DiverCity, Fuji TV, etc.), offer free shuttle buses going around the area every 10 to 20 minutes.
Hinomaru Limousine
(Japanese only)
Public community bus service may be bit confusing, but it's an inexpensive and convenient way to enjoy Tokyo more closely. For example, after shopping in Shibuya, take the #06 metropolitan bus to Shimbashi Station through the Yamanote Area, a rather hilly residential area in the center of Tokyo that includes Hiroo and Azabu-juban. If you haven't been to Tokyo Tower, the bus goes right by it. It's not touristy, but perfect for tourists who want to see everyday life of local people.
Service route
(Japanese only)
Toei bus route map
3. By Bike: Best for flexibility!
Completely eco-friendly and flexible, with fresh air! Please read the special article in the July issue introducing recommended bicycle routes and rental cycle shops in Tokyo.
e-Tokyo Today July-August 2012
Eating
Tokyo is now almost a synonym for "gourmet city." That's not only because of the world's highest number of Michelin stars the restaurants in the city have been given (it's one of the major reasons, though), but also the sheer number of restaurants, as numerous as the stars! There are about 57,000 restaurants in Tokyo alone, which gives you abundant choices, variety-wise, and yes, price-wise too.
Below are some good places to eat for affordable prices, but their food can't be measured by the prices. Satisfaction guaranteed for your stomach and wallet.
1. Yokocho and Railway Underpasses
Yokocho
literally means "alleyways off to the side of a main street" and sometimes particularly means the small pubs and bars that are found in these narrow streets.
Yokocho
and railway underpasses have always been crowded with small eating establishments, where local people enjoy food and drinks for reasonable prices in a casual atmosphere. The famous ones are
Omoide-yokocho
(Japanese only) in Shinjuku, Hamonika-yokocho in Kichijoji, and the railway underpass in Shimbashi.
The retrospective popularity of the nostalgic feeling permeating such areas promotes the movement of developing new
yokocho
, such as
Yurakucho Sanchoku Inshokugai
(Japanese only) and
Ebisu-yokocho
(Japanese only).
Average prices: a jug of beer for 550 yen, a skewer of yakitori for 190 yen,
edamame
(boiled green soybeans in a pod) for 350 yen,
jaga-bata
(a potato with butter) for 500 yen
2. B-class Gourmet Food
Ramen
, one of the most-recognized Japanese B-class gourmet dishes, can be enjoyed pretty much everywhere in Japan. But if you want to try the best of the best
ramen
, visit Tokyo Station. There are branches of the eight famous
ramen
shops in Tokyo in Tokyo Station Ichibangai (First Avenue) that directly connects to the Yaesu Exit. Average prices for a bowl range from 750 yen to 1,000 yen.
Tokyo Ramen Street
(Japanese only)
First Avenue Tokyo Station
Monjayaki
is another big help for travelers with a tight budget. It's based on a watery flour dough with small pieces of vegetables, mainly cabbage, which is cooked on an iron plate. You can add anything you like, from seafood to meat to
mochi
(rice cake). It doesn't look very appealing, but try some!
The simple ingredients and preparation have made it a popular casual snack among kids in downtown Tokyo.
Tsukishima's Monja Street
(Japanese only) is famous for having 75
monjayaki
restaurants. Average prices range from 700 yen to 1,400 yen.
3. Lunch at Michelin Star Restaurants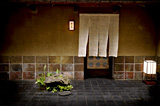 Kagura
After having fun with local Tokyoites in
yokocho,
let's have some nice lunch at one of the Michelin star restaurants. But is it affordable? Sure! There are some restaurants that offer lunch for 1,500 yen or less.
Name
Adderss
Category
Lunch Menu & Prices
Remarks on Lunch
Kagura
(Japanese only)
5-5-9 Akasaka, Minato-ku
Japanese
Anago-zen set: 1,500 yen
Nizakana-zen set: 1,500 yen
(Weekday only)
Credit cards NOT acceptable.
Reservations available.
Kyoraku-tei
(Japanese only)
3-6 Kagurazaka, Shinjuku-ku
Japanese Soba
Zaru soba (buckwheat noodles): 900 yen-
Credit cards NOT acceptable.
Reservations NOT available.
Kurogi
3-35-1 Yushima, Bunkyo-ku
Japanese
Sea bream chazuke (rice with green tea) set: 1,000 yen
(Tuesday - Friday)
Credit cards NOT acceptable.
Lunch available Tuesday to Friday at 2 times, from 11:30 or from 12:30.
Reservations necessary.
Nakajima
(Japanese only)
3-32-5 Shinjuku, Shinjuku-ku
Japanese
Sashimi set: 800 yen,
Roasted, Boiled or Fried fish set: 800 yen
(Weekday only)
Credit cards NOT acceptable.
Reservations NOT available.
Other Tips
1. Discount Coupons
Don't forget to use discount coupons attached to "Tokyo Handy Guide" and "Tokyo Handy Map," published by the Tokyo Metropolitan Government. If you are planning to visit any of the listed places such as Hama-rikyu Gardens and Edo Tokyo Museum, make sure to use the coupons.
Tokyo Tourist Information Centers
2. Tour Guide Service by Volunteers
The Tokyo Tourism Volunteers offer tour guide services to attractive spots in Tokyo in English, Korean, Chinese, German, French, Italian, and Spanish. A half-day tour costs from nothing up to 4,000 yen for a group of 5 or less. There are 10 routes to visit major tourist spots in Tokyo, starting from Shinjuku (Tokyo Tourist Information Center in the Tokyo Metropolitan Government Building).
GOTOKYO: Free Guided Tours for Foreign Tourists
3. Markets, Flea Markets and Antique Fairs in Tokyo
Markets are held at various sites in Tokyo on weekends. Food items including fresh local vegetables and fruits are sold at such markets. Negotiating for discounts at flea markets is enjoyable and antique fairs may be especially exciting for you if you are interested in Japan's unique traditional goods.
GOTOKYO: Discover x Tokyo Vol. 2
4. Outdoor Activities
Despite the stereotypical image of Tokyo as a "concrete jungle," Tokyo is a city full of greenery.
On a sunny day, grab something for lunch and go on a picnic in a park! There are many places to buy a nice lunch for a picnic in major parks: the basement of department stores in Ginza and
street venders at Tokyo International Forum Plaza
for Hibiya Park, the basement of department stores and bakeries in Shibuya for Yoyogi Park, and
Ameyoko
(Japanese only), where you can buy precut fresh fruit and kebabs, for Ueno Park.
Tokyo Metropolitan Park Association
5. Shopping at 100-yen Shops
Let's not make the same old mistake as we always do: spending too much on souvenirs. So as not to fly home with an empty wallet, go to 100-yen shops. They sell unique stickers, stationary goods, and novelty goods at low prices, most of them 100-yen. Food-sample key chains are on the list of recent popular souvenirs from Japan. How about Japanese housewares and snacks for your family and friends?
100 yen shops in Tokyo (JNTO)
Experience: Priceless!
Even with all these tips, there still is a worry that makes you hesitate to come to Tokyo: language.
People walk so fast in Tokyo, and it's hard to tell who can speak English, making you nervous about asking for help. However, the kindness of Japanese people is one of the things that many foreign travelers are impressed by. Some people will be willing to help you regardless of the language barrier. Take a step further and communicate with Tokyoites. It will make your trip even more memorable.