In line with the recent movement of environmental conservation and health-consciousness, commuting by bicycle is in fashion in Tokyo these days. Such trends encourage more and more Tokyoites to cycling to work. The benefits of cycling are not only limited to locals. For tourists, cycling is also a convenient tool and provides good mobility.
Tokyo is a great place for cycling. It's rather flat, especially around the waterfront and eastern parts, and there are many exciting out-of-the way places. Relax and cycle the metropolis amongst the skyscrapers and tall towers on smooth streets near the ocean, a river, or in a lush green park. Tokyo offers a variety of views that are not exclusively for Tokyoites.
Also cycling around Tokyo lets you easily get a grasp of the layout of the land, compared to taking other public transportation. You will more deeply understand the city of Tokyo and will always discover something new and interesting!
Regulations
Before taking off on a bicycle, learn the basic rules for cycling in Japan. First of all, all vehicles including bicycles travel on the left side of the road. Keep in mind the following five regulations:
+ Though there are exceptions, bicycles should be ridden on the street and not on the sidewalk in general.
+ Keep to the left on the street.
+ When riding on a sidewalk, pedestrians have the right of way; travel slowly on the side nearest the street.
+ Safety Regulations
- Do not ride drunk, do not ride two on one bicycle, and do not ride side by side with another cyclist.
- Use the running lights at night.
- Follow all traffic signals; stop and confirm safety at stop signs.
+ Children must wear a helmet.
Riding with an opened umbrella or using a cellular phone is prohibited: there is a fine of up to 50,000 yen (about 630 USD)! Please pay attention to these signs in particular.
| | | | |
| --- | --- | --- | --- |
| | | | |
| No Bicycle Entrance | Stop | Pedestrian and Bicycle Road | Side-by-side Riding Allowed |
Cycling Routes with a Feel of the Metropolis
The heart of Tokyo is abundant with sightseeing places. Here are four sample routes around the center of Tokyo. Click each route name to see it on the map that helps you to understand the route better. You can also find the rental cycle spots near the routes on the map.
Route No.1: The Deluxe Route with many must-see Tokyo metropolitan places
Distance: 16.2 km (10.1 miles)
Time: 1 hour 45 minutes
The route connects popular sightseeing places, including Tokyo Station, Tsukiji, Ginza, Odaiba, and the Imperial Palace.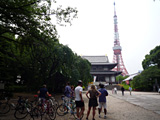 Starting from the Marunouchi Chuo Exit of JR Tokyo Station, now in the final phase of the restoration of the Marunouchi Redbrick Building to end in October, go straight ahead to Wadakuramon, a place where one of the gates of Edo Castle (now the Imperial Palace) stood in the Edo period (1603-1867).
Ride along the moat. The road is also a popular course for runners, so many who are in colorful wear run here.
Chidorigafuchi is part of the moat and a famous cherry blossom viewing spot. But be careful as tons of people come to see the spectacle in spring, making comfortable cycling impossible at that time. Nagatacho is the political center of Japan. Go by the Diet Building, through Hibiya Park that has two flower gardens and an open-air concert hall, and you will be in Ginza, the prestigious shopping area (cycling is forbidden on Chuo Street on Sundays).
Head for Tsukiji fish market, but keep in mind that it is closed on Sundays. Then, you will see the Hamarikyu Gardens that used to be a falconry site for Shogun on the left, and the high-rise buildings in Shiodome in front. Stop by at Zojo-ji Temple.
Tips:
Uchibori Street in front of the Imperial Palace allows cycling from 9 a.m. to 3 p.m. on Sundays, and rental bicycles are available free-of-charge for use on the Imperial Palace course only.
Route No.2: The Fashion Route through Aoyama, Shibuya, and Harajuku
Distance: 13.5 km (some hills) (8.4 miles)
Time: 1 hour 25 minutes
Tour around to see the very latest in Japanese fashion and cultural trends including Aoyama, Shibuya and Harajuku shopping areas and cycle through the lush Yoyogi Park. There are a few steep hills but the sights are well worth the effort.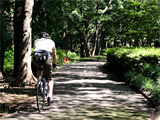 Starting from the Omotesando Intersection go toward Minami Aoyama. The area is dotted with museums and galleries. The Taro Okamoto Memorial Museum is a former studio and residence of avant-garde artist Taro Oakamoto (1911-1996), and the Nezu Museum is a small museum with a fine garden exhibiting an elegant collection.
Go through Aoyama Cemetery. Strolling through could be a good idea. If you have time, visit The National Art Center, Tokyo in the vicinity. Its distinguish building designed by architect Kisho Kurokawa is worth seeing. The wide boulevard lined with gingko trees goes directly to Jingu Gaien (the outer garden of Meiji Jingu), which is very comfortable, especially in autumn, surrounded by golden leaves with fresh cool air.
Pedal around the circular road and head toward Yoyogi Park. Take the cycling course through the park. The urban atmosphere suddenly changes and you will find yourself in a forest. In the park, a lot of people enjoy and relax in their own style; some run, some practice dancing or playing music, some lie on the grass. Exit the park and you are already in Shibuya. Go through the very hip Cat Street.
Tips:
- The circular road around Jingu Gaien can be used as a cycling road from 9 a.m. to 3:30 p.m. on Sundays and holidays. Rental bicycles are available without a fee for use on the course.
- Rental bicycles are available in Yoyogi Park for 200 yen per hour.
Route No.3: Tokyo Bay Area Route around Odaiba in the sea breeze
Distance: 9.8 km (6.1 miles)
Time: 1 hour 5 minutes
Cycle around the bay area, feeling the sea breeze but keep in mind that cycling in the parks in Odaiba is not allowed with the exception of Shiokaze Park.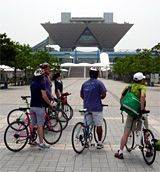 Starting at Odaiba Marine Park go to Daisan Daiba to see the ruins of a mid-19th century battery, and an overwhelming view of the Rainbow Bridge. Ride back to the park, turn left to the Ariake Coliseum, home to the Japan Open Tennis Championships and other events, and go through Ariake Tennis-no-Mori Park.
Take the overpass to Tokyo Big Sight, a huge exhibition center with unique architecture, and bike under the Yurikamome, elevated railway, to get to Palette Town, shopping and entertainment facilities, Oedo-Onsen-Monogatari, a large natural spa facility, Miraikan (The National Museum of Emerging Science and Innovation) to see ASIMO, and the Museum of Maritime Science (the exhibition in the main hall is closed).
Drop by DiverCity Tokyo Plaza, a commercial facility just opened in April 2012. Go through the center of Odaiba to see the famous Fuji TV Building, a modern and eye-catching structure with a huge sphere, and popular shopping facilities including Aqua City Odaiba and Decks Tokyo Beach.
Tips:
- You may bring a bicycle on the waterbus from Odaiba Marine Park but be aware that space is limited and it may not be allowed when the boat is full. After cycling Odaiba, you can cross over to Hinode Pier on the opposite side and connect to Route No.1 via Zojo-ji Temple, or cruise to Asakusa and connect to Route No. 4 below.
- If you are staying anywhere near the route, taking a night ride is highly recommended to see the breathtaking night views of the Rainbow Bridge and awesome skyscrapers. Cycling at night is great way to see Tokyo at its most spectacular.
Route No.4: The Asakusa - Oshiage Route at the foot of TOKYO SKYTREE®
Distance: 9.3 km (all flat) (5.8 miles)
Time: 1 hour 5 minutes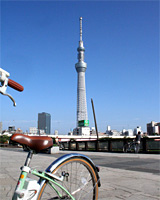 The iconic Tokyo sightseeing spot Kaminari-mon Gate, with its famous huge red lantern in Asakusa, is the starting point. Ride across the Azuma Bridge over the Sumida River past the Asahi Super Dry Hall, noted for its enormous golden Asahi Flame sculpture on top and the cherry trees along the banks of the river, and head to TOKYO SKYTREE®, which just opened on May 22 this year.
Go past the tower and you will come to Jukken Bridge, well known for the inverted image of the tower on the water. Mukojima with well-established Japanese restaurants has a traditional atmosphere. Take the Sakura Bridge over the Sumida River, which also offers a splendid view of cherry blossoms.
The route enters a less touristy part of Asakusa with its many old shops for the locals and an atmosphere different from the tourist-filled Senso-ji. Pass by Mikaeri-yanagi - "Looking-back willow tree" - so-called because visitors returning home from Yoshiwara, the red-light district that flourished in the Edo period, looked back at this spot feeling painful reluctance to leave, and go on to Otori Shrine, especially popular for its Tori no Ichi fair in November. Cycle down Kappabashi Dougu Street and see the huge selection of kitchen tools and equipment for sale.
Tips:
- Leisurely strolling around the old district is recommended. Kyojima, north of Oshiage, has retained the winding, narrow labyrinth-like alleyways and bustling old-style shopping streets. You may get lost but don't worry. TOKYO SKYTREE® is a great guiding landmark.
- Mukojima, an old entertainment district (hanamachi), is home to sweet shops selling such traditional treats as dumplings, kusa-mochi and sakura-mochi rice cakes. Take a rest and try the delicious sweets.
Other Rental Cycle Spots
There are many bicycle rental spots near sightseeing places in Tokyo. Rent one and enjoy the freedom of riding around the city!
Akihabara
Home to pop culture shops.
Akihabara "UDX Parking Lot"
Hatsudai
Convenient cycling distance to both Shibuya and Shinjuku.
Shibuya-ku Bicycle Rental "Hatsudai Station North Exit Cycle Parking Lot"
Ueno
Ueno Park has a zoo and a variety of museums. Ameyoko shopping mall and Akihabara are close by.
Taito-ku Bicycle Rental "Shin-okachimachi Station Cycle Parking Lot"
Taito-ku Bicycle Rental "Naka-okachimachi Station Cycle Parking Lot"
Yanaka, Nezu, Sendagi (Yanesen)
Strolling in the old district is enjoyable.
Yanaka "Tokyo Bike Gallery"
(The left photo of the header is provided by Yanaka "Tokyo Bike Gallery.")
Bunkyo-ku Bicycle Rental
Cycling Roads
If you like outdoor activities and want to enjoy cycling for more than a half day, cycling roads are places where you should go.
Tama Cycling Road
One popular cycling road runs along the Tama River from Haneda Airport to Hamura. The distance trip is about 56 km, mostly flat and paved.
Arakawa Cycling Road
Starting at Kasai Rinkai Park facing Tokyo Bay, the Arakawa River course is wide and well maintained. The course is about 80 km, leading to Shinrin Park in Saitama Prefecture.
[Bicycle Rental near Arakawa Cycling Road]
Orix Rental Car "Nishikasai Station"
Edogawa Cycling Road
Similar to the Arakawa Cycling Road, this path starts at Kasai Rinkai Park but goes northward along the Edo River. It takes about 30 minutes from Shibamata to Mizumoto Park.
[Bicycle Rental near Edogawa Cycling Road]
Katsushika Shibamata Torasan Kinenkan "Bicycle Rental Center"
Orix Rental Car "Nishikasai Station"
Cycling provides a great opportunity to discover "hidden" Tokyo. Enjoy your trip at your own pace!