Tokyo may not be the first city that springs to mind when imagining "a city of water" but for the 13 million people living there it actually is. For hundreds of years, the waterways in Tokyo were the arteries for commerce and transportation and covered 20% of the center of Edo (the old name for Tokyo). The downtown areas, including Asakusa and Ryogoku along the Sumida River, prospered and so a number of historic sites are within these areas. Following the Sumida River Renaissance, new landmarks and tourist facilities such as
TOKYO SKYTREE®
and
Tokyo Gate Bridge
are opening along the waterside and the water city of Tokyo is more enjoyable than ever. Let's look at both the "Old" and "New" aspects.
Urban Cruise in Various Styles
The 360 panoramic view of Tokyo Bay from the boat slowly cruising the bay is surprisingly different than when seen from land, and, especially in the evening, the dramatic night view of the Rainbow Bridge and the high-rises in Odaiba are unforgettable.
Water Bus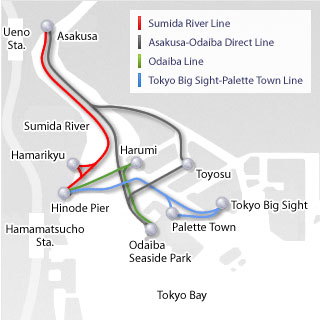 As trucks have replaced barges in modern times, the industrial water traffic of the old days has basically disappeared, but one type of boat is doing a thriving trade - water buses. There are four lines - Sumida River, Asakusa-Odaiba, Odaiba and Tokyo Big Sight-Palette Town.
Especially Sumida River Line, ferrying passengers between Asakusa and Hamarikyu Gardens taking about 35 minutes, is one business that seems timeless.
The bridges passed under are all different in design and the landscape is constantly changing with houses that look like they belong in a period drama nestled between the modern high-rises. Passengers will see the Tsukiji fish market on the right-hand side 30 minutes after the start. Passengers get off at Hamarikyu Gardens, originally the Shogunal hawking grounds.
Tokyo Cruise
Futuristic Himiko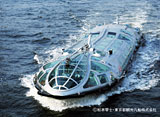 Although boats of a number of designs ply these waterways, "Himiko," a boat based in Odaiba, is particularly eye-catching. It is named after the queen of a legendary country in ancient Japan and its sleek futuristic design by the famous cartoonist Leiji Matsumoto makes it appear to be something destined for orbit rather than a river cruise.
Himiko
Old-fashioned Houseboat (Yakatabune)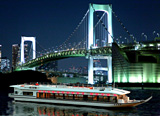 Houseboats with low roofs and tatami-mat flooring were popular in the Edo period as water transport and for recreation as well for people in Edo. The boats still offer great night views of modern Tokyo and the opportunity to try traditional Japanese foods like tempura, sashimi and sushi. A yakatabune experience is especially good for events such as viewing cherry blossoms in spring and fireworks in summer. Moon viewing in autumn, when the moon is said to be most beautiful, is a Japanese custom, and viewing from yakatabune has become popular recently.
Many companies operate yakatabune, mostly departing from around Asakusa and Shinagawa, and cruising the Sumida River and Tokyo Bay. If you want to experience an old-time Japanese atmosphere, yakatabune is a good choice. Most boats operate for private, chartered use but some companies operate share-ride boats. The cost is about 10,500 JPY (100 JPY = 1.25 USD) per person.
Amisei
Funasei
Harumiya
Nakakin
Nawayasu
Cruise with Cuisine in Tokyo Bay
Gourmet lovers can partake of delicious cuisine while enjoying a cruise. A variety of cruise tours offer French, Italian, and other dining while cruising Tokyo Bay. Dine or have a cup of tea in the soft sea breeze as you float past the twinkling skyscrapers in the panoramic view. Enjoy the romance.
Vingt et un
Symphony
Crystal Yacht Club
Must-see Bridges
Where there are rivers, there are bridges. As a charming city of water, Tokyo has a lot of them, both futuristic and historical ones, that harmonize well with the landscape.
Tokyo Gate Bridge: Brand new "dinosaur" bridge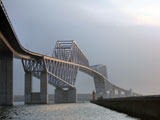 Bureau of Port and Harbor,
Tokyo Metropolitan Government
This bridge spanning Tokyo Bay just opened in February 2012. To many it appears to be two dinosaurs facing off. There is a pedestrian walkway from the Shinkiba side (near side to the center of Tokyo). (Note: Be warned that as yet it does not go through to the opposite side.)
From the center of the bridge, 61 meters above sea level, the panorama of Tokyo Bay is splendid. In particular, it offers a great view of the skyscrapers in the new Tokyo waterfront area, Haneda Airport, Tokyo Tower and TOKYO SKYTREE® in the distance. Even Mt. Fuji can be seen on clear days.
It is illuminated with 886 LED lights that are changed every month and create a fantastic view. Illuminations are on from sunset to midnight. About 40% of the power is provided by solar power, so the pair of dinosaurs is eco-conscious.
Access:
PDF
(Japanese Only)
[By bus]
Shin-kiba Station on the JR Keiyo Line -> Wakasu Kyampujo-mae Bus Stop
15 min by bus bound for "

Wakasu Kyampujo"
Time table of bus from Shin-kiba Station to the bridge
(Japanese Only)
[On foot] (4.4 km)
Shin-kiba Station -> Turn left at Shin-kiba-eki Intersection -> (1 km) Turn right at the second traffic light -> (3.4 km) Go straight to Wakasu Park
Map
Tokyo Gate Bridge
(Japanese only)
Rainbow Bridge: Odaiba Landmark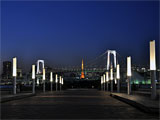 Bureau of Port and Harbor,
Tokyo Metropolitan Government
The Rainbow Bridge, a 798-meter suspension bridge connecting Shibaura and Odaiba, commands splendid views of Tokyo Bay and high-rise buildings. The night view is overwhelmingly fascinating. After sunset, the bridge is illuminated creating another breathtaking view. The upper part is a toll expressway and the lower part is a toll-free road with a pedestrian walkway as well.
Access:
[Shibaura side]
5 min from Shibaura-futo Station on the Yurikamome Line on foot
[Odaiba side]
10 min from Odaiba Kaihin-koen Station on the Yurikamome Line on foot
Map
Metropolitan Expressway company ltd
Hijiri Bridge: Historic bridge between two "sacred" places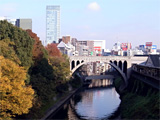 Chiyoda City Tourism Association
From an historic viewpoint, see the Hijiri Bridge near Ochanomizu Station that is a beautiful arch bridge over the Kanda River built in 1927 by the recovery project after the Great Kanto Earthquake in 1923.
"Hijiri" means "sacred," named after the two sacred buildings on either side of the river.
On one side is the
Yushima Seido Temple
, north of the bridge with its origin in the Confucian temple in Ueno. It was moved to Yushima Temple in 1690 by Tsunayoshi, the fifth shogun of the Tokugawa Shogunate. This is known as the birthplace of school education in Japan.
On the opposite side is the Holy Resurrection Cathedral known as
Nikorai-do
(Japanese only), the main cathedral of the Orthodox Church in Japan, a magnificent cathedral with a big dome. The building, first built in 1891, was damaged by the Great Kanto Earthquake and the present, renovated building was designated a national important cultural property in 1962. The first and one of the biggest authentic Byzantine churches in Japan is worthwhile to see.
The bridge is designed to be most picturesque when seen from a boat on the river but a similar perspective can be seen from platforms of JR Ochanomizu Station. The scenery from the bridge is also nice.
Access:
2 min from JR Ochanomizu Station on the JR Chuo/Sobu Line or Tokyo Metro Marunouchi line on foot
Map
Kachidoki Bridge: An important national cultural property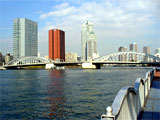 The Kachidoki Bridge spans the Sumida River near the Tsukiji fish market. It was built in 1940 and is one of the rare bascule bridges in Japan. In the past, it attracted many people who just wanted to watch the two sides separate (or draw) and rise 70 degrees for vessels to pass under the river. It used to draw five times a day for about 20 minutes, but, unfortunately, the operation stopped in 1970 due to the decrease in vessels and increase in car traffic.
It was designated as a national important cultural property along with the Kiyosu Bridge and Eitai Bridge, both of which are bridges over the Sumida River in Tokyo.
Access:
10 min from Kachidoki Station on the Toei Oedo Line on foot, or 15 min from Tsukiji Station on the Tokyo Metro Hibiya Line on foot
Map
Intriguing Water Spots in the Heart of Tokyo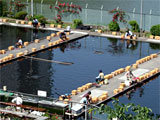 Ichigaya Fish Center
You need not go far from the center of Tokyo to find a unique water spot. From the train on the JR Chuo Line or the Sobu Line near Ichigaya Station, you can see a pond with people sitting around it here and there. It is a fishing pond, from the moat of the then Edo Castle. Commuter trains busily run past the pond while fishermen peacefully fish looking relaxed. The cost is 690 JPY (100 JPY = 1.25 USD) per hour per person (adult) plus 80 JPY (bait), 100 JPY (rod).
Access:
1 min from Ichigaya Station on the JR Sobu Line or Tokyo Metro Yurakucho/Namboku lines on foot
Map
Ichigaya Fish Center
(Japanese Only)
Canal Café
Iidabashi, next station to Ichigaya, has another cool water spot. Canal Café, a one-minute walk from Iidabashi Station, appears to float on the water in a resort-like setting. You can see canal wildlife such as fireflies, wild birds, turtles, and carp, from wonderful waterfront. It is popular for Tokyoites as well as tourists in every season but particularly attracts scores of people in spring because of the gorgeous cherry blossom trees along the canal. The lit-up blossoms are especially beautiful in the evening.
Access:
2 min from Iidabashi Station on the JR Sobu Line, Tokyo Metro Tozai Line, or Toei Oedo Line on foot
Map
Canal Café
(Japanese Only)
Meiji Jingu
Meiji Jingu, near to Harajuku Station, stands in a lush forest. In the Imperial Garden, there is the "Well of Kiyomasa," said to be built by Lord Kato Kiyomasa (1562-1611). Many people feel something sacred or spiritual at this well and so it has become a popular "spiritual spot" in recent days. A perennial well of clear water that naturally springs from the underground is literally an oasis in the big city.
Map
Meiji Jingu
Tokyo, though it is a metropolis, is blessed with the ocean, rivers, canals, and many places where you can enjoy the waterfront. Come and enjoy the many scenic waters of Tokyo and feel cool in the city!