Chatting with the local residents is a joy of traveling. Strolling around shopping districts is one of the best ways to feel this.
Ameyoko
in Ueno,
Nakamise
in Asakusa, and
Takeshita-dori
(Takashita Street) in Harajuku are very popular sightseeing places because of the great shopping and fun people watching. But they are only the tip of the iceberg. There are rumored 2,683 shopping streets in Tokyo!
Here are some of the shopping streets in Tokyo that are well worth visiting.
1) "Ginza": Shopping for Daily Life
Ginza
is one of the most prestigious shopping districts in Tokyo. And the name "Ginza" has become synonymous with shopping. It is said there are about 300 other, more daily life 'Ginza' shopping districts in Japan.
Togoshi Ginza Shopping Street: The first "Ginza" shopping street in Japan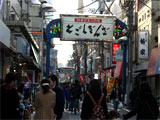 Exit Togoshi-Ginza Station on the Tokyu Ikegami Line, and enter the hustle and bustle of Togoshi Ginza Shopping Street. It is the longest (about 1.3 km) shopping street in Tokyo and has about 400 shops.
A specialty of the area is
korokke
, deep-fried patties covered with bread crumbs similar to French croquettes. Many shops sell them and prices range from 60 yen to 800 yen (1USD=82 yen). Each shop boasts their own
korokke
recipes and a wide variety of fillings, flavors, and shapes can be found. Why not try one of the many unique
korokke
?
In addition to
korokke
, the shops are full of delicious finger foods easy to eat while walking such as dumplings,
menchi-katsu
(deep-fried minced meat patty rolled in bread crumbs), fried chicken, and yakitori. You can also buy original "Togoshi Ginza Brand" products sold only here.
Togoshi Shopping Street is also proud of being the first "everyday" shopping street in Japan named after the real "Ginza." In fact, some of the bricks used in Togoshi Ginza are from the original Ginza, giving the area the "Ginza" moniker.
Togoshi Ginza is not far from Ikegami Honmon-ji Temple where the
Oeshiki festival
takes place in October.
Access:
Togoshi-ginza Station on the Tokyu Ikegami Line, or Togoshi Station on the Toei Asakusa Line
Togoshi Ginza Shopping Street (Tokyo Tourism Info)
Togoshi Ginza Shopping Street
(Japanese only)



Yanaka Ginza Shopping Street: Stroll around shitamachi or "old downtown" and watch the sunset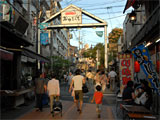 Yanaka Ginza is a must-see in Ya-Ne-Sen, a
shitamachi
district in eastern Tokyo including
Yanaka, Nezu, and Sendagi
districts, which is a popular place for strolling because of its charming atmosphere with the more "commoner" side of old Japanese life. Many of the old houses and original winding streets remain unchanged as the area was not badly damaged by the Great Kanto Earthquake in 1923 or the Great Tokyo Air Raids of 1945.
The 150-meter shopping street has an atmosphere of the bygone days of Japan and leads to the famous "Yuyake Dandan" (Sunset Stairs) steps. The view of the sunset from the top of the steps is worth the climb. Many of the stores sell cute Japanese sundry goods, popular with both locals and tourists. Many locals time their shopping for early evening. The 1st and 15th of every month are 10% discount days. A walking map is available at
Yanesen Tourist Info
.
Access:
Sendagi Station on the Tokyo Metro Chiyoda Line, or Nippori Station on the JR Yamanote Line
Sunamachi Ginza: Bustling "retro" shopping street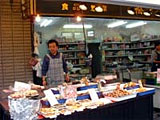 This joyful shopping street has a feel and look of the olden days of Japan. There are more than 100 shops lining the narrow 1-km long shopping street. The beautifully showcased vegetables, dishes, and other foods are mesmerizing. A variety of daily take-out dishes such as yakitori, tempura and fried chicken are offered and the aroma alone whets the appetite. Restaurants serving
udon
noodles, sushi, Western-style dishes, and Chinese food are also numerous. The area hasn't changed much in the last 50 years ago and has retained its warm, neighborly feeling. It is a good place to feel the energy and rhythm of the daily life of the locals.
Bus transportation to the area is the most convenient. More visitors come on weekends than weekdays and often there is a line waiting to enter many of the shops.
Access:
15 minutes by bus from Kinshicho Station on the JR Sobu Line/Tokyo Metro Hanzomon Line, 5 minutes by bus from Nishi-ojima Station on the Toei Shinjuku Line
Sunamachi Ginza Shopping District
2) Shopping Streets in the Center of Tokyo
Kagurazaka-dori (Kagurazaka Street) Shopping Street: The heart of the long past nightlife in quaint alleyways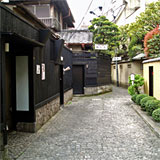 Get off at JR Iidabashi Station, cross the Ushigome Bridge over the Sotobori moat and you will find yourself at the base of Kagurazaka-dori, a short slope of about 400 meters from Kagurazaka-shita crossing. Leisurely stroll up the street while shopping at the many Japanese traditional stores. Zenkokuji Temple (Kagurazaka Bishamon-ten) is at the top.
The area became commercial as classic Japanese restaurants with geisha sprang up in the middle of the 19th century, and, early in the 20th century, became one of the most famous nightlife districts of Tokyo.
What makes Kagurazaka stand out is its unique mixed atmosphere: many people from France live in the area, leading to an ample number of French restaurants in this old area, where the original Edo period layout of the streets with slopes and side alleys has been retained despite WWII devastation. The small, cobble-stoned alleyways off the main Kagurazaka Street brings to mind the elegant ambience of yesteryear. Don't get lost in the labyrinth!
Access:
Kagurazaka Station on the Tokyo Metro Tozai Line, Ushigome-kagurazaka Station on the Toei Oedo Line, Iidabashi Station on the JR Chuo/Sobu<Local> Line/ Toei Oedo Line/Tokyo Metro Tozai, Yurakucho, and Namboku lines
Shinjuku City Tourism Association
Japanese Street and an Oasis in the Heart of the City



Ningyocho Shopping Street: The very mood of traditional Edo, with its original old town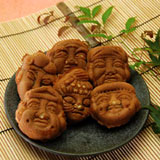 Ningyocho is less well-known than the famous Nakamise Shopping Street in Asakusa but it has a unique atmosphere. Visitors come to Suitengu Shrine, famous for endowing fertility and easy delivery, and the business districts nearby and so the shopping street is always bustling.
There are many
ningyo-yaki
vendors and people line up to buy these treats that are sweet handmade cakes molded into the shapes of the Shichifuku-jin (Seven Deities of Good Luck). Amazake-yokocho, an old alley area, is like being in a time warp. It is named Amazake (sweet sake) yokocho (shopping street) because in the good old days there used to be sweet sake shops all around the main entrance. Today, shopkeepers are still busy in the many shops selling traditional crafts such as
tsuzura
(traditional lacquered woven bamboo boxes) and
shamisen
(three string guitars). There are many things to see that are typical and endemic to old central Edo. A map of the shopping street is available at at the office of Chuo-ku Commerce and Industry Associations.
Ningyocho is close to Takarada Ebisu Shrine, where
Bettara-ichi Fair
is held.
Access:
Ningyocho Station on the Tokyo Metro Hibiya Line/Toei Asakusa Line, or Suitengumae Station on the Tokyo Metro Hanzomon Line
Ningyocho Shopping Street



Azabujuban Shopping Street: Fusion of old, modern and cosmopolitan
Azabujuban prospered in the Edo period and is the home of many long-established shops selling traditional sweets, bean snacks, Tanuki-senbei rice crackers and more. It has long been an essential shopping area for the neighborhood but, with the development of Roppongi Hills, it has become a popular tourist destination in the center of Tokyo. In and around this town are more than a few interesting, sophisticated shops worth checking out.
As there are many embassies, many foreign families live, shop and dine in this area, creating a very cosmopolitan atmosphere.
Have a delicious
soba
(buckwheat noodle) meal, see the latest fashions at a stylish boutique, or have a rest at a cozy café. Or enjoy ethnic food, shop for museum-quality antique furniture and vintage kimono, or pick up some items at a local delicatessen. This is the place to discover new things and feel the fusion of old and new, East and West.
Access:
Azabu-juban Station on the Toei Oedo Line/Tokyo Metro Namboku Line
Azabujuban shopping street
3) Shopping Streets in Suburb of Tokyo
Koenji: Unique shops in a subculture town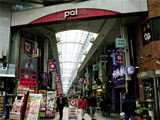 Koenji, a district along the JR Chuo Line in west Tokyo, is full of subculture and ethnic shops. The number of used-clothing stores is particularly of note. A 5-minute walk from the station through the Pal Arcade on the right of the South Exit of JR Koenji Station brings you to the entrance of Look Street. This area survived WWII without any damage and pre-war stores create the retro atmosphere. It's a great place for the young to come and 'look' for the latest fashions.
Koenji is not just limited to used-closing stores; it is also known for a role in the Tokyo music scene including clubs with live music and record & CD shops. Indeed, it is said that Koenji is the place to find any type of music from anywhere in the world. There are numerous small shops with owners buying and selling rare, hard-to-find items. In addition to used clothing and rare music, used bookstores and old toy shops are also seen. Wandering around Koenji is never boring.
Awaodori Festival, begun in 1957 and held here every August, is a signature event of Tokyo in summer. For further information, check
Event Information
.
Access:
Koenji Station on the JR Chuo Line
Shimo-Kitazawa: Vintage shops popular with the young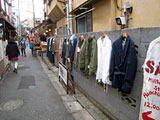 The narrow alleys spreading out from the North Exit of Shimo-Kitazawa Station are lined with small shops. This area has many vintage clothing and variety shops, making the area itself popular among young people. The old building that houses the food market in front of the station is thronged with people. The district has a fashionable yet nostalgic atmosphere and is home to many rather small theaters. Why not explore the town and feel the energy of the place?
Access:
Shimo-Kitazawa Station on the Odakyu Line/Keio Inokashira Line
A retro atmosphere: Komaba and Shimo-kitazawa (Half Day) [Shimo-kitazawa]
Travel Route



Sugamo Jizo-dori Shopping Street: "Harajuku" for old ladies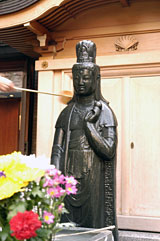 Togenuki Jizo
(Arai-Kannon Bodhisattva Statue)
Sugamo Jizo-dori is the approach to Kouganji Temple, also called Togenuki Jizo, known to cure ills, literally where the thorn (toge) of an illness is pulled out (nuki). Hordes of elderly people, especially women, are patrons of the temple. Sugamo Jizo-dori, nicknamed "Harajuku for Obaachan (Old Ladies)," has few daily goods shops. In contrast, special red underpants believed to be good for the health and welfare, walking sticks, shopping carts that double as a walker and a chair, and other items favored by the aging are showcased in this area. Fairs with many open-air stalls are held on the 4th, 14th, and 24th of every month.
Nearby is
Rikugien Gardens
, a good example of the renowned gardens built in the Edo period completed in 1702. Ikebukuro Station, the transportation hub of northeast Tokyo, is two stations from Sugamo Station on the Yamanote Line.
Access:
Sugamo Station on the JR Yamanote Line/Toei Mita Line, or Koshinzuka Station on the Toden Arakawa Line
Togenuki Jizo
Toshima City Tourism Association



Kameido Katori Kachiun Shopping Street: Tourist shopping street with retro "signboard architecture"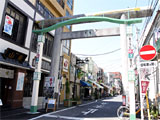 ©Koto City
This shopping street, the approach to the Katori-jinja Shrine, prospered in the 1960s and over the years, the shops had closed one by one. But the street was revitalized as a result of a 2011 project of the Tokyo Metropolitan Government and Koto Ward to boost tourism by creating a "retro" shopping district. Flower shops, miso shops, fruit and vegetable grocers, and others were given new facades resembling the distinctive
kamban kenchiku
(signboard architecture) of the 60s. As the lights come on at dusk, the area exudes an atmosphere of those days a half century ago. It is 1.6 km from TOKYO SKYTREE. Strolling around here is sure to be fun.
Access:
Kameido Station on the JR Sobu Line/Tobu Kameido Line
Map-stroll around Kameido Katori [PDF]
4) Specialized Shop Streets
Tokyo also has specialized shopping areas. Almost any item you are looking can be found in one of them.
Ochanomizu, Ogawamachi, and Jimbocho: Music instruments, sports goods, and old books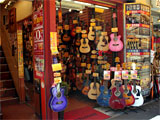 Take the Ochanomizu-bashi Exit from JR Ochanomizu Station and go down the slope to the left, to find a plethora of instrumental shops. Music freaks gather to look for fine or rare instruments. Most instruments such as electric guitars, keyboards, drums, tambourines, ocarinas, and other folk instruments are available. There are many used records and music scores for sale, too.
Further down the street at Surugadaishita Crossing are all the sports shops along Yasukuni-dori selling equipment for skiing, snowboarding, and other sports activities.
The area from Surugadaishita to Jimbocho to the west is the Kanda Koshoten-gai district with about 160 used bookstores. If you're looking for a rare or antique book, this is the place to go.
If you become exhausted from looking at so many books, take a break at one of the unique cafés nearby.
Access:
Ochanomizu Station on the JR Chuo Line/Tokyo Metro Marunouchi Line, Awajicho Station on the Tokyo Metro Marunouchi Line, Shin-ochanomizu Station on the Tokyo Metro Chiyoda Line, Ogawamachi Station on the Toei Shinjuku Line, or Jimbocho Station on the Toei Shinjuku and Mita lines/Tokyo Metro Hanzomon Line
Akihabara and Ochanomizu



Kappabashi Dougu Street: Cooking tools for professionals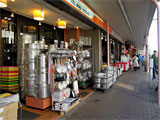 A huge variety of tools and utensils for culinary professionals can be found at the about 170 shops along the 800-meter street. Signboards and lanterns for restaurants are also available. The fascinating and realistic replicas of sushi, snacks and even full course menus are available and are popular as souvenirs. Small items such as key chains are also sold. The area is about a 10-minute walk from Asakusa.
Access:
Tawaramachi Station on the Tokyo Metro Ginza Line
Tokyo Kappabashi Dougu Street Promotion Union
The many chances to experience the various facets of typical Japanese daily life will make your travel special. Go on an adventurous excursion in search of the real Tokyo!