Are you a fan of pop culture? If so, Tokyo is full of treasures, coveted shops and sacred spots of pop culture. Valuable goods and exciting experiences await you in Tokyo.
Topics - Hot Shops and Libraries
The fifth floor of the International Flight Passenger Terminal of Haneda Airport is home to Tokyo Pop Town, an area filled with pop culture-related shops. Among them,
Hakuhinkan Toy Park
has Japan's largest slot car racing course for enthusiasts to try their skills. At
Design Japan Culture Store
, variety goods and T-shirts with Japanese cartoon characters are available. Experience Japanese pop culture at the air gateway to Tokyo.
Hakuhinkan TOY PARK
DESIGN JAPAN CULTURE STORE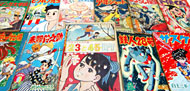 ©Yoshihiro Yonezawa Memorial Library
of Manga and Subculture
Meiji University, one of Japan's prestigious private universities, will establish a Tokyo International Manga Library to collect and preserve manga (Japanese comic books or printed cartoons) and related materials. It will be one of the largest libraries in the world that specializes in manga and anime and will exhibit comic books, magazines, original cartoon manuscripts and artwork, dojin-shi (self-published comic magazines), game software, and cartoon character goods. Ahead of the opening of this library scheduled for 2014, was the Yoshihiro Yonezawa Memorial Library of Manga and Subculture which opened in October 2009, and exhibits the personal collections of the late manga critic Yoshihiro Yonezawa.
Tokyo International Manga Library
Akihabara - the Best "Sacred Spot"
Speaking of anime and pop culture, Akihabara, also called Akiba, is the most famous place in Japan, and maybe even in the world, for the latest in pop culture. Numerous shops allure otaku (nerds with obsessive interests) with every type of goods including rare figures, original pictures, dojin-shi, cosplay costumes, comics and cartoon character goods available there.
Hobby Lobby Tokyo
in the First Building of Radio Kaikan is the only shop directly managed by Kaiyodo, the leading maker of capsule toys.
Yellow Submarine G-Shop & Minto
is a toy shop which boasts one of the largest selections of Gunpla, plastic models of Gundam.
Hobby Lobby Tokyo
(Japanese only)
Yellow Submarine G-Shop & Minto
(Japanese only)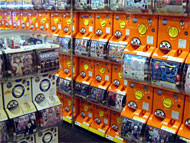 Gachapon
In Akihabara at
Gachapon Kaikan
you can try your luck at
gachapon
(also called
gashapon
or
gachagacha
), a vending machine for capsule toys but you never know exactly which toy will come out. Finding out which toy and exchanging toys with other persons is the fun of
gachapon
.
Gachapon Kaikan
has about 430 gachapon machines from those with standard character goods to special goods. The price of a
gachapon
starts at 100 yen.
Gachapon Kaikan
(Japanese only)
Railroad buffs should go to
Little TGV
. This railroad-themed
izakaya
(Japanese pub) is decorated like a train and filled with railroad goods, interesting for children and adults alike. For a railroad-themed stay in Akihabara, how about the
Ku Ha Ne 1304 room
of Akihabara Washington Hotel? This 'train' room is decorated with a large railroad diorama of the train around the town of Akiba. Reservations are mainly through the Internet (Japanese only) but e-mail responses are available in English.
Little TGV
(Japanese only)
Akihabara Washington Hotel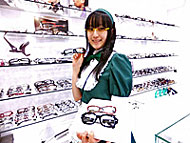 Candy Fruit Optical
Akihabara is also known for "maid cafés" where the waitresses are dressed in French maid costumes. One of the most popular is
Cure Maid Café
, which opened in March 2001 and is said to be the first maid café in Japan. Go and check it out for a trendy experience. At
Candy Fruit Optical Akiba branch
, "maids" wearing glasses welcome you and help you choose the perfect glasses.
Cure Maid Café
(Japanese only)
Candy Fruit Optical
(Japanese only)
Opened in 2009,
Mogra
is one of the famous DJ bars in Akiba. In addition to typical club music, the DJ spins anime songs and game music. Most anime songs are from the 1980s to the present. When popular songs are played, the fans go crazy. Why not come and sing along and dance to your favorite songs?
MOGRA
(Japanese only)
Other "Sacred Spots" around Tokyo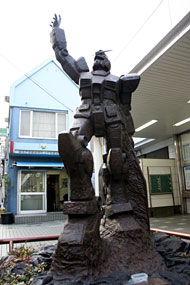 There are many more attractions in Tokyo. Nakano is another extremely popular district for anime fans. Nakano Broadway near JR Nakano Station is crowded with small shops that sell celluloid pictures, anime figures, and other anime related items. One of the major shops is called
Mandarake
.
Nakano Broadway
(Japanese only)
MANDARAKE
The 3-meter Gundam monument on the South Exit side of Kamiigusa Station on the Seibu Shinjuku Line was built in 2008, under the supervision of Yoshiyuki Tomino, the director of the Gundam series.
Areas around Seiseki Sakuragaoka Station on Keio Line are dotted with spots depicted in "Whisper of the Heart," an anime film by Studio Ghibli, and have been becoming "sacred places" for anime fans.
Tokyo is a treasure town of pop culture. The Tokyo International Anime Fair, the biggest of such kinds of events in the world, is scheduled to be held next March. Come and experience a wide variety of pop culture in Tokyo!
Tokyo International Anime Fair 2012