Many Tokyoites assume that this summer in Tokyo will be hotter than usual, as they will have to use less air conditioning in fear of power shortages caused by the disaster after the Great East Japan Earthquake in March. However, they think this as a good occasion to pay closer attention to saving power and eco-friendly activities and enjoy the hot summer.
Traditional Cooling Methods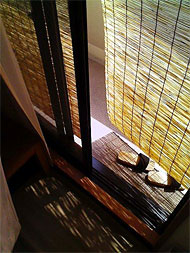 sudare (bamboo blinds)
Many Tokyoites are applying traditional customs to cool down during the summertime that do not use electric power. Summer has always been hot in Japan, and people in the past devised ways to stay comfortable in summer. One such technique is the sprinkling of water (
uchimizu
in Japanese) around the house during the cooler hours of the day, such as early morning or early evening, and the evaporation process keeps the area cooler during the hot hours. Other effective measures include attaching bamboo blinds (
sudare
) to the outside of windows and hanging a wind chime (
furin
) to catch the breeze to cool the senses.
Modern Power Saving Methods
Most companies are saving power by turning off lights, changing to LED lights, curbing the use of air conditioners, decreasing the operation of elevators and escalators, and encouraging workers to wear "Cool Biz" fashion, a new business dress code more casual than the conventional one. Under this dress code, businessmen are allowed to remove their tie and jacket. "Super Cool Biz" fashion, such as polo shirts and casual wear, are recommended at some workplaces.
Some companies are allowing employees to start and end their workday earlier and so they have more leisure time starting from as early as 4 p.m. in the late afternoon, which is much earlier than usual, and save electricity at work. Other promotions to save energy are longer vacations and working from home offices. Some factories, such as in the automotive industry, are closing on some weekdays and operating on weekends to level out the use of power over the week.
Leisure After 4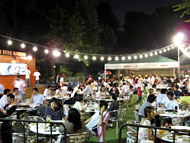 MORINO BEER GARDEN (Forest Beer Garden)
For most locals, a beer garden (a seasonal open air pub) is the place of choice to cool down on a summer evening after work. Drinking cold beer in the night breeze is a great way to burn off the heat of the day.
There are a lot in Tokyo, but one of Japan's largest beer gardens is the MORINO BEER GARDEN (Forest Beer Garden) in Jingu Gaien. Restaurant Luke's Beer Terrace on the top floor of the 47-story St. Luke's Garden building is the highest one and has a splendid view. Mt. Takao's Beer Mount, 500 meters above ground, is also very popular. The huge Beer Restaurant Garden Islands is in the garden area of the Tokyo Prince Hotel and has seating for 1,000.
MORINO BEER GARDEN
St. Luke Garden (Japanese Only)
Beer Mount
Beer Restaurant Garden Islands
Natural Cooling
If you want to avoid the city heat completely, a good idea is to visit one of the many waterfalls or valleys around or even in Tokyo. Hossawa Falls in the village of Hinohara is a beautiful waterfall and considered one of the 100 finest waterfalls in Japan. The great Mitoh Falls, also in Hinohara, is just a 30-minute walk on a wood-chip-filled trail from the parking lot of Tomin no Mori Forest. The hiking route in the Hatonosu Valley along the Tama River is a hiking trail in good condition and easy for people of all ages. Todoroki Valley in Setagaya Ward is surprisingly abundant in trees and clear water, even though it is close to central Tokyo.
Hinohara Village
Hatonosu Valley
Todoroki Valley
Although efforts to save power are being forced upon Tokyoites by the disaster, it is a good opportunity to find new and exciting ways to enjoy the hot summer.