Information on the Nuclear Power Plants
Environmental Radiation Levels in Tokyo
The latest environmental radiation levels monitored by The Tokyo Metropolitan Institute of Public Health as of May 30 have no impact on public health. No radiation dangerous to human health has been measured in any part of Japan except in the close vicinity of the power plants. Radiation has never risen to threatening levels in Tokyo.
Current monitored data on environmental radiation levels in Tokyo:
Tokyo Metropolitan Institute of Public Health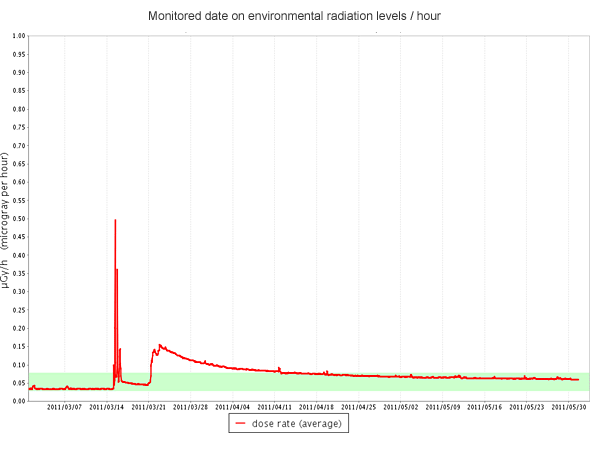 Data of the environmental radiation levels monitored by the Tokyo Metropolitan Institute of Public Health at normal times has been between 0.028 and 0.079 μSv/hour, as shown by the green belt on the above graph (average approximately 0.035μSv/hour).
Dose of Radiation in the World's Major Cities
Radiation Dose of Major Cities in the World.
(*) Measuring not by US government but by a private person.
(**) Unit in original data is nGy/h. The figure in this table is estimated as 1uGy/h=0.8uSv/h.
Source: JNTO

For the latest information:
Japan National Tourism Organization


Tap Water, Drinkable and Fresh
No radioactive substances at the water purification plants of Tokyo Waterworks have been detected since April 5. Some tap water with a radioactivity level above Japan's strict legal limit for infants was detected in Tokyo on a single day in March, but the level dropped below the limit the following day.
Data on radiation level at water purification plants of Tokyo Waterworks:
Bureau of Waterworks Tokyo Metropolitan Government
Location of Tokyo and Fukushima
Tokyo is located about 240 km (150 miles) away from the Fukushima nuclear power plants that were crippled by the devastating March 11 earthquake and tsunami in northeastern Japan.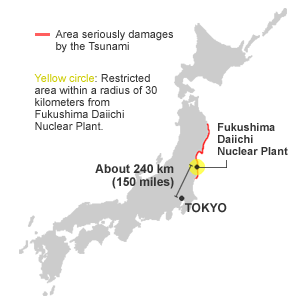 Daily Life in Tokyo
Although we have had some inconveniences following the disaster, such as rolling blackouts, irregular public transportation schedules, and difficulties in procuring some goods, Tokyo has not met with any severe damage. The rolling blackouts have already ended, the public transportation is operating almost normally, and people's daily lives are now going on peacefully as usual. Tokyo is back to normal, and so life in Tokyo has also gotten back to normal.


Asakusa is jammed with people enjoying their holiday.
(May 25, 2011)
Families and children are cheerfully playing in the park.
(May 15, 2011)
People enjoy eating sushi the same as before.
(May 19, 2011)
Shibuya's scramble crossing, crowded with people, is quite well lit even at night.
(May 25, 2011)
Supermarket shelves are filled with bottle water.
(May 27, 2011)
Ueno Zoo, home of two new giant pandas, has attracted more than 400,000 people during the 20 days since their debut on April 1.
(May 19, 2011)
Tokyo Sky Tree stands tall at 634 meters in Tokyo, undamaged by the disaster.
(May 19, 2011)
Akihabara is attracting many visitors as usual.
(May 25, 2011)
Latest Tourist Information
Many tourist facilities and events are open for business. Although some festivals and events scheduled to take place from spring to summer have been canceled, the city itself is brightly shining and overcoming the crisis.


Tourist Facilities
Most tourist attractions, shops and restaurants are open but some have shortened their business hours so please confirm the latest information in advance.
Tokyo Disneyland
Resumed operations on April 15.
Tokyo Disneyland
Tokyo DisneySea
Resumed operations on April 28.
Tokyo DisneySea
Tsukiji Market
The tuna auction is closed to tourists; the reopening date has not been announced.
Tokyo Tourism Info
Tokyo Metropolitan Government Building Observatories
Resumed operations on April 18.
Tokyo Metropolitan Government
Shrines and temples
In general, no closures.
Museums
Most have reopened, excluding the National Museum of Emerging Science and Innovation (Miraikan) in Odaiba which will be reopen from June 11. Some museums have reduced hours.
Gardens and parks
Most have resumed regular open hours.
Tokyo Metropolitan Park Association
Shops and restaurants
Most have resumed regular business hours.
Hotels
Transportation
Transportation to Narita and Haneda airports is operating. Though some train lines in the Greater Tokyo area are operating slightly less frequently and some limited express train services have been canceled due to power shortages, transportation service is sufficient.

Access to Airports
Narita Airport
Access information for Narita International Airport
Airport buses
Operating as usual; some on a slightly reduced schedule.
Airport Limousine Bus
JR East
Narita Express is operating but on a reduced schedule; Rapid trains along the Sobu Line are operating as usual.
About N'EX
Keisei Line
Trains, including the Skyliner but excluding the Cityliner, are operating on a slightly reduced schedule.
New Skyliner Official Website
Haneda Airport
Access information for Haneda Airport
In Tokyo
JR East
East Japan Railway Company
| | |
| --- | --- |
| Chuo / Sobu Line | Operating as usual. |
| Chuo Line (Rapid) | Operating as usual. |
| Keihin-Tohoku Line | Operating as usual. |
| Saikyo Line | Operating as usual. |
| Yamanote Line | Operating as usual. |
Subways
Other Railway Companies
Outside Tokyo
All shinkansen (bullet train) lines are operating as usual. Service along the entire Tohoku Shinkansen Line resumed on April 29, and trains are operating on a temporary schedule, including the recent extension of the line to Aomori.
Flight Information from and to Haneda and Narita Airports
Regular international flights from and to Haneda and Narita airports are now all under normal operation, though there were some temporary changes in landing and take-off airports or flights via other airports for a while after the disaster. Lufthansa flights from Tokyo (Narita) to Munich (MUN) and Tokyo (Narita) to Frankfurt (FRA) resumed on April 15. Delta flights between Tokyo (Haneda) and Los Angeles (LAX) are scheduled to resume on June 4, and American Airlines flights between Tokyo (Haneda) and New York (JFK) will resume in July. For details and the latest information, please go to the following websites.

Narita Airport Flight Information
Narita International Airport Official Website

Haneda Airport Flight Information
Haneda Airport International Terminal


Major Events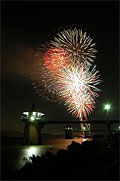 Many major events such as the Sumida River Fireworks Festival and the Katsushika Fireworks Festival will be held and welcome your attendance, although some festivals and events that were scheduled to take place from spring to summer, including the annual Sanja and Kanda Festivals and some fireworks, have been canceled. Please check in advance to confirm that events you are interested in are scheduled to take place.
Current status of upcoming events that were introduced in the e-Tokyo Today last year:
Tokyo Event Information (PDF)

For updated schedule, please check organizers directly.
Tokyo Tourism Info: Event calendar


Measures to Power Shortage
At present, electric power can be used almost as usual. In an effort to save power usage across the Greater Tokyo area, stations, shops, restaurants and tourist sites have been turning off some lights and signs, but they are sufficiently well-lighted, and a steadily increasing number of them are going back to normal business hours. In addition, the "Cool Biz" season, an energy-saving campaign that usually began from June 1 every year, already started on May 1 this year, a month early, in cooperation with power saving.