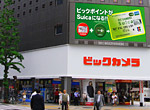 Bic Camera creates special point card for foreign tourists
Popular electronics superstore Bic Camera has created a special point card especially for foreign tourists. Those who sign up receive a unique souvenir card that they can then use to collect points on their purchases, redeeming them in the future to receive a discount. Applications are accepted at retail stores. There is no annual fee, but a passport is required.
http://www.biccamera.co.jp/shoplist/index_english.html (English store guide)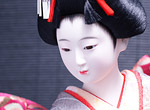 Katsushika Traditional Crafts Association opens official eBay store
The Katsushika Traditional Crafts Association has long had a reputation for producing a number of traditional master craftsmen and to highlight this it has opened an official online store allowing people around the world to get their hands on the unique items produced there. Items are lovingly hand crafted using the same materials that have been utilized for generations such as rich kimono silk, silver and wood. For added convenience, the store is accessible through popular e-commerce platform eBay. Navigate there online or visit the area when next in Tokyo.
http://stores.ebay.com/Katsushika-densankan/Site-Information.html#aboutus
http://stores.ebay.com/Katsushika-densankan
Temporary Closure of the Tsukiji Market Tuna Auction Visitor's Area
The tuna auction area of the Tsukiji Market will be temporarily closed to visitors to help ensure greater safety and efficiency for those working there over the busy New Year season. The auction will be temporarily out of access between December 1st, 2010 (Wednesday) and January 22nd, 2011 (Saturday). Tours will resume on January 24th, 2011 (Monday).
http://www.tourism.metro.tokyo.jp/english/administration/tsukiji_201012.html
Tokyo Convention & Visitors Bureau launches new-look web site 
Tokyo Convention & Visitors Bureau (TCVB) has launched new-look web site, with a fresh design bringing with it useful tips and information to travelers such as insight into the latest top 10 hotspots and basic information required when planning a trip to Tokyo.
Check it for yourself, here: http://tcvb.or.jp/en/
IDC-Otsuka opens new Ginza showroom with English and Chinese services
Leading Japanese furniture company IDC-Otsuka has opened a new showcase in Tokyo's stylish Ginza district. Visitors can find out more by speaking to the staff there in either English or Chinese. With 10 floors, the store is full of the very latest IDC-Otsuka product selections, including the latest from some of the world's best designers as well as offerings that draw from the company's long heritage as a master manufacturer of high-quality craft products.
http://www.idc-otsuka.co.jp/showroom/ginza/ginza-guide.html (Japanese only)
http://www.idc-otsuka.co.jp/gaiyou/idc.html (Japanese only)
Tokyo Anime Center temporarily closes
Tokyo Anime Center, which first opened its doors to the public in March 2006, has closed its facilities for renovation with a re-opening date due to be announced.
http://www.animecenter.jp/eng/
Kiddy Land creates a new wonderland of unique character goods
With iconic characters such as Snoopy, Hello Kitty, Rilakkuma, Miffy and others, Kiddy Land has created a new toy wonderland where people of all generations can find their favorite character goods and even find new characters to fall in love with! The new toy wonderland is called Kiddyland Chara-park and can be found in the Coppice Kichijoji Building in Kichijoji and close to Inokashira Park. The new Kiddy Land opens as the famous Harajuku outlet closes temporarily for renovation.
http://www.kiddyland.co.jp/event/chara_park_kichijoji_release/ (Japanese only)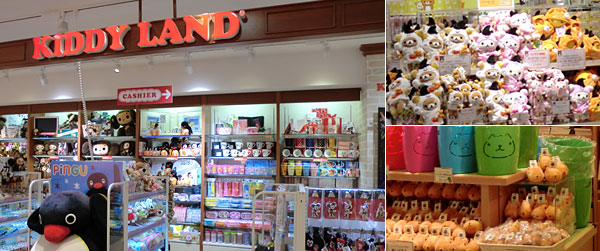 Tokyo and Madrid co-promote tourism
The cities of Tokyo and Madrid have signed a bilateral agreement that will see the two capitals co-promote tourism between each other. As part of the accord, each city will take advantage of the others' platforms for advertising. Madrid will showcase its culture in some of Tokyo's most popular subway lines. In Madrid, the city of Tokyo will be promoting its own tourist destinations through a bus shelter network as well as pillar networks spread across the entire city.
http://www.metro.tokyo.jp/INET/OSHIRASE/2010/09/20k96500.htm (Japanese only)
On October 21st, Haneda Airport, officially known as Tokyo International Airport, opened its new international terminal building and a 4th runway. The new terminal is located approximately 15 kilometers from central Tokyo, making it convenient and close for travelers.
Flights
By next spring, Haneda is scheduled to be linked with 18 cities in Asia, North America and Europe. Asia-Bound 1 flights are to Beijing, Hong Kong, Shanghai and Taipei. Asia-Bound 2 flights are to Bangkok, Busan, Kuala Lumpur, Kota Kinabalu, Seoul (Gimpo, Incheon) and Singapore. North America-bound flights are to Detroit, Honolulu, Los Angeles, New York, San Francisco and Vancouver. Europe-bound flights are to London and Paris.
http://www.haneda-airport.jp/inter/en/flight/city_list.html
Airlines inaugurating new international services are ANA, JAL, AirAsia X, Air Canada, Air China, Air France, American Airlines, Asiana Airlines, British Airways, Cathay Pacific Airways, China Airlines, China Eastern Airlines, Delta Air Lines, Eva Airways, Hawaiian Airlines, Korean Air, Malaysia Airlines, Shanghai Airlines, Singapore Airlines, and Thai Airways International. Daytime operations (classified as those between 6 a.m. and 11 p.m.) center on flights between Haneda and destinations in China, South Korea and the rest of East Asia, while night-time operations (10 p.m. to 7 a.m.) accommodate flights to Europe, North America and some other Asian destinations. For flight schedules and other info,visit
http://www.haneda-airport.jp/inter/en/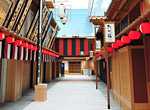 Terminal facilities and services
The five-story terminal building has 74 shops and restaurants in areas accessible to all visitors and 31 stores in the security area for passengers who have completed embarkation procedures. It features Tokyo Pop Town (including a Hello Kitty store and a racing car circuit), a planetarium and Edo Market, which is a shopping and dining area with interior design and wooden replicas of stores recreating the Edo period (1603-1867) on the upper floors. There is a 24-hour food court and café (6 a.m. until 11 p.m.) with Internet access.
http://www.haneda-airport.jp/inter/en/premises/tenant/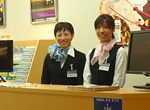 To help arriving visitors, there are two tourist information centers located in the 2nd floor arrival lobby of the international terminal with concierges skilled in Japanese, English, Chinese and Korean.
The Tokyo Tourist Information Center (9 a.m. to 11 p.m.) is operated by the Tokyo Metropolitan Government and provides general information on sightseeing and transport.
http://tourism.metro.tokyo.jp/english/tourists/info/center/tokyo_haneda.html
The Keikyu Tourist Information Center (7 a.m. to 10 p.m.) provides information on sightseeing, transportation, hotels and assistance with making restaurant reservations. In a special campaign that runs until March 31st, 2011, foreign travelers who show their passports at the Keikyu Tourist Information Center have the option of purchasing a pre-paid PASMO card and novelty PASMO case for use on trains and buses.
http://www.haneda-tokyo-access.com/en/airport/service.html
http://www.haneda-tokyo-access.com/en/info/news/20101025.html
A third information center, the JR East Travel Service Center (11 a.m. to 6:30 p.m.) is at the monorail station and offers rail information, as well as the exchange of Japan Rail Passes, sales and exchange of JR East Passes and sale of JR tickets.
http://www.jreast.co.jp/e/customer_support/service_center_haneda.html
http://www.jreast.co.jp/e/eastpass/index.html
For transit passengers, JAL provides a direct shuttle bus between the international terminal and Domestic Terminal 1.
Getting to and from Haneda
Keikyu Corporation has a service to a new station located adjacent to the international terminal, which can reach Shinagawa Station in 13 minutes. The Tokyo Monorail Co transports passengers from Hamamatsucho Station to the new terminal station in about 13 minutes. Trains run from around 5 a.m. until midnight.
http://www.haneda-tokyo-access.com/en/
http://www.tokyo-monorail.co.jp/english/
Limousine Bus
Airport limousine buses have extended their routes to the new terminal, and now offer late-night and early-morning services. Bus services have started on new routes, linking Haneda with many hotels in areas such as Roppongi, Ebisu, Shirokane, Shiba and Shiodome. To check the routes, click here.
http://www.limousinebus.co.jp/en/hotelguide/
In addition, the Keihin Kyuko Bus Co is running late-night and early-morning buses to and from the airport. Multilingual information brochures for international passengers have been added inside the bus.
http://hnd-bus.com
Taxi services
Catching a taxi outside the terminal is easy, with several taxi associations offering fixed rates to five areas in Tokyo. Fares range from JPY6,000 ($73) to JPY11,000 ($134), from 5 a.m. until 10 p.m., depending on the area. Many taxis have point-and-speak foreign language sheets with which passengers can communicate with drivers in English, Korean and Chinese. The taxis can be identified by stickers on the back left window.
http://www.taxi-tokyo.or.jp/teigaku/index.html
ANZEN Bilingual Taxi Service provides transportation service between Haneda and five metropolitan areas, starting from JPY6,000 ($73). Drivers can speak either English, Korean or Chinese. Reservations are necessary.
http://anzentaxi.co.jp/localize/en/index.html
JTB Sunrise Tours offer transport from the airport to your hotel. Though drivers do not speak much English, an English-speaking member of the JTB staff will greet you at the arrival gate and send you to your hotel by taxi. www.jtb-sunrisetours.jp/
Apple Ryoken operates microbuses that hold 17 passengers and minibuses for 13 passengers from Haneda to Tokyo's 23 wards. The buses are also available for early morning and late-night runs. Fares are JPY15,000 ($124) for 17-seater and JPY13,000 ($107) for the 13-seater. This campaign will run until December 20th.
http://www.appleryoken.co.jp/ (Japanese only).
For inquiries, email itabashi@appleryoken.co.jp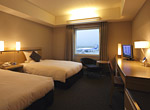 Hotels
Many hotels are commemorating the opening of Haneda's international terminal by offering special deals, such as early check-in and late check-out times, as well as spa and breakfast plans. Several of these hotels are conveniently serviced by the airport limousine bus from the airport.
For more information on hotels that have introduced special plans to mark the opening of the international terminal and hotels in the Haneda vicinity with English-speaking staff, please check the links below.

Accommodation in Tokyo with Special Campaign
http://tcvb.or.jp/mailnews/106.pdf
Accommodation around Haneda Airport where English is spoken
http://tcvb.or.jp/mailnews/105.pdf
Points of interest
The JAL group has introduced a discount domestic airfare for overseas visitors to Japan – the one world Yokoso/Visit Japan fare that can be used for 42 cities in Japan served by JAL and two regional subsidiaries (JEX and JTA). Fares range from JPY10,000 ($122) to JPY50,000 ($610). JAL also has another discount fare for overseas visitors, the "Welcome to Japan Fare," which offers domestic flights for JPY13,650 ($166) per sector. Both these JAL fares are available overseas only and not on sale in Japan.
http://www.jal.co.jp/yokosojapan/
ANA is promoting the Star Alliance Japan Airpass – just JPY11,000 ($134) per flight to any destination served by ANA in Japan. With a Star Alliance Japan Airpass, you can choose from a variety of destinations in Japan and take up to five flights. So, if you want to see more of Japan than the average tourist, this is the ideal way to do it. ANA also has a Visit JAPAN Fare is available for JPY13,000 ($158) per flight, including code-share flights.
http://www.ana.co.jp/wws/general/e/travelservice/reservations/special/visit.html
Hato Bus Co Ltd offers good sight-seeing tours for those who arrive at Haneda early in the morning. Full day and half day courses are conducted in English and Chinese. Buses leave from Hamamatsucho terminal which has easy access to the monorail. The Tokyo Morning Tour (9 a.m.- 12 noon) and Dynamic Tokyo ( 9 a.m. -5 p.m.) have English and Chinese-speaking tours. Tours visit Tokyo Tower, the Imperial Palace, and Asakusa.
http://www.hatobus.com/en/index.html
Heiwajima Onsen Kurhaus, a large onsen with several bath, a sauna and gym in Ota Ward, has just reopened after a renewal work to coincide with the opening of Haneda's international terminal. It is open 24 hours a day and information is available in English, Korean and Chinese. Convenient to Haneda airport. http://www.heiwajima-onsen.jp/ (Japanese only, but soon to include English, Korean, and Chinese HP)
If you're heading to Odaiba, check out Oedo Onsen Monogatari. It's a large Edo era onsen theme park open from 11 a.m. until 9 a.m. There are 14 different bathes, restaurants, and shops in the building. The first 100 visitors to Oedo Onsen through Haneda will be eligible to receive a gift bag.
http://www.ooedoonsen.jp/higaeri/english/index.html
To mark the opening of Haneda's new international terminal, Happy World is offering 3-day group packages at its facilities such as Harumi Grand Hotel or same level in Tokyo, including the transportation between Haneda and the hotel. Available until the end of March, 2011.
http://www.blueskytour.jp/ (Japanese Only)
For inquiries, email kitano@bluesky.jp
The contents of this newsletter were written on November 25th. For further details, contact each facility.