INDEX
NEWS & ANNOUNCEMENTS
SPECIAL FEATURE : Tokyo – Eco-friendly megacity of the future
EVENT INFORMATION
FUN FACTS ABOUT TOKYO : Even more fun vending machines on the Tokyo streets
Shibuya Hikarie to open in 2012
Shibuya Hikarie will become the new landmark complex in the area in 2012. The tower will serve as Shibuya's gateway – a place for communication, linking people, products and information exchange. The multifunction tower, located in and around the old Shibuya Tokyu Bunka Kaikan which closed in 2003, will reach 34 stories and offer 144,000 square meters of shopping, dining, office space and cultural facilities. Pride of place goes to the Tokyu Orb Theater, a 2,000-seat, 70m-high theater where visitors can enjoy an array of musical performances and a scintillating view of the Shibuya skyline from the spacious, glass-encased lobby.
http://www.hikarie.jp/#/top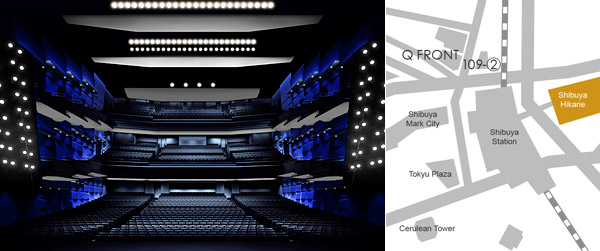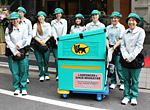 Yamato opens stylish dispatch center in Ginza
Parcel delivery company Yamato Holdings Co. has opened a new dispatch center in Tokyo's famous Ginza district. The design of the new store is upscale as befitting its Ginza surroundings. Foreign visitors can send gifts, sample goods and commodities, etc., anywhere in Japan and to 200 countries and regions within 3 to 10 days. Customer support is available in English, Chinese and Korean from the friendly staff who will help you with any inquiries about shipments, discounts and the range of services that Yamato offers.
http://www.kuronekoyamato.co.jp/english/index.html
Mitsui Garden Hotel to open in Ueno in September
Ueno in central Tokyo will get a new hotel on Sept 14 with the opening of the Mitsui Garden Hotel. It will be conveniently located right by Ueno Station, which has easy train access to and from Narita Airport. With a modern, stylish design, the hotel has 245 rooms ranging in size from 18 to 25 square meters. The hotel – whose themes are greenery, culture, history and art – will offer a full range of services to businesspeople, tour groups and families. To celebrate the opening, the hotel has a special "Opening Anniversary Plan" from Sept 14 through Oct 31.
http://www.gardenhotels.co.jp/eng/ueno/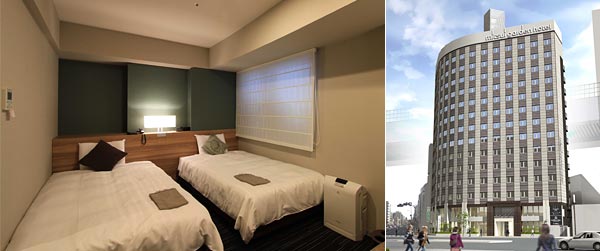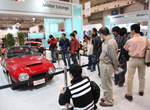 Tokyo Motor Show gets new look for 2011
The 42nd Tokyo Motor Show returns to Tokyo for 10 days from Dec 2-11, 2011, at Tokyo Big Sight. The Japan Automobile Manufacturers' Association says the next show will emphasize "an ideal future society surrounding cars as well as on proposals for new automobile lifestyles and cultures." The show will serve as a hub to send out information about the latest next-generation safety and environment technologies from the automobile industry. New features under consideration include proposals for new automobile lifestyles and culture, advanced ICT (information and communication technology), urban systems and energy for a low-carbon society.
http://www.tokyo-motorshow.com/en/index.html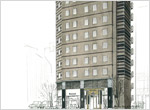 Apa Hotel to open in Onarimon in 2011
APA Group will open a new hotel in Onarimon in June of 2011. The hotel will have 15 floors and 153 rooms. Located near JR Shimbashi station, Onarimon subway station and Daimon subway station, the Apa hotel will have various rooms to meet customers' needs. The new hotel will have eco-friendly features, such as energy-saving switches and a new thermostat low flow shower water shutoff valve to save on water usage.
http://www.apa.co.jp/newsrelease/news/20100406.html (Japanese only)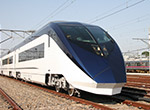 Narita Sky Access shortens time to Tokyo
Getting from Narita Airport to central Toyko has become faster and smoother with the start of the Narita Sky Access line which began operating on July 17. The brandnew train, which is called the Skyliner, has high domed ceilings, spacious seat pitch and plenty of room for baggage. It travels at 160 kph and cuts the travel time from the airport to central Tokyo from 51 minutes to 36 minutes. The fare is JPY2,400 ($24) one way.
http://www.keisei.co.jp/keisei/tetudou/skyliner/us/
You can also use PASMO and Suica prepaid rechargeable smart cards on the Narita Sky Access as well as other trains. These cards, which are interchangeable for the various transport networks, can be used to pay for items purchased at stores and vending machines.
http://www.pasmo.co.jp/en/index.html
Suica & N'EX package makes traveling smoother
The new Suica & N'EX package, which costs JPY5,500 ($55), is convenient way to travel and shop in the Tokyo area. It includes JPY500 deposit for Suica and a round-trip ticket between Narita Airport and the Tokyo area on the Narita Express train along with JPY1,500 preloaded on a Suica IC card to get you started. Suica & N'EX sets are also available with a one-way ticket JPY3,500 ($35) from Narita Airport to the Tokyo area. This includes a JPY500 deposit preloaded onto a Suica card. The Suica & N'EX package is available only to foreign passport holders.
http://www.jreast.co.jp/e/suica-nex/index.html
Internet café opens in Narita's Terminal 2
NTT Broadband Platform Inc has opened an Internet café in Narita Airport's Terminal 2. It is located in an area for passengers after they have cleared immigration, and they can use wireless LAN services to connect to the Internet for free.
http://www.narita-airport.jp/en/guide/service/list/svc_33.html#t2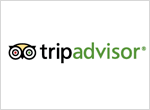 Tokyo most popular city for travel: Tripadvisor survey
Tokyo has topped Tripadvisor's list of best travel destinations in Asia for 2010. Tripadvisor said Tokyo is the epitome of frenetic energy and jam-packed cosmopolitan culture – and one of the safest cities in the world, ensuring a carefree stay packed with pulsing nightlife, succulent cuisine and endless city experiences. Four national museums, gorgeous gardens and parks, Michelin-starred restaurants, and chic street fashions are only part of what makes Tokyo so unique, according to Tripadvisor.
http://www.tripadvisor.com/TCDestinations-cTop25-g2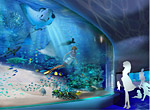 Sunshine International Aquarium to close for renovation
The Sunshine International Aquarium in Ikebukuro will be closed from Sept 1 until the summer of 2011 for renewal work. The aquarium, which is on the 10th floor of the World Import Mart Building in the Sunshine City complex, is home to some 60,000 fish and other marine creatures, including dolphins, sea otters, penguins and seals. This will be the first renewal since the facility opened in 1978.
http://www.sunshinecity.co.jp/sunshine/aquarium/ (Japanese only)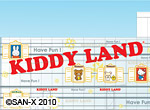 Kiddyland to be renovated
The famous toy store, Kiddyland Harajuku, will undergo reconstruction from the end of August through the summer of 2012. Kiddyland Harajuku first opened its doors in November of 1950. The renewal will increase the functionality and appeal of the store and contribute to even more customer satisfaction.
Tokyo – Eco-friendly megacity of the future
The metropolitan government is planning to turn Tokyo into the world's most eco-friendly megacity. Let's see how Tokyoites are embracing the eco-lifestyle.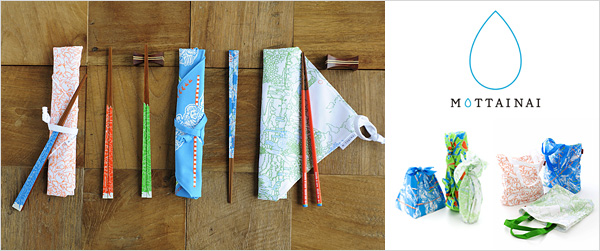 A good place to start is at the Mottainai Station & Shop on the first floor of the Palaceside Building in Takebashi. It was opened to promote a self-sustaining society. The facility holds workshops for the public on the subject of reducing waste, reusing finite resources, and recycling; and it organizes charity sales of company recovered goods, making use of the venue to advocate and practice the spirit of MOTTAINAI, which is a Japanese expression that conveys a sense of regret at wasting something that hasn't been properly or fully utilized.
The shop sells about 150 Mottainai licensed products, such as colorful eco-bags, which come in many different designs and are made from various recycled materials, My Hashi (non-disposable chopsticks for personal use which you can keep with you and use anytime) and lunchboxes. Another popular item is "furoshiki," a wrapping cloth. Using techniques similar to origami, it is used for gift wrapping, grocery shopping or simply as part of the decor. The best thing about "furoshiki" is that they are reusable and multipurpose – which does away with the need for millions of plastic shopping bags that get thrown out every year.http://mottainai.info/english/who.html or email eng@mottainai.info
Next, head over to the Eco-Plaza in Minato Ward to participate in some fun environment-related activities. The plaza is known as an action-oriented environmental resources center in Tokyo, providing environment-related information and includes green lifestyle courses in English. Eco-Plaza is built on three principles – "Less CO2," "Keep Organic" and "More Trees."
http://eco-plaza.net/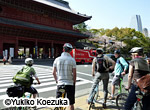 A good way to explore Tokyo is by bike. Tokyo Great Cycling Tours take you to the major tourist spots in the city. The tours, especially designed for foreign visitors, last six hours and require a minimum of 10 persons. It's a flat course and there are plenty of rest breaks, so you don't have to be in Olympic condition. There are two routes – the Tokyo Bay Ride (every Saturday and Tuesday) and the Sumo Wrestler's Ride (every Sunday and Thursday), both costing JPY10,000 ($100), including a boxed lunch. After the tour, you can enjoy a foot massage to relax and refresh your muscles and body so you can be up and running the next day!
http://www.tokyocycling.jp/
Another option is Tokyo Rent A Bike, located near Nakameguro Station. For just JPY900 (about $9), you pick up your bike in the morning between 10 a.m. and 1 p.m., and return the bike anytime by 8 p.m. You don't need to worry about getting lost. They'll give you a road map for Tokyo that suggests the best routes for cycling in and around Tokyo – to Roppongi, Yoyogi Park, Yoyogi, Harajuku, Shibuya, Ginza, Hiroo, Daikanyama, Nakameguro, Meguro, Shinagawa, Imperial Palace and other areas. Guided tours for Tokyo are also available and English is spoken. Don't forget to bring a photo ID (passport/driver's license). Payment is in cash only.
http://www.tokyorentabike.com/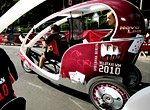 For a less strenuous ride, velotaxis are an environmentally friendly way to get around. The velotaxi is aerodynamically designed, with a semi-recumbent seat for better comfort and power transmission by the driver. Two adult passengers with day bags can sit on the upholstered seat behind the driver and are protected from the weather while retaining an excellent view. The body of velotaxis is 100% recyclable polyethylene on a steel frame with 21 gears for optimal pedal-power; an electric motor assists with start-up or with heavy loads and can be regulated by the driver or switches out automatically at 11 km/h. The velotaxis operate in central areas such as Shibuya, Minato, Chiyoda and Chuo wards between 12 noon and 6 p.m. You can hail the driver just as you would a regular taxi.
http://www.velotaxi.jp/ (Japanese only)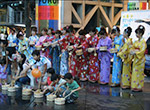 In summer, you can take part in uchimizu, a traditional custom of sprinkling water on streets and sidewalks to ease the heat. Often, residents pour secondary water such as rainwater, leftover bath water, and drainage from exterior units of air conditioners into buckets, pots or jars. Then they go outside on a hot day and splash the water with a ladle or pour it from the container onto the street surface, roof or verandah. It's a great way to keep cool. Uchimizu events take place in Shibuya, Nihombashi, Marunouchi and many other business districts each summer.
http://202.133.121.121/eng/index.html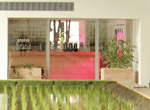 Meanwhile, Pasona Group Urban Farm, a verdant, underground urban farm in the heart of Tokyo utilizes hydroponics, customized soil cultures and a variety of light sources for growing. Visitors can see LEDs, for example, that are used on flowers, with different wavelengths maximizing color rendition. Other rooms use different forms of lighting to grow everything from rice to fruit and vegetables. Produce grown on farms is often shipped great distances to reach Tokyo stores, consuming fossil fuels in the process. Moving production to the city center reduces carbon output.
Open Mon to Fri 9:30 a.m.-5:30 p.m. (Closed on Sat, Sun, holidays, Aug 20).
Free of charge.
http://www.pasonagroup.co.jp/pasona_o2/about/index.html (Japanese only)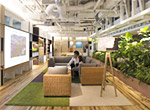 Ecozzeria is an environmental strategy center. It aims to transform the Marunouchi, Otemachi and Yurakucho districts into a culturally and ecologically attractive area. Located on the 10th floor of the 38-story Shin-Marunouchi Building in front of Tokyo station. Ecozzeria, features different areas – each with a specific goal. "Communication Zone" provides a way to experience modern environmental issues first-hand, "Salon Zone" offers seminars and events about the environment, and the "Carbon Demonstration Office" explains how to save energy with the latest lighting and air conditioning technology. Also on-show are a variety of exhibits related to understanding the changes in the environment, such as a digital reproduction of the earth featuring graphical, real-time updates of global ocean currents and weather patterns. Visitors can drop by at any time without the need for reservations and a concierge service is available on demand. English assistance is available if requested in advance.
http://www.ecozzeria.jp/english/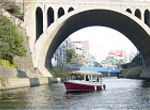 Tokyo's waterways have some tours designed to show how our life is connected to the rivers. An NPO called Enjoy Eco School operates group tours, using specially designed exhaust-free electric boats to cause minimal impact to the environment. Different tours explore the Kanda-Nihonbashi, Onagi River and Tennozu areas on half- and full-day trips that offer glimpses of turtles, wild birds and other aquatic animals that inhabit the area. You can also learn about the boats that ply the rivers collecting garbage. Part of the cost goes toward supporting the organization's monthly riverside cleanup gatherings. English tour guides are available on request. For more info, visit www.enjoy-eco.or.jp/eco-tour-index.html (Japanese only)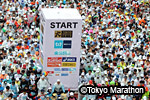 35,000 runners expected for Tokyo Marathon 2011
Tokyo Marathon 2011 will be held on Feb 27. It is one of the biggest marathons in the world, attracting 35,000 runners each year. The marathon starts from Tokyo Metropolitan Government Building in Shinjuku and finishes at Tokyo Big Sight in Ariake. Applications from runners will be accepted Aug 1-31.
http://www.tokyo42195.org/2011/index_en.html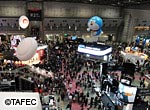 Tokyo Anime Fair set for March 24-27, 2011
The 10th anniversary Tokyo International Anime Fair 2011 will be held on March 24-27 at Tokyo Big Sight. The fair is held to expand the animation industry market and serve as a platform for exchange with foreign countries through animation.
http://www.tokyoanime.jp/en/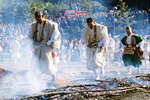 Fire-walking at Mt Takao
The Mt Takao fire-walking festival is held on the second Sunday of each March at a Buddhist temple at the foot of the mountain. Observers who wish to try fire-walking can join the ceremony and follow the monks walk through the sacred smoldering path.
http://www.takaosan.or.jp/english/asceticism.html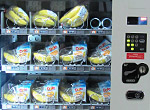 Even more fun vending machines on the Tokyo streets
Estimates suggest there are 5.2 million vending machines in Japan. This works out to be one for every 24 people. Amongst the variety on offer you can find umbrella vending machines at JR Suidobashi station, hot ramen in Akihabara near Denki town opposite Don Quijote and now Japan's first banana vending machine has been installed in Shibuya. Of course, the majority of vending machines still offer non-alcoholic beverages but even there you can find plenty of interest. Shibamata, for example, features a giant robot vending machine selling soft drinks.

To access the previous edition of e-Tokyo Today and our printed newsletter, Tokyo Today,
please visit: http://www.tourism.metro.tokyo.jp/english/citypromotion/index.html.
If at any time you wish to stop receiving our emails, you can unsubscribe here.
Issued by: Tourism Division, Bureau of Industrial and Labor Affairs, Tokyo Metropolitan Government
Planning / Editing: Tokyo Convention & Visitors Bureau
E-mail: news@tcvb.or.jp Tel: +81-3-5840-8892 Fax: +81-3-5840-8895.