INDEX
NEWS & ANNOUNCEMENTS

- Sensoji Temple renovation to be completed in November
- Grand Prince Akasaka to close in 2011
- Kabuki-za theater closed for reconstruction
- Bandai opens the first ever Gundam Café in Akihabara
- "Welcome to TOKYO" anime released

EVENT INFORMATION
FUN FACTS ABOUT TOKYO: Tokyo on the Japanese version of Monopoly
Sensoji Temple renovation to be completed in November
The renovation of the main hall of Sensoji Temple is scheduled to be completed in November 2010. Sensoji Tempe, located in Asakusa, is one of the most popular tourist spots in Tokyo. Renovations to the current hall, which was built in 1958, include the painting of the wall and replacement of the tiles with titanium-made ones.
http://www.senso-ji.jp/info/eizen/index.html (Japanese only)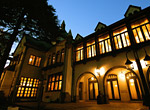 Grand Prince Hotel Akasaka to close in 2011
The Grand Prince Hotel Akasaka, located in Tokyo, Chiyoda Ward, will be closing in March, 2011. Originally opened in 1955, the 40 story's main Tower in 1983, the famed hotel has since become difficult to maintain competitiveness in the current circumstances and will be redeveloped.
http://www.princehotels.com/en/akasaka/ (English and Japanese)
Kabuki-za theater closed for reconstruction
The Kabuki-za theater, a registered Tangible Cultural Property of Japan designated by UNESCO, closed its doors in April for reconstruction. It will be demolished and replaced by a new high-rise office and theater complex scheduled to open in the spring of 2013. The current theater was built in December 1924 and renovated in 1950 after being damaged during World War II. The new theatre is designed by leading Japanese architect Kengo Kuma, who also designed the Nezu and Suntory Museums. The new theatre will feature the same beautiful architectural façade, plus a high-rise building behind it. Barrier-free facilities and direct connection from a subway station will attract more people. During the reconstruction it is possible to continue to see kabuki performances at the nearby Enbujo theater in Shinbashi.
http://www.kabuki-za.co.jp/ (Japanese only)
http://www.shochiku.co.jp/play/enbujyo/ (Japanese only)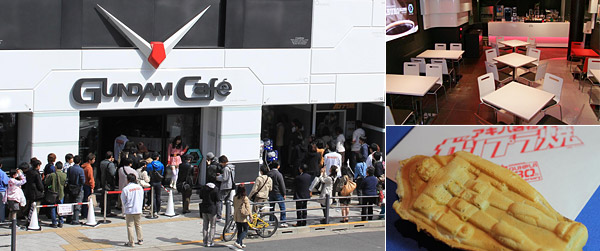 ©SOTSU・SUNRISE
As the name suggests, Gundam Cafe is a dream come true for fans of the popular anime series, but first-time visitors will also find much of interest, especially if they are after some insight into the Japanese world of anime. On the menu are a wide range of snacks, including Jaburo Coffee, inspired by a fictional setting in the series, and Gunpla yaki, a unique take on a popular Japanese snack. Visitors are served by a young and dynamic staff dressed as Gundam characters and there is even a corner of the cafe dedicated to selling themed souvenirs.
http://g-cafe.jp/english/index.html (English and Japanese)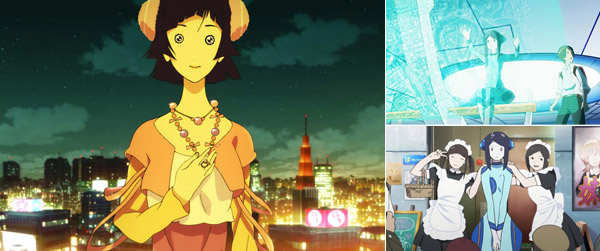 The Tokyo Metropolitan Government has released the anime short "Welcome to TOKYO" on its website. It consists of "HONEY TOKYO," a cartoon which presents Tokyo's charm as seen through the eyes of a 16-year-old girl, Honey, who comes from the future; and "RALLY TOKYO," a virtual quiz rally with the characters of "Honey Tokyo" showing Tokyo's tourist spots.
http://www.tourism.metro.tokyo.jp/english/welcome/ (English and Japanese)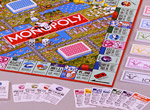 Tokyo on the Japanese version of Monopoly
Many countries have their own version of the popular board game Monopoly. The Japan version features cities from all over Japan. The most expensive property is Ginza, valued at ¥40 million ($400,000), while the cheapest properties are Sapporo and Chiba, both valued at just ¥6 million ($60,000). Other differences: Instead of "Income tax" on the fourth space with the house, the Japanese version calls it "Inheritance tax;" and the station spaces show a drawing of bullet trains.

To access the previous edition of e-Tokyo Today and our printed newsletter, Tokyo Today,
please visit: http://www.tourism.metro.tokyo.jp/english/citypromotion/index.html.
If at any time you wish to stop receiving our emails, you can unsubscribe here.
Having trouble viewing this email? Copy the URL into your browser: http://tcvb.cmail1.com/T/ViewEmail/y/ED9B053F2129B13E
Issued by: Tourism Division, Bureau of Industrial and Labor Affairs, Tokyo Metropolitan Government
Planning / Editing: Tokyo Convention & Visitors Bureau
E-mail: news@tcvb.or.jp Tel: +81-3-5840-8892 Fax: +81-3-5840-8895.