Main content starts here.
Course: 2k540 Aki-Oka Artisan >> 3331 Arts Chiyoda >> Spiral >> Shibuya Hikarie >> Myth of Tomorrow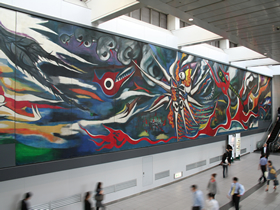 Tokyo is a rewarding place to explore art in everyday life, such as public art free for all to see and stores specializing in the works of budding creators. The course focuses on six spots. Start at 2k540 Aki-Oka Artisan, under the elevated railway tracks between JR Okachimachi and Akihabara stations, and travel by foot to 3331 Arts Chiyoda. From there, take the train to Omotesando and visit the Spiral gallery and art store. Your goal is Shibuya Station, with two more art destinations.
11:00 JR Yamanote Line Okachimachi Station South Exit
| | |
| --- | --- |
| | Walk 4 minutes |

along elevated railway tracks toward Akihabara Station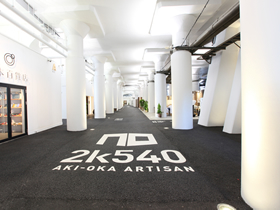 The theme of 2k540 Aki-Oka Artisan is "Japanese Creativity." The complex houses some 50 tenants—glass studios, shops selling jewelry and other creative workpieces, galleries, and cafés—and welcomes participants in its regular events and workshops. The beauty of 2k540 Aki-Oka Artisan is that a number of shops double as studios, meaning you can see the creators at work.
| | |
| --- | --- |
| | Walk 5 minutes |

toward Tokyo Metro Ginza Line Suehirocho Station, and cross Chuo-dori Street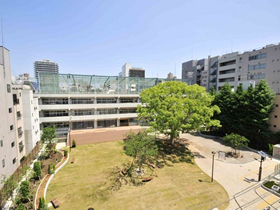 The art center 3331 Arts Chiyoda is renovated from a former junior high school. The wooden deck connects to a park furnished with chairs, which serves as a rest area for visitors. The building with one floor below ground level and three floors above houses art galleries, offices, and cafés as well as spaces for exhibitions and workshops. On the first floor is a free public space equipped with tables and chairs; a long, narrow main gallery; and a store offering the works of artists, 3331 original merchandise, and books. After admiring the art, relish dishes made with selected vegetables at the café-restaurant Food Lab 3331.
| | |
| --- | --- |
| | Walk 3 minutes |
14:00 Tokyo Metro Ginza Line Suehirocho Station
| | |
| --- | --- |
| | Train 21 minutes on Ginza Line (for Shibuya) |
14:21 Tokyo Metro Ginza Line Omotesando Station Exit B3
| | |
| --- | --- |
| | Walk 1 minute |
The cultural complex called Spiral is created under the concept "Fusion of Art and Everyday Life." Besides a gallery and multipurpose hall, it houses a store offering lifestyle goods and a café adorned with artwork in a relaxing atmosphere. The building itself is recognized as an excellent example of architecture. In 1987, it was selected by the American Institute of Architects as the winner of the R.S. Reynolds Memorial Award for being the world's most distinguished piece of architecture using aluminum. The name Spiral comes from the slope winding up the impressive main gallery.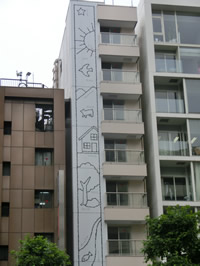 | | |
| --- | --- |
| | Walk 12 minutes |

Head down Route 246 toward Shibuya, and discover more works of art along the way.
16:15 Shibuya Hikarie 8/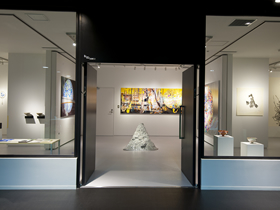 Creative Space 8/, on the eighth floor of Shibuya Hikarie, is a combination of event space, gallery, and shared office. Cube 1, 2, 3 (pictured) comprises three rental galleries showcasing exhibitions of arts and crafts, and promotions of local tradition, tourism, and products. Art Gallery, directed by the international dealer of contemporary art Tomio Koyama Gallery, introduces the work of up-and-coming artists. Complete with the diner d47 Shokudo serving a variety of local cuisines, 8/ is a destination for experiencing Japanese culture with all the five senses.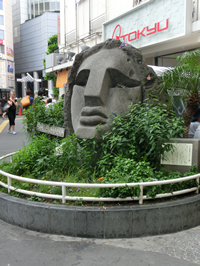 | | |
| --- | --- |
| | Walk 2 minutes |

The huge Moyai statue at Shibuya Station South Exit (resembling the Moai in Eastern Island) is a gift from Niijima Island in 1980, celebrating the 100th anniversary of its integration into Tokyo.
18:00 Myth of Tomorrow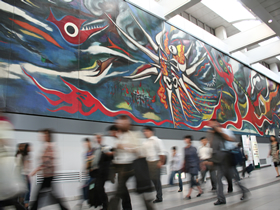 Taro Okamoto's Myth of Tomorrow is installed in the walkway of Shibuya Station between the JR and Keio Inokashira lines (in Shibuya Mark City). The 30-meter-long, 5.5-meter-high mural was created between 1968 and 1969 under commission from a hotel developer in Mexico City. It depicts the devastating moment of explosion of an atomic bomb. Yet the scene does not intend to terrify. It encapsulates Okamoto's message that people are proud beings capable of overcoming the cruelest tragedies, and beyond that lies the Myth of Tomorrow. The mural in its entirety can be seen from the walkway connecting Tokyo Metro Ginza Line with Mark City. End your day feeling the power of art.
18:30 JR Line / Tokyu Line / Tokyo Metro Line / Keio Inokashira Line Shibuya Station
Model course
Admiring art
is displayed on a larger map
The red lines indicate trains and subways, blue lines are buses and cars, green lines are for walking, pink lines are for bicycles, purple lines are ships and water buses.