Main content starts here.
Course: TOKYO SKYTREETOWN(SUMIDA AQUARIUM,Sumida Machidokoro ,Tenku Lounge TOP of TREE, THE SKYTREE SHOP) →Kiyosumi Gardens→Kiyosumi Shirakawa (cafe, gallery, and museum)→Tomioka Hachimangu Shrine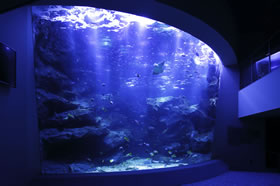 The course starts at TOKYO SKYTREE TOWN for a visit to Sumida Aquarium and shopping, and then explores Kiyosumi Shirakawa, an attractive neighborhood for lovers of art and coffee. Take a tour of museums and galleries, have a break while delighting in fragrant coffee at a roastery-cafe, and finally pay a visit to Tomioka Hachimangu, the largest shrine in premodern Tokyo.
9:00 TOBU SKYTREE LINE TOKYO SKYTREE STATION
| | |
| --- | --- |
| | Walk 5minutes |
Sumida Aquarium is on the fifth and sixth floors of the West Yard of TOKYO SKYTREE TOWN. The highlight is Tokyo Tank featuring the waters around Tokyo's 219 outlying islands including the Izu and Ogasawara islands. In collaboration with the village of Ogasawara, it replicates the aquatic environment of the Ogasawara Islands designated a UNESCO natural world heritage site. Move on to one of Japan's largest indoor open-pool tanks for a close-up view of adorable penguins and fur seals. And at Edorium, admire sea creatures against a backdrop of ukiyo-e pictures. The new zone since April 2015 comprises two areas named Iki and Miyabi.
11:00 SUMIDA MACHIDOKORO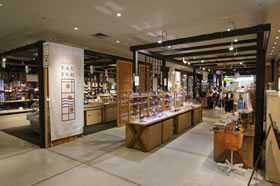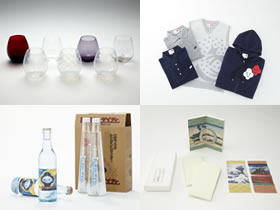 The industrial tourism plaza offers insight into the history and culture of Sumida-ku along with information for tourists and on specialty products and edibles. Shop for premium items that support the concept "novel and nostalgic" and are granted Sumida Modern brand certification. Watch artisans demonstrate their traditional craft. Or take a break with sweets at the teahouse.
11:30 TENKU LOUNGE TOP OF TREE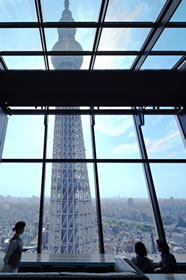 The cafe-lounge commands a close-up view of TOKYO SKYTREE® from the top floor of Tokyo Solamachi®. The tower is visible from every seat on the floor, and the partial glass roof extends the view up to the tip. The location some 150 meters above ground level also overlooks the stunning Tokyo skyline at night, Mt. Fuji and Tokyo Tower on a clear day, and the fireworks at Sumidagawa River in summer. Admire both the spectacular TOKYO SKYTREE above and the special panorama below.
13:00 THE SKYTREE SHOP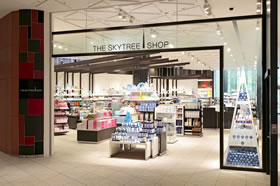 ©TOKYO-SKYTREE
The official shops of TOKYO SKYTREE are located on Floor 1, Floor 5, and the TEMBO DECK on Floor 345. Select from a variety of goods available only here, such as Japanese and Western snacks, trinkets, stationery, and fashion items.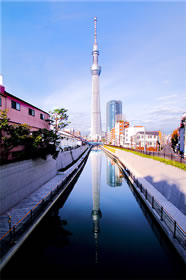 | | |
| --- | --- |
| | Walk 5minutes |

A five-minute stroll east along the Kitajikkengawa River flowing by TOKYO SKYTREE leads to Jikken-hashi Bridge. This is a famous spot for photographing the tower standing upright together with its upside-down reflection in the river.
14:00 TOBU SKYTREE LINE / TOKYO METRO HANZOMON LINE OSHIAGE (SKYTREE) STATION
| | |
| --- | --- |
| | Train 7minutes Tokyo Metro Hanzomon Line |
14:07 TOKYO METRO HANZOMON LINE KIYOSUMI-SHIRAKAWA STATION EXIT A3
| | |
| --- | --- |
| | Walk 3minutes |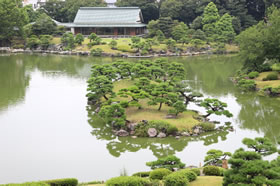 Kiyosumi Gardens are a traditional Japanese garden featuring a promenade, a large pond, artificial hills, and dry rock. The style representative of the Meiji period (1868–1912) is designated by Tokyo as a Place of Scenic Beauty. The highlight is the pond with three islands. Although the pond is filled with rainwater today, it initially drew water from the Sumidagawa River, creating a view that changed subtly with the ebb and flow. Visitors may walk on the stepping stones along the edge and admire the pond and the carp and turtles swimming within. Another attraction is the fine stones collected from across Japan that give Kiyosumi Gardens the element of a rock garden.
| | |
| --- | --- |
| | Walk 5minutes |
15:30 KIYOSUMI SHIRAKAWA (CAFE, GALLERY, AND MUSEUM)
The Cream of the Crop Coffee Kiyosumi Shirakawa Roasters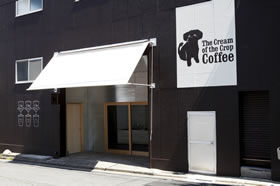 The Cream of the Crop Coffee Kiyosumi Shirakawa Roasters is known as a pioneer of coffeehouses in the Kiyosumi Shirakawa neighborhood. It's run by The Cream of the Crop & Company, responsible for introducing master chocolatier Pierre Marcolini in Japan and establishing a market for high-end chocolate. The roastery serves fragrant coffee drip brewed by a roast master using a special dripper and pot. Each cup is prepared meticulously by hand with a method best suited to the variety of beans to draw out its natural aroma and flavor, and present the essence of the coffee fruit.
Allpress Espresso Tokyo Roastery & Cafe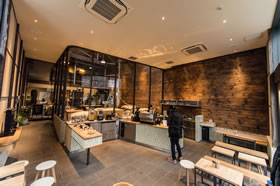 Allpress Espresso Tokyo Roastery & Cafe occupies a renovated woodyard in Kiyosumi Shirakawa. Allpress Espresso is a coffee roaster and espresso specialist established in New Zealand. The founder, Michael Allpress, started out selling espresso on a coffee cart in the local market. He opened his first roastery-cafe in Tokyo in 2014. Beans that meet stringent standards are sourced directly from the grower, and roasted and drip brewed to draw out the character of each variety. Delight in the exceptional Allpress flavor.
| | |
| --- | --- |
| | Walk 3-30minutes |
TAP Gallery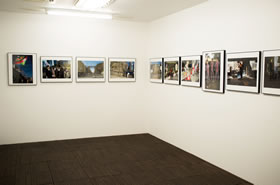 TAP Gallery is owned privately—a rarity in this neighborhood—by a group of eight budding photographers. Every two weeks, the members display their own work or organize themed exhibitions inviting other artists. Since each artist has a distinct style, visitors are treated to a different ambience with each visit.
MITSUME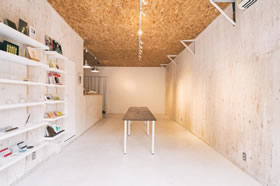 Mitsume is a new multipurpose space combining an exhibition area with a cafe-bar. It showcases events and projects that work only in this unique venue, such as live performances and works fusing art and music.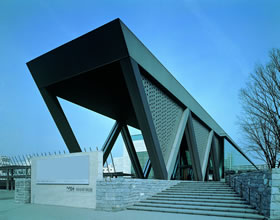 The Museum of Contemporary Art Tokyo features a permanent exhibition presenting trends in contemporary art through the 4,800 works in its collection, and showcases international exhibitions and other special themed exhibitions covering a broad range of contemporary art, from painting to sculpture, fashion, architecture, and design. This is the perfect destination for getting a feel of the constant change in contemporary art.
| | |
| --- | --- |
| | Walk 20minutes |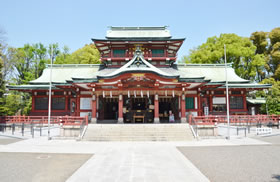 Tomioka Hachimangu Shrine is long known affectionately as the "Hachiman-sama of Fukagawa." Highlights include a bronze statue of Ino Tadataka, a cartographer known as the father of land surveying, and a monument dedicated to grand champion sumo wrestlers. In summer, the shrine organizes an annual festival—one of the three largest in Edo-period (1603–1868) Tokyo—called Fukagawa Hachiman Matsuri. Every three years, the event expands into a hon-matsuri featuring a procession of some 120 large and small portable shrines carried by parishioners. Spectators splash the bearers with purifying water for a dynamic parade joined by the entire town. Tomioka Hachimangu is famous also for hosting an antique market on the first, second, fourth, and fifth Sunday of each month; and a flea market on the 15th and 28th of each month.
| | |
| --- | --- |
| | Walk 3minutes |
19:00 TOEI OEDO LINE / TOKYO METRO TOZAI LINE MONZEN-NAKACHO STATION
TOKYO SKYTREE TOWN® and art excursion
is displayed on a larger map
Red lines indicate train and subway; blue lines, bus and car; green lines, walk