Main content starts here.
Course: Hama-rikyu Gardens >> World Trade Center Building Observatory Seaside Top >> Zojoji Temple >> Tokyo Tower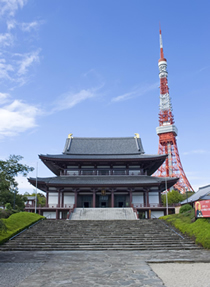 This course circles the area around Tokyo Tower that is compact and yet filled with sightseeing spots. It starts at Hama-rikyu Gardens, a public park that belonged to the Tokugawa shogunate in the Edo period. From the observatory at the World Trade Center Building, take in the views of Tokyo Tower, Tokyo SKYTREE, Tokyo Bay, and Odaiba. And after a leisurely walk through the premises of Zojo-ji Temple, have a lunch of tofu cuisine at Tofuya Ukai. At night, the Tokyo Tower observatories offer a panoramic view of the beautiful Tokyo skyline.
13:30 YURIKAMOME / TOEI SUBWAY SHIODOME STATION EAST EXIT
| | |
| --- | --- |
| | Walk 10 minutes |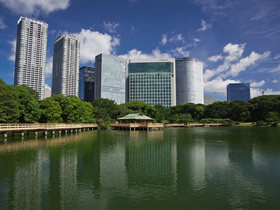 Enjoy the Tokyoesque scene of a classic Japanese garden against the backdrop of modern skyscrapers. The vast premises bloom with different flowers of the season all year round.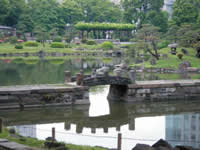 | | |
| --- | --- |
| | Walk 30 minutes |

A short walk leads to another imperial garden. From Hama-rikyu Gardens, go south along Kaigan-dori Street, take a right at the Shiba Shogyo Koko-mae intersection, and on the left-hand side are the Kyu-Shiba-rikyu Gardens. The feudal lord's gardens from the early Edo period also offer a space for relaxation.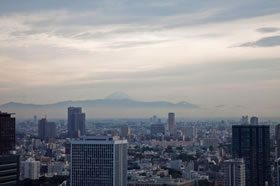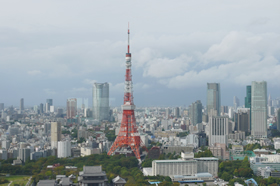 The observatory Seaside Top on the 40th floor offers a full view of Tokyo Tower up close. The west side commands a bird's-eye view of Zojo-ji Temple amid Tokyo's towering skyscrapers—a favorite with foreign tourists.
| | |
| --- | --- |
| | Walk 15 minutes |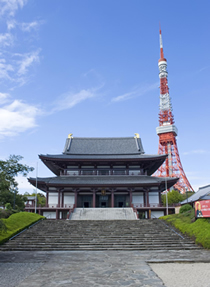 Zojo-ji is the family temple of the Tokugawa shogunate, and thus houses the tombs of famous shogun. The setting is featured in the Hollywood film The Wolverine slated for release in 2013.
| | |
| --- | --- |
| | Walk 10 minutes |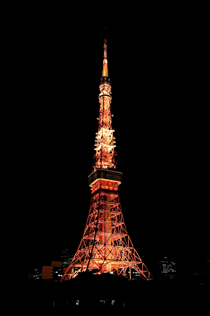 Two observatories, the main and the special, command a panoramic view of the metropolis. Tokyo Tower also has many fun facilities to entertain the whole family, from children to seniors—exhibit spaces, an aquarium, restaurants and a food court, souvenir shops, and Tokyo One Piece Tower, the first large theme park based on the popular anime One Piece. This is a great spot for taking in the stunning night view of Tokyo.
| | |
| --- | --- |
| | Walk 5 minutes |
19:00 TOEI OEDO LINE AKABANEBASHI STATION NAKANOHASHI EXIT
Model course
Taking a stroll to two major observatories, a temple, and gardens
is displayed on a larger map
The red lines indicate trains and subways, blue lines are buses and cars, green lines are for walking, pink lines are for bicycles, purple lines are ships and water buses.