Main content starts here.

Cherry blossoms sparkling white in the sunlight are picturesque.
Those glowing in the dark night sky are different yet just as spectacular.
Chidorigafuchi-ryokudo Walkway
Chiyoda Sakura-matsuri Festival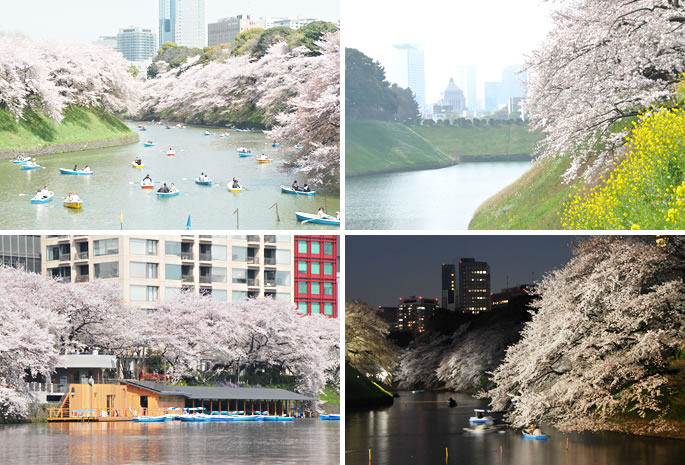 The cluster of cherry trees lining the banks of the Chidorigafuchi moat is a sight to behold.
Some 260 trees mainly of the Somei Yoshino bloom along the 700-meter-long walkway, offering the experience of strolling in a tunnel of sakura. At dusk, the illuminated blossoms form a magical contrast to the buildings in the Marunouchi business district.
The Chidorigafuchi boating arena is open until late during the Chiyoda Sakura-matsuri Festival, inviting hanami-goers to view the cherry blossoms hanging over the moat from the water.
Nakameguro Sakura-matsuri Festival

Nakameguro is a well-known home to chic restaurants and shops. The Meguro-gawa River flowing through this residential district is one of Tokyo's most famous hanami spots. Some 800 trees lining a 3.8-kilometer-long section of the banks form a pale pink arch that appears to be absorbed into the river. The sight is such a beauty that passersby can't help stopping to take a picture. During the Nakameguro Sakura-matsuri Festival in early April, paper lanterns are lit and the trees between Tenjin-bashi Bridge and Horai-bashi Bridge are illuminated, allowing a quiet night out for yozakura.
A stroll through Nakameguro offers a view of cherry blossoms on top of a tour of stylish cafés and shops.
Rikugien Gardens
Weeping cherry in a feudal lord's garden
Rikugien Gardens, constructed in 1702 by Yanagisawa Yoshiyasu, a daimyo lord and a vassal to the shogun, is the quintessence of traditional Japanese gardens of the Edo period. On the flatlands of Musashino, Yanagisawa dug ponds and built hills, and created the classic example of a luxurious "daimyo garden" inspired by the picturesque scenes depicted in waka poems.
A walk past the front gate within the gardens brings into view an impressive 70-year-old tree of shidarezakura (weeping cherry). Even today, it flowers with pale pink blossoms to the tip of every branch. The splendor of the petals flowing down like a waterfall is a sight worth seeing.
Tokyo Midtown
Midtown Blossom 2014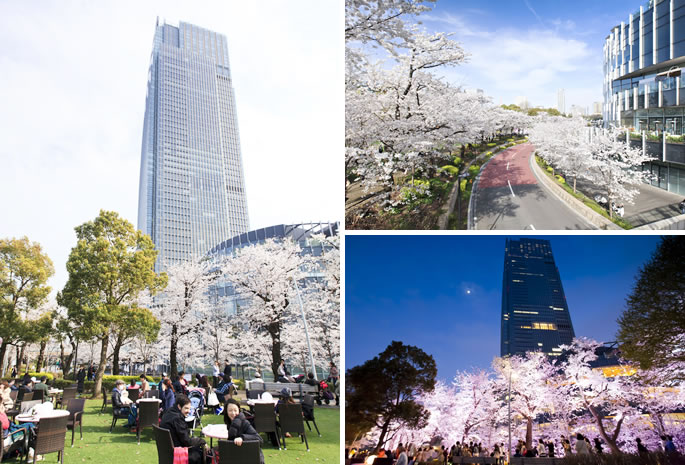 Tokyo Midtown has some 105 trees of the Somei Yoshino and other varieties, and also commands a view of the 44 cherry trees in the adjacent Hinokicho Park. The blossoms on Sakura-dori Street are illuminated at night for a romantic view in the heart of Tokyo. The lights change from pink when the cherries are in bud, projecting the image of sakura, to white once they reach full bloom, reflecting their natural color.
During hanami season, between March 20 and April 20, Tokyo Midtown is planning a complex-wide event provisionally named Midtown Blossom 2014, involving an array of programs that promote the view of sakura.
Discover×Tokyo | Special Report: Tokyo Sakura Scenes