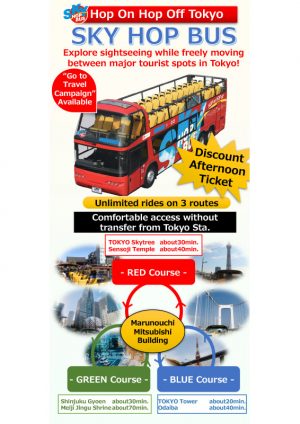 Publication Date

2021

Language

English

Others

Category

Tag

Area

Publishers

スカイホップバスマーケティングジャパン株式会社

Reference Links
Overview
There are three types of pass routes for exploring every inch of central Tokyo! (Red course, Green course and Blue course). Of course, you can get on/off as many times as you like on either route. There are 18 bus stops within Tokyo, so feel free to use the pass at the location of your choice. You can arrange things for your own convenience. The pass is definitely recommended for people who enjoy such things. You can freely enjoy Tokyo sightseeing at your own pace!
Operation schedules and operation dates are subject to change.
Please check the homepage for the latest information.