Main content starts here.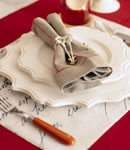 Tokyo is home to the world's largest number of Michelin-starred restaurants!
Michelin Guide Tokyo Yokohama Shonan 2013, the guidebook of restaurants and hotels published by French tire manufacturer Michelin, features 242 dining establishments in Tokyo. Fourteen are rated the highest three stars, and others one or two stars. This outnumbers the total awarded to any other city and is a nod to the quality of the food served in Tokyo. This includes cuisines like French and Italian on top of Japanese sushi and tempura, and affirms that Tokyo is the world's capital of gastronomy.