Main content starts here.
Climate
Tokyo lies in a temperate zone and enjoys a relatively mild, comfortable climate throughout the four seasons. The hot, humid summers are marked by periodic typhoons, and the dry winters bring crisp, clear skies. The Ogasawara Islands, located some 1,000 kilometers south of central Tokyo, are in the subtropics where it is warm year round.
Spring (March - May)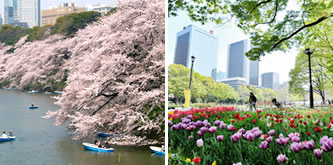 Early spring is still chilly and may require a heavy coat. But by May, when the first greens have sprouted, most days are comfortably warm enough to spend in short sleeves. Although temperatures drop in the morning and evening, the cool, fine daytime weather is perfect for outdoor activity, and tourist sites attract large crowds.
Summer (June - August)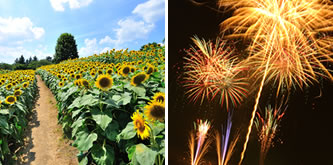 Summer kicks off with the rainy season from late June to mid-July, when the air becomes heavy with humidity. Clear skies in July and August bring on the midsummer heat, with temperatures rising above 30ºC or even 35ºC for a spell of sweltering weather. In the last month, it can be difficult to sleep, as the temperature seldom drops below 25ºC even after sunset.
Autumn (September - November)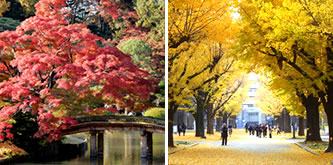 Heats exceeding 30ºC can linger into September, and the occasional typhoon may hit as late as October. But the temperature and humidity drop gradually to usher in the crisp, comfortable autumn. Around late October, leaves start to tinge with red in the Okutama area, and the beautiful sight then spreads throughout the rest of Tokyo.
Winter (December - February)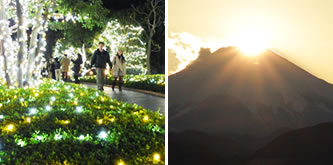 In some years, winter can bring snow to the heart of Tokyo. The days are short, as twilight arrives between 4:30 p.m. and 5:30 p.m. Yet the weather can vary greatly from area to area, as temperatures on the Ogasawara Islands remain above 20ºC even in the coldest months, while snow may stick in Okutama.
TRANSPORT
Tokyo has an excellent public transportation system that makes for smooth traveling. To make efficient use of the intricate network of trains, buses, and monorails, always check route maps and information on discount tickets beforehand.
For details, visit the page on transportation
Communication
Mail
To send mail, affix stamps to an addressed envelope and drop it in a mailbox. Mailboxes in Japan are commonly red and have separate slots for standard size envelopes and for large, express, and international mail. Some convenience stores also offer mail collection services. Stamps are available at post offices as well as at convenience stores and train station kiosks. For questions about postage, or to mail a parcel too large for the mailbox slot, visit a nearby post office.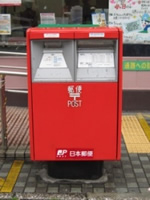 Photo courtesy of Japan Post
Domestic mail
The basic postage for domestic mail is as follows.
◆Postage (as of April 2014)
Postcards
52yen
Standard size envelopes
Up to 25 g
82yen
Up to 50 g
92yen
Large mail
Up to 50 g
120yen
Up to 100 g
140yen
Up to 150 g
205yen
Up to 250 g
250yen
Up to 500 g
400yen
Up to 1 kg
600yen
Up to 2 kg
870yen
Up to 4 kg
1,180yen
International mail
The basic postage for postcards is 70 yen to anywhere in the world. For mail other than postcards, the rate varies by country or region.
To ensure delivery, always print the destination country's name in block letters and underline it.
◆Postage (as of October 2012)
Postcards
70yen
Standard size envelopes
Up to 25 g
90–130 yen
Up to 50 g
160–230 yen
Large mail
Up to 50 g
220–300 yen
Up to 100 g
330–480 yen
Packages
The postage for packages varies by country or region. Surface mail takes a long time to arrive but the rate is low. This is an economical choice for sending heavy packages for which speed is not too great a concern. For the quickest international delivery, use the Express Mail Service (EMS). Another option is Surface Air Lifted (SAL), which offers a delivery time and rate midway between surface mail and airmail.
◆Postage (as of October 2012)
Printed matter / Small packages (up to 2 kg)
* SAL is offered to a limited number of countries and regions.
Up to 100 g
190~290yen
Up to 500 g
750~1,250yen
Up to 1 kg
1,450~2,450yen
Up to 2 kg
2,150~3,650yen
Telephone
Public telephones
Public telephones are available on major streets, in train stations, and at many other locations throughout Tokyo. Depending on the model, a payphone may accept only coins, only telephone cards, or both. Telephone cards are available at train station kiosks and convenience stores. All payphones allow local calls and out-of-area domestic calls.
[Digital payphones]


[Analog payphones]


Photo courtesy of NTT West
♦Placing international calls from a public telephone
To place an international call directly from a public telephone, look for a gray model that says "International & Domestic Card/Coin Telephone." Alternatively, nearly all models allow both domestic and international calls using prepaid calling cards offered by various phone operators. These are available at train station kiosks and convenience stores along with telephone cards. To place a call with a credit card, find a phone model that says "International & Domestic Telephone." Insert a 100-yen coin (which will be returned when you hang up) and dial the number specified by the phone operator of your choice.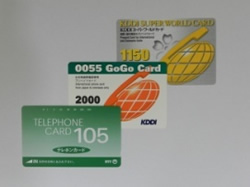 Mobile phones
With the exception of satellite phones, foreign mobile phones may not be used in Japan. Visitors should rent a phone at the airport or upon arrival in Tokyo. Prepaid phones allow calls for as many minutes as is purchased in advance. Some operators also offer prepaid SIM cards for domestic use only.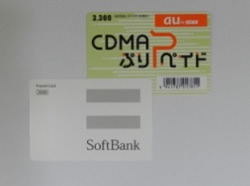 SmartPit
An international telephone service provider-issued prepaid calling card that works with SmartPit can be charged easily and at a discount rate at convenience stores. The charging terminal offers multilingual instructions and vocal guidance for the convenience of foreigners.
Internet (Wi-Fi)
From cafés to train stations to airports, an increasing number of locations in Tokyo offers high-speed Internet connection via public wireless LAN (Wi-Fi). Major hotels in central Tokyo may provide Internet jacks in each guestroom for connection to personal laptop computers. Many hotels also have computers in public spaces in the lobby for the convenience of guests traveling light. This in addition to the great number of Internet cafés makes the comfort of Internet access a given in Tokyo.
Note that computer keyboards display only Japanese hiragana characters and the English alphabet.
Electricity
The voltage in Japan is 100V and the frequency is 50-60 Hz. The socket is type A, with two flat holes. Using foreign electric appliances will require a frequency converter and plug adaptor.
Money
Currency
The Japanese unit of currency is the yen. Four notes and six coins are in circulation (as of October 2012).
Notes
10,000yen
5,000yen
2,000yen
1,000yen
Coins
500yen
100yen
50yen
10yen
5yen
1yen
Bank / Japan Post Bank / Convenience store ATMs
Banks are generally open on weekdays from 9:00 a.m. to 3:00 p.m. The Japan Post Bank, located in post offices, is open on weekdays from 9:00 a.m. to 4:00 p.m., and to 6:00 p.m. at some branches. While the hours of automated teller machines (ATMs) vary by service and by machine, most Seven Bank ATMs are open around the clock for cash withdrawals.
Using ATMs
Most ATMs in Japan do not accept credit cards or cash cards issued abroad. Japan Post Bank ATMs, however, do accept foreign credit cards and offer a service menu in the English language. Look for the "International ATM Service" notice on or around the machine, and stickers displaying the VISA, VISA Electron, PLUS, MASTERCARD, Maestro, Cirrus, American Express, Diners Club International, JCB, China UnionPay, and DISCOVER logos.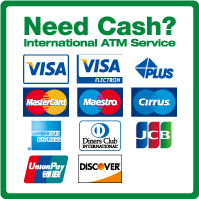 * Balance inquiries are not available.
* A service charge may apply.
Seven Bank ATMs, located inside 7-Eleven convenience stores, accept foreign-issued credit cards and cash cards and provide vocal and on-screen guidance in the English, Korean, Chinese, and Portuguese languages. Receipts support these four languages as well. The machines also accept debit cards for cash withdrawals.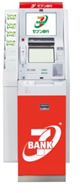 ATM as of November 2012
The China UnionPay card may be used at department stores and electric appliance outlets throughout Tokyo. Japan Post Bank, Seven Bank, Bank of Tokyo-Mitsubishi UFJ, and Sumitomo Mitsui Banking ATMs accept the card for cash withdrawals.
Currency exchange
Foreign currency may be converted to Japanese yen at banks and stores displaying the "Authorized Money Changer" sign. Rates change daily with fluctuations in the financial markets. Banks in the arrival lobbies of Narita and Haneda international airports also offer currency exchange services, so visitors are safe to land in Japan without carrying any yen.
Credit cards
It is a good idea to carry an international credit card like American Express, VISA, MASTERCARD, Diners Club, or JCB. Credit cards are accepted at major stores and facilities, and can be used to purchase air and shinkansen tickets and to ride some taxis. When checking in to a hotel, they serve as identification in lieu of a cash deposit. Note, however, that some facilities do not accept credit cards at all, and others may accept only certain types. In Japan, it is best to carry some cash at all times.
Traveler's checks
Traveler's checks may be used in most banks, hotels, ryokan (Japanese-style inns), and superstores.
Taxes
There are certain taxes that even tourists are required to pay during their stay in Tokyo.
Consumption tax
The consumption tax is 8 percent of the price of products or services purchased. (as of April 2014)
Hotel tax
The hotel tax applies when the room charge per night per person at a hotel or ryokan in Tokyo is 10,000 yen or more. The rate is 100 yen for charges of 10,000–14,999 yen, and 200 yen for 15,000 yen or more (as of October 2012).
Tax-free shopping
When you buy some products in Japan, prices include consumption tax (8%). However, as a special measure, tourists from overseas are exempt from paying consumption tax if they follow certain procedures at department stores, home appliance stores, discount stores and others.
Persons Eligible for Tax Exemption
Foreign nationals who have stayed in Japan for less than six months
Status of residence of the passport is "diplomatic" or "official"
(Even though entry into Japan was six months or more ago, they are eligible.)
Articles Eligible for Tax Exemption
Purchases made at the same store on the same day totaling the amounts given below
(1) General goods … 10,001 yen or more
(2) Consumables* … 5,001 yen–500,000 yen
* Consumables: Food, beverages, medicine, cosmetics, etc.
Tax Exemption Procedure
(1) When making a purchase, submit your passport at the checkout counter (copies are not accepted).
(2) The shop attaches a card entitled "Record of Purchase of Consumption-Tax-Exempt Goods for Export" to your passport and it will be collected by the customs officer at the time of departure.
(3) Please submit a purchase agreement to the shop indicating that you will bring the goods out of Japan when you leave.
(4) Consumables are eligible for tax exemption on condition that they will be taken out of Japan within 30 days of purchase, and that they are packaged in the method designated.
Shops where you can receive the consumption tax exemption
-----------------------------------------------------------------------------------
-----------------------------------------------------------------------------------
Customs/Manners
At the table
Table manners
In Japan, it is generally considered bad manners to talk loudly, rest your elbows on the table, slurp your food, or excuse yourself during mealtime. Also be careful never to pass food from one pair of chopsticks to another or stab food with the chopsticks, as both are considered bad manners
Using chopsticks
Chopsticks are traditionally sacred utensils for offering food to the gods. Using them properly is essential to good table manners in Japan.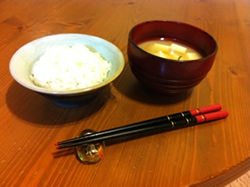 When not using the chopsticks, or when done with your meal, lay the chopsticks together with the tips on the chopstick rest.
Holding chopsticks
Move the upper chopstick with the tip of the thumb between the index and middle fingers.
Hold the lower chopstick in place between the tip of the ring finger and the base of the thumb.
When not using the chopsticks, or when done with your meal, lay the chopsticks together with the tips on the chopstick rest.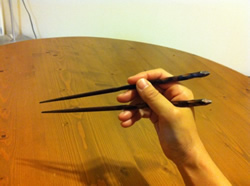 At houses of worship
Shinto shrines
Tidy up before passing through the torii gate and entering the sanctuary. Walk on either side of the sando pathway, as the center is reserved for the deity. At the chozuya basin, rinse hands and mouth with the purifying water prior to proceeding before the enshrined deity. To worship, bow lightly, ring the bells, place a saisen money offering in the box, and follow the standard "bow twice, clap twice, and bow once." Bow lightly one last time before leaving the deity.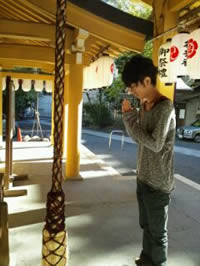 Buddhist temples
After entering the sanmon gate, bow toward the hondo main hall where the deity is enshrined. If a chozuya basin is available, rinse hands and month with the purifying water. Place the hands together and pray silently. Do not clap, as the rite is reserved for Shinto shrines. Place a saisen money offering in the box and bow lightly before leaving. Bow toward the hondo main hall once again before exiting the sanmon gate.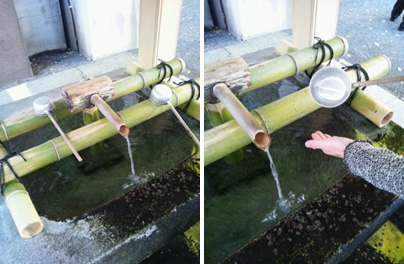 In transit
Trains
On railway platforms, stand in two or three lines behind the yellow line at a guide indicating where doors will open. When a train arrives, allow passengers to get off before boarding. Once on the train, do not stop near the doors but keep moving inward so that other people behind you may board smoothly. Make room for others to sit on a bench seat by placing your belongings either on the overhead rack or on your lap.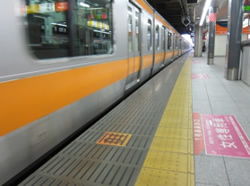 Photo courtesy of JR East
Priority seats
Train and bus passengers are asked to give up priority seats—sometimes called courtesy seats or silver seats—for passengers who are elderly, have a disability, illness, or injury, are pregnant, or are traveling with infants.


Photo courtesy of JR East
Women-only cars
Japan Railway (JR) and private railway lines generally have women-only cars. They are usually either the first or last car of trains during the morning and evening rush hour, although the schedule and location may vary by company.


Photo courtesy of JR East
Bicycles
An increasing number of tourists explore Tokyo on bicycles. To make your ride safe and enjoyable, it is important to keep in mind a few basic rules. Always observe bicycle lanes that are segregated from motor and pedestrian traffic. Whether or not there is a designated bicycle lane, the rule of thumb is to cycle on the left side of the roadway, and closer to the road on the sidewalk while yielding the right of way to pedestrians.
In the toilet
There are two types of toilets in Japan: Japanese style and Western style. To use a Japanese-style toilet, squat facing the hemispherical hood. The latest Western-style toilets provide such functions as washing, drying, and automatic lid opening and closing. Always flush used toilet paper. As public toilets may not be equipped with toilet paper, it is a good idea to carry a pack of tissue. If slippers are provided in the toilet of a ryokan inn, wear them to use the toilet—and remember to take them off when leaving.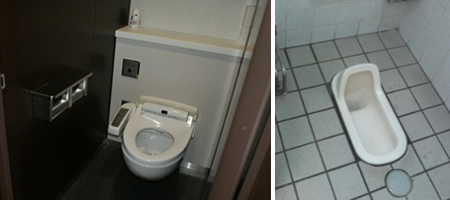 ◆Pay toilets
A number of public toilets in Tokyo require a fee to use. The charge is about 100 yen. Some pay toilets employ a janitor to maintain and periodically clean the facility so it is hygienic and safe for everyone to use.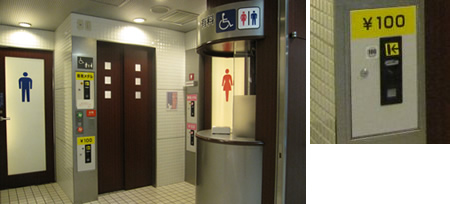 Photo courtesy of Tetsudo Kaikan
At hot springs and public baths
Bathing in groups—in sento public baths and onsen hot springs—is an integral part of Japanese culture. Unless stated otherwise, swimsuits are not allowed in a public bath. Some facilities refuse entry for people with tattoos. Also take care as drinking a large amount of alcohol before soaking may cause physical sickness. Learn the proper etiquette and make the most of your public bathing experience in Japan.
The correct way to bathe in an onsen (hot spring)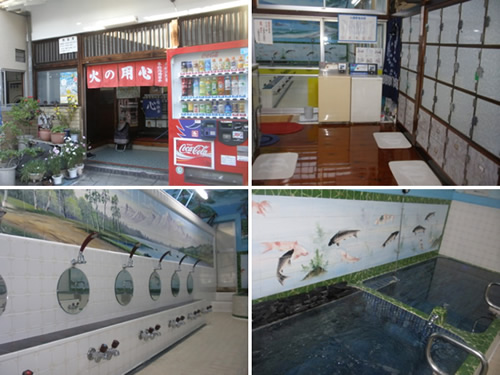 On mobile phones
In hospitals and on airplanes where electronics devices can be affected, and in public facilities like movie theaters and museums, the rule of etiquette is to turn off your mobile phone. When using public transportation like trains, subways, and buses, set it to silent mode, and switch it off completely near priority seats so as not to interfere with pacemakers for people with heart problems.
For smokers
Certain districts and areas of Tokyo have introduced ordinances that ban smoking on the street. Public spaces that attract many people, like parks and plazas, commonly prohibit smoking and littering, and may even impose a fine on violators. An increasing number of hotels and restaurants are also becoming entirely non-smoking. Kindly refrain from smoking at places other than designated smoking areas.
Non-smoking ordinances (as of May 2017)
Chiyoda-ku
Smoking is banned on the street and in designated areas. A 2,000-yen fine is imposed on violators.
Shinagawa-ku
Smoking on the street is banned in the areas around Osaki, Gotanda, Oimachi, Musashi-koyama, and Aomono-Yokocho stations, designated "local beautification areas." A 1,000-yen fine is imposed on violators.
On escalators
There are no rules per se on the use of escalators, but in train stations and other places that attract a crowd, the rule of thumb is to stand on the left and leave space for users in a hurry on the right. That said, escalators are originally not designed to be walked on. Try to stand and wait to be carried up or down when possible.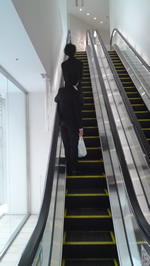 Tap Water
Japan's tap water is subject to strict quality control, governed by law (The Waterworks Law), covering the entire journey from the original water source to the tap. As such it is safe to drink straight from the tap. Moreover, Tokyo has put in place its own standards regarding water quality which are stricter than the national regulations, and aim to ensure that the city's water also tastes good. We recommend you try Tokyo's tap water, which is supplied by the world's best waterworks system, and is not only safe to drink, but also delicious.