Taxi Usage and Types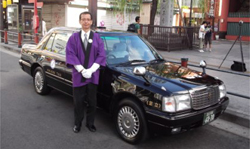 Hitachi Jidosha Kotsu
There are approximately 50,000 taxies operated in Tokyo. The maximum number of passengers per one small- or medium-size taxi is four persons.
You can take one from a taxi depot at the airports and most train stations. On the street, you can catch a cruising taxi when you let the driver know by raising your hand and the car is also vacant. To tell whether the car is vacant or not, look for the red sign of "空車 (vacant)" on the car's windshield or see if the lamp on top of the car is on.
The left rear door is opened and closed automatically by a driver for a customer.
You make a payment as indicated by the fare meter when the car arrived at the destination. Credit cards are accepted by some taxies and the types of acceptable credit cards should be posted inside the car. Remember that not all taxies accept the credit card, and even when they do, it may require certain conditions such as the payment has to be more than 5,000 yen, etc.
Taxi Types
Approximately 90 percent of Tokyo's taxies are medium-size taxies. Besides them, there are other kinds of taxies available as follows
Small-size taxi
The maximum number of passengers is four persons and is the same as the medium-size taxis. If you want to catch a small-size taxi whose fare is a bit lower than that of medium-size taxis, the easiest way is to go to a taxi depot exclusively for small-size taxis, available at six locations in Tokyo, including the west underground exit of Shinjuku Station, the Marunouchi north exit of Tokyo Station, and the east exit of Ikebukuro Station. In addition, there are other five locations of taxi depots which small-size taxis share with medium-size taxis to ply for customers. This includes the one at the Haneda Airport terminal-BIG BIRD-
Minivan taxi("wagon taxi")
Wagon taxies are convenient when you have much luggage. By the controlled allocation system, there are always a certain number of wagon taxies available at Narita and Haneda Airports as well as Tokyo City Air Terminal. Some wagon taxies may cruise in the city. The rate is the same as that of medium-size taxies except a case of a called dispatch.
Radio taxi ("musen taxi")
There are about 20,000 radio taxies operating in Tokyo. You first call a taxi company and they will send the one available to the location you desire. While they charge an extra dispatch fee, the basic rate for the ride is the same as standard medium-size taxies.
Limousine taxi ("hire")
Limousine taxies use better grade cars than standard taxies. 3,000 limousine taxies in large-size and medium-size, and "saloon taxies" are available in Tokyo.
Share-ride taxi ("noriai taxi")
Share-ride taxies are something between taxies and buses. Customers who head to the same destination share the ride, paying less than standard taxies. They are available from both Narita and Haneda Airports to central Tokyo.
Tourist Taxis
Tourist taxis circle tourist spots while the driver provides tourist information. Passengers can explore Tokyo at their own pace, including little-known areas that cannot be accessed by bus, while hearing secret stories about the various areas.
The information given is as of October 2017. Contents are subject to change without notice. For details, visit the operator's website or contact the operator.