The area around Tokyo Station offers a view of everything from historical buildings to the latest fashion complexes.
(1)Bank of Japan Main Building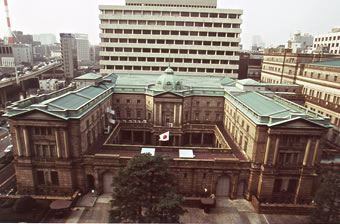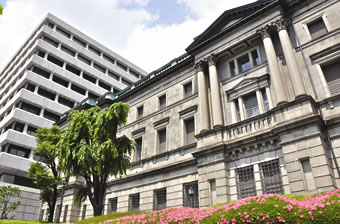 Completed in 1896, the stone-and-brick building extending three floors above and one floor below ground level was designed by Japanese architect Kingo Tatsuno. It was modeled after the National Bank of Belgium and was the first example of authentic Western-style masonry structure in Japan. Guided tours are available upon reservation at least one week in advance.

【Walk 15minutes】
(2)Tokyo Station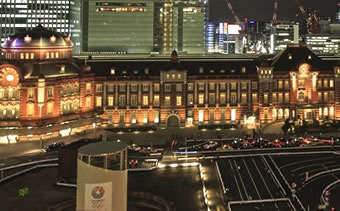 The station born at the hands of Kingo Tatsuno in 1914, following restoration work, was reborn in 2012 to feature a fusing of history and innovation. The original reliefs adorning the domes over the Marunouchi North and South Exit ticket gates are a must-see, as is the Tokyo Station Hotel situated within the important cultural property of Japan.

【Walk 3minutes】
(3)JP Tower

The former Tokyo Central Post Office, designed by Tetsuro Yoshida and completed in 1931, was reborn as JP Tower in 2012. The exterior walls feature the white tiles that served as a symbol of the original building. The Postmaster's Office reconstructed on the fourth floor retains the ambience of the original post office.


( External link ) (Japanese)
【Walk 3minutes】
(4)Mitsubishi Ichigokan Museum, Tokyo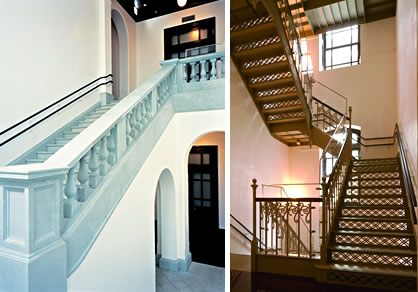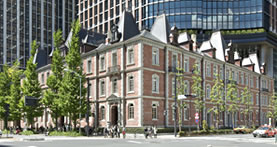 The museum is a reincarnation of Josiah Conder's red brick office building completed in 1894. Every architectural detail is reproduced as faithfully as possible. In addition to housing a café and store, the new establishment displays a 1:40 scale model of the original Mitsubishi Ichigokan in the Archive Room.

【Walk 3minutes】
(5)Meiji Seimei Kan Building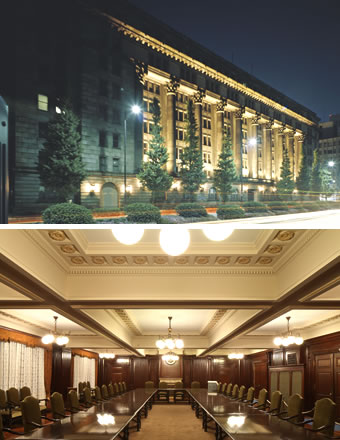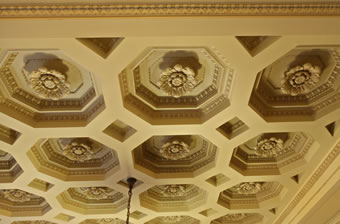 Designed by Shinichiro Okada in 1934, the steel-framed reinforced concrete structure extending eight floors above and two floors below ground level features the powerful style of ancient Greek architecture, delicate decorations of plant motifs, and granite exterior walls. The building survived a history of turmoil including seizure to accommodate important meetings of the Allied Powers following World War II.

【Walk 10minutes】
(6)Tokyo International Forum

Designed by US-based architect Rafael Viñoly, the atrium-style ship-shaped glass structure that symbolizes the cultural complex measures 207 meters long, 57 meters high, and 32 meters wide. The body of artworks displayed in the ground-level plaza and the terrace is a must-see.

Model course Tokyo Architecture(Tokyo Station area) is displayed on a larger map